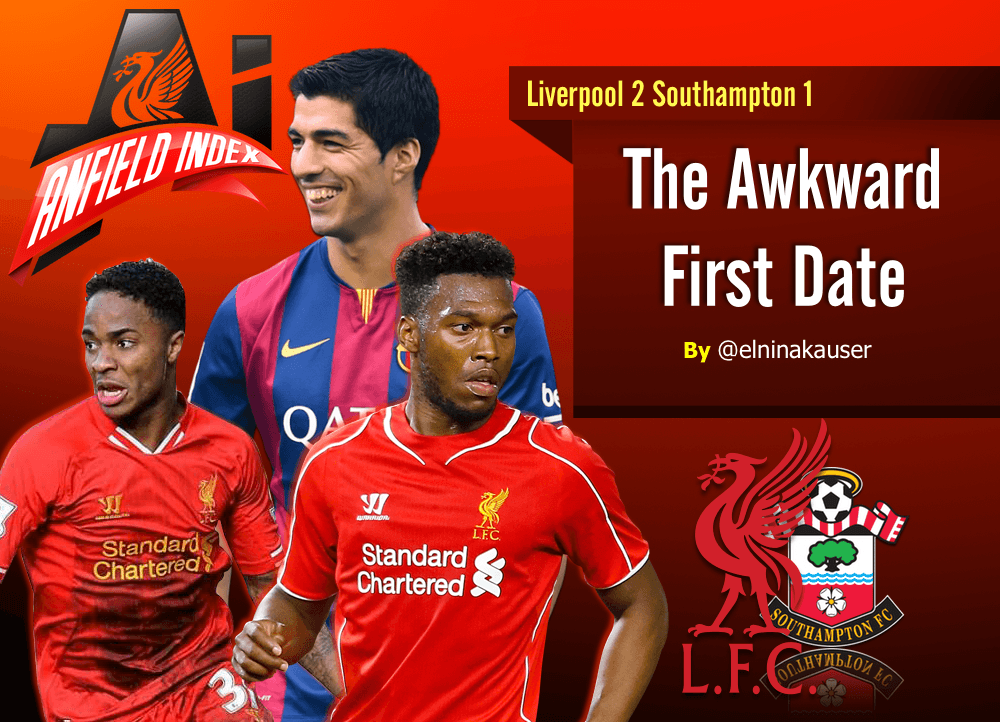 Liverpool 2 Southampton 1 | The Awkward First Date
So life goes on without Luis Suarez for Liverpool FC. They played their first competitive game without him. The prospect of starting a new season without your main talisman was a daunting one for the reds and you could sense the nerves on and off the pitch.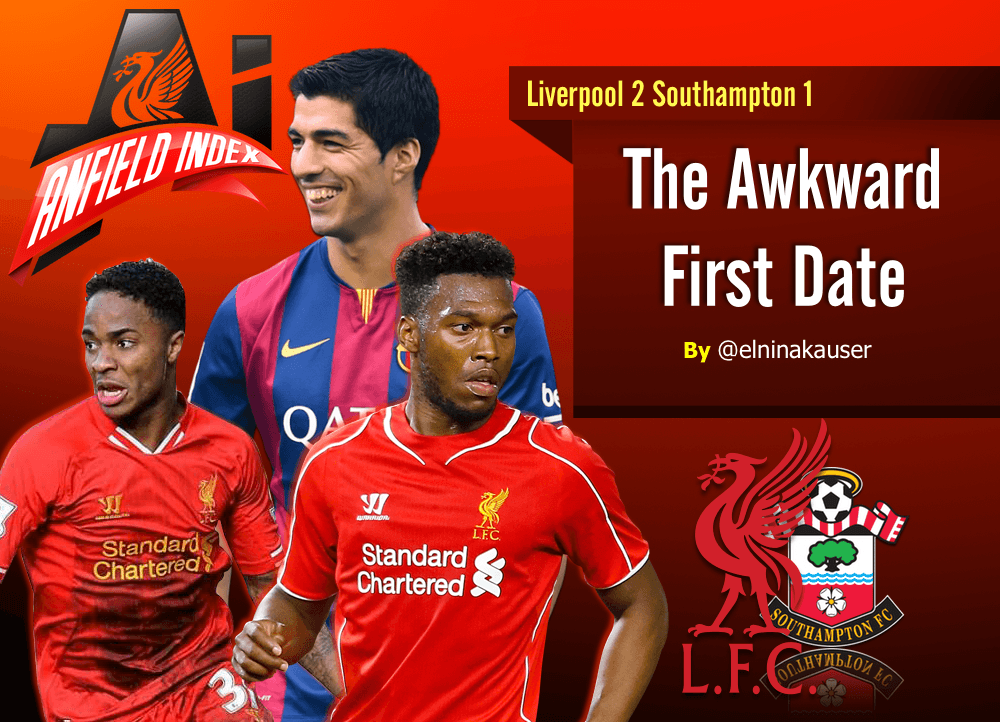 The opening game against Southampton was somewhat reminiscent to going on a date post breakup from your long-term partner. You feel all exposed and vulnerable and don't want to rock the boat. But what choice do you have? Your ex Luis has moved on, he's now shacked up with Barcelona. But you had to part companies, nibbling on someone's shoulder not once but twice isn't acceptable and we've got way too much self respect to pardon his bad boy behavior, again.

So Liverpool braved it and went it alone, the encounter with the saints was an awkward and nervy affair pretty much like a first date when you've been out of the dating game for a lengthy spell. They looked nervous from the get go, disinterested at times. But like most of us who have been scorned by an ex lover or player in this case, Liverpool were hell bent on seeing this through albeit from the skin of their teeth.
But first things first, deciding what to wear or in this instance picking the right formation.
The 4-3-3 arrangement from Brendan was the fashion equivalent to the little black dress. Classy, elegant and conservative Brendan was holding back. The midfield trio of Gerrard, Henderson and Lucas offered the bodycon element to the squad keeping everything in place. Whilst the three up front Coutinho, Sturridge and Sterling offered the plunge to the neckline. A solid back four is all about added comfort and support to your ensemble but like most I feared that the inclusion of Johnson at right-back would be the fashion faux-pas equivalent of wearing spanx that have been purchased from Primark for a fiver.  A very risqué move by Brendan.
Southampton were not to be out-foxed by Liverpool and they too have had their fair share of heartache majority of it caused by Liverpool. Ronald Koeman also opted for the modern day classic 4-3-3, his very own version of a dark grey suit. With Wanyama, Schneiderlin and Davis acting like the three buttoned slim fitting dinner jacket. Whilst Tadic, Pellè and Ward- Prowse were the perfectly lined lapels to this little number, they looked dangerous. Once again the defensive lineup was the fashion equivalent to a cigarette cut trouser but they too had a chink in their armour, a badly hemmed trouser leg that goes by the name of Yoshida.
With both clubs dressed to the nines its only fitting that they partook in a slow dance, and slow it was, both clubs clearly forgot to put on their dancing shoes. It was cagey from Liverpool's perspective as they were the home team and the home crowd was not as vocal as they usually are. It took a sublime pass from Henderson and Sterling's nifty footwork and composure to break the deadlock and the reds got their rhythm back and started to play with a bit more confidence. Liverpool weren't brilliant and they weren't even close to the cha cha of last season. But saw through the 1st half with a flattering 1-0 lead.
The second half got under way and the Saints upped the tempo with the tango; Wanyama and Ward-Prowse showed some flair leaving the red men's midfielders legs all tangled up. The hosts were second to every ball in this half and Clyne netted the equalizer for the visitors. The reds tried to keep up but the bodycon dress was simply too tight and it restricted our movement and the spanx aka Johnson was giving them zero support. The whole tactical ensemble by Brendan seemed a bad idea, should have gone for a floaty number.
The midfield looked too defensive and lacked creativity, which often left the men upfront feeding off scraps.  This date was going from bad to worse, but it was no time to bail or wallow in self-pity. It was time for Brendan to bring on reinforcements and the inclusion of Allen and Lambert were just what they needed. Tempo was raised and reds were back on the front foot when Sterling set up Sturridge for his 1st of the season.
We were home, safe and dry but there was no disputing that was a nervy 1st date and the ex Luis was missed greatly. The reds best bring their A-Game for the encounter against their next suitor – An Arab oil tycoon who goes by the name of Manchester City.