40+ ANFIELD INDEX PODCASTS PER MONTH without the ads.
join ai:pro today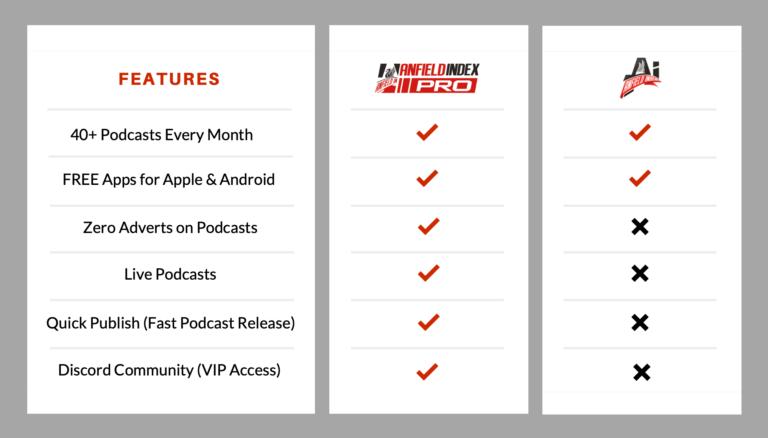 Every Anfield Index Podcast with Zero Adverts, Live Podcasts, Quick Publish (Fast Podcast Release), FREE Apps for Apple & Android + Discord Community (VIP Access)
Choose Your AI:PRO Plan:
The AI Pro service gives me the best commentary on LFC related topics such as transfers, analytics and opinions. Makes my commute fly by!
Samei Huda
The consistent quality and quantity of these podcasts is amazing. Legends, Journalists, Fans, Stats, Tactics all covered. A must listen to for all fans.
Graeme Bass
Living across the pond I stumbled on to AI a long time ago, loved the free content and insight as living in states "football" isn't as relative. I met Gags in San Francisco at the AC Milan match and he's a great guy as well as the content here is amazing. I really enjoy Trev and Dave on post match RAW. The scouting pods and player pods are must listens. Amazing well worth the cost to be so connected from so far! Thanks AI.
Nate Myers
A great ton of content delivered by a decent gang of people. I've been listening for years and wouldn't change any of them, warts and all (and there are bits you'll disagree with, but thats just life). It's worth the monthly fee for Under Pressure and Molby On The Spot, and you get a whole lot more than just those. Big thanks to Gags and crew for all the time spent and content delivered into my listening holes!
Phil Skyrme
Best content among all LFC fan sites, interesting analysis and scouting perspectives, open minded discussions. These pods help me survive Californian traffic! Thanks to the entire AI team for making this happen.
Sriragh Karat
The enthusiasm and dedication of these guys, the quality of analysis and discussion, the ex-players and the experts… essential listening for any Liverpool fan!
Ian Wright
Brilliant content something for every fan with fan opinions, stat analysis and tactical analysis and interviews with journalists and LFC legends just an excellent service and a must sign up for every LFC fan.
Darragh McCusker
Before AI, I had no idea that this level of conversation and analysis existed. However, I will be brutally honest, I was furious when AI:PRO started. I thought: why should I part money for something that was free yesterday? After I calmed down, I jumped on the free trail then never looked back. The range of quality is incredible and is only matched by the speed the content is released. Being a part of the AI:PRO community, will take your experience of not only being a Liverpool fan but a football fan to new levels you didn't know existed. Each podcast is consistently insightful, entertaining and enlightening. You will learn as much as you will laugh; and you will realise what we all now know: AI:PRO is the only way to go.
Robbie Carrick
Absolutely the best and most consistently updated Liverpool centric content available in the world. Created by fans for fans; AI:PRO will give you a level of insight into the game that is unprecedented. Sign up.
Paul Chohan
The depth of knowledge and fact checking alone makes this fee worth it. Add to that a fantastic array of hosting talent, footballing experience and genuine passion for LFC and you have a service which I would happily pay double the price for. I listen to a podcast a day and I am never short of reading material. A superb subscription, worth every penny.
Michael Howard
I listen to AI:PRO to get 1) unique pressing data collection & analysis, 2) state of the art sports science input, and 3) Europe-wide, fact based perspective on the performance of LFC team and players. I listen to various LFC fan pods but AI:PRO is the only one where speakers have to evidence their opinions. Enjoy!
Aiden Walsh
A subscription to AI:PRO was gifted to me about 8 months ago and I can honestly say it's the best thing LFC-related that I've ever found. I've learned an incredible amount about aspects of the club and the game I didn't even realise could be interesting, and all the amazing content is delivered by the most knowledgeable group of people who provide the evidence for every claim. As a student, I find the podcasts filling every free moment between classes and on commutes as the content never ends! Absolutely worth every penny.
Julian Tarazi
I've been a follower of podcasts and LFC fan groups for a long while. The dichotomy of the LFC fanbase and rhetoric around the club is incredibly diverse. The melting pot of opinions, myriad media views and punditry available means it's often difficult to separate facts and insight from hyperbole and hysteria. The AI:PRO app offers me a plethora of podcasts which detangle the fluff and agendamania, delving into analytical, statistic and financials all underpinned with incredible knowledge and weighed opinions from fans just like me
Stephen Balogun
The LFC content on this site is fact-based, and the facts are always placed in proper context. The content is also wide ranging – analytics, tactics, sport science, finances, and sports psychology – and delivered by experts. In addition, there are loads of content, which obviously take a lot of work to produce. Finally, the pods are filled with good-natured fun and banter. Where else can you find rational, compassionate, humorous conversation these days, on any topic? The fee is more than fair for what you get. I could not be a bigger fan!
Robert Young
AI:PRO makes my daily commute manageable. Hours of entertainment and insights each month for a few bucks. Love all of the shows but UP, Money Talks, RAW, Scouted and Fatigue Index are particular favourites. I never played the game so I love learning new things each month. It makes the games more enjoyable. Keep up the great work and thanks for a great first year. Gags, sign me up for another year!
Mike Shadrick