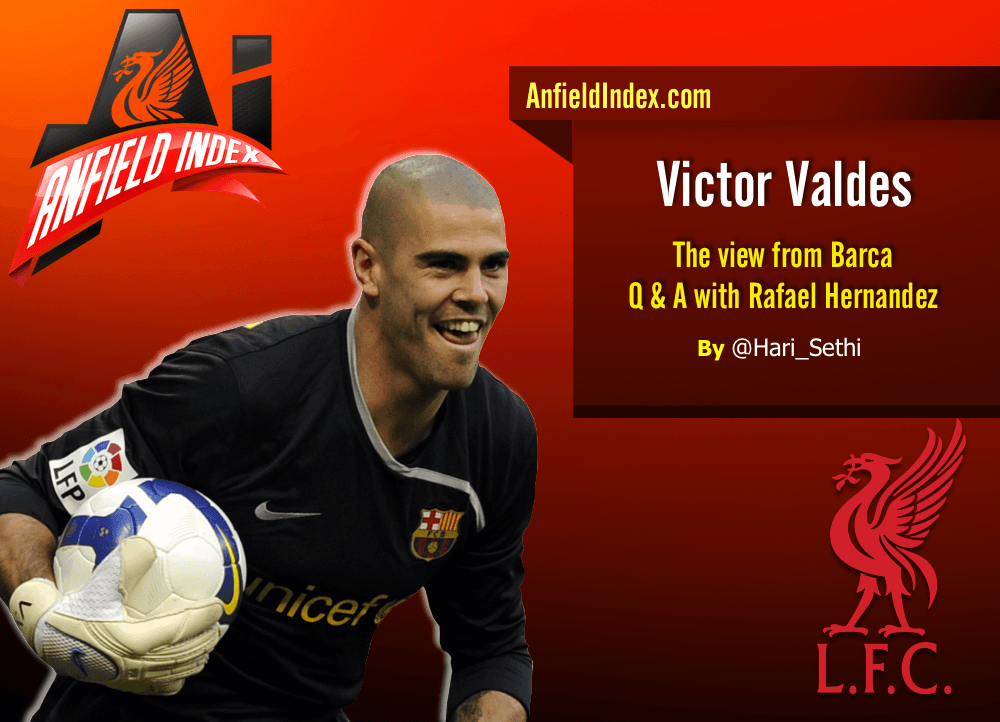 Victor Valdes: The view from Barca - Q & A with Rafael Hernandez
When  Simon Mignolet joined the Reds last summer hopes were high for the young Belgian keeper who had impressed during his time at Sunderland. Though eyebrows were raised at how abruptly Reina was sent out on loan to Napoli, many reassured themselves that given such a decision Liverpool's management must've been happy with the replacement they'd  brought in.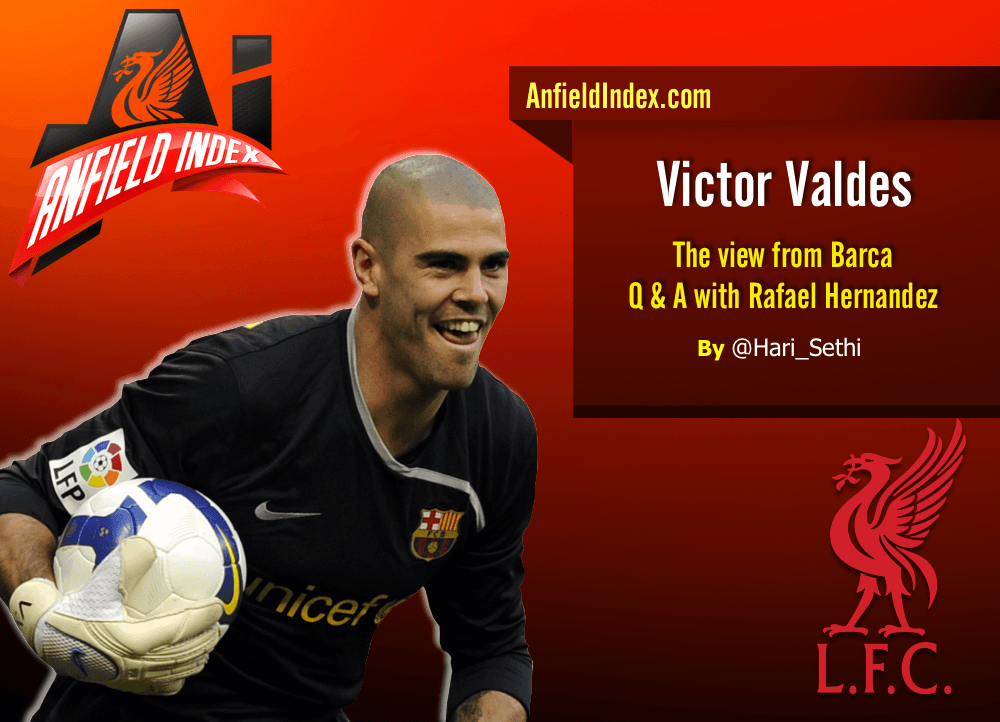 However, despite an overall impressive debut season, where the keeper's impressive shot stopping abilities saved the Reds crucial points in pivotal moments – none perhaps more memorable than on the opening day against Stoke – doubts regarding his suitability for Rodgers' ideal style of play lingered long after the club's campaign drew to a close. Though an instinctive shot stopper who usually thrived in 1vs1 situations, Mignolet's distribution and command of his area left a lot of to be desired; his tendency to stay rooted to his line a worrying issue given the sweeper like abilities of his predecessor.

Following a shaky start to his second season in which the Belgian has looked uncomfortable attempting to change the style of his game to suit that of Rodgers' preferred philosophy, rumours that began to circulate towards the end of the summer window have resurfaced sharply.
A move for ex -Barcelona keeper  and free agent Victor Valdes is seemingly on the cards should the Spaniard prove his fitness in the next month or so, but if the Catalan giants' most successful goalie is indeed on route to Anfield, what can Liverpool fans expect from the sweeper keeper?
Spanish football journalist and vocal Barca fan Rafael Hernandez (@RafaelH117) was kind enough to give his opinion on what a move to Liverpool could hold for Valdes and just what Reds fans can expect should the transfer of the talented free agent eventually come to pass.
Q & A
HS: From the outside Valdes' time at Barcelona seems as though it was a hugely successful period. Why did the Spaniard decide his time at the club was up?
RH: The reasons surrounding Victor Valdés decision to leave Barcelona are shrouded in darkness, the player himself said he's thankful of his wonderful years at the club and claims he wants to try new things abroad, outside his comfort zone. Meanwhile there have been multiple rumours regarding his decision to leave the club, among them the conflict with the current sporting director Andoni Zubizarreta regarding training methods and treatment; and that the goalkeeper's brother made bad choices when investing Valdés money with player finds himself broke at the moment, in dire need of the premium fee Monaco was going to pay for his services.
Following 12 years at the Camp Nou what are Barca fans lasting impressions of Valdes now that he's officially left the club?
Victor Valdés leaves the club as the greatest Barcelona goalkeeper along Spain's legendary Antoni Ramallets. Coming from La Masia, he endured a shaky start between the post to become one of the leading figures in Barcelona's resurgence after a string of disastrous seasons under President Gaspart. He was the most important player on the pitch for Barcelona in the 2006 Champions League final, denying Thierry Henry two clearcut chances with speed and decisiveness, the same can be said of the club's legendary treble winning season. Barcelona fans recognise his worth and are thankful for his services, as the time passes he'll certainly be remembered and revered even more.
What are Valdes' key strengths and weaknesses as a goalkeeper?
He has all the good traits of a world class goalkeeper, his main strength the ability to deal with one on one situations like few players on his position do. Among his weaknesses the occasional mistake in possession, something he greatly improved in the last two seasons, and a surprising lack of control over his own box when the opposing team is taking corners.
What sort of personality does Valdes bring to the changing room?
A leader on and off-pitch, Valdés was a a key person in the dressing room by being one of the most likeable and supportive players of the cast, something often overlooked by football fans. He can add as much as Pepe Reina once did in the Liverpool dressing room and his adaptation won't be a problem.
In your opinion would Valdes be happy to compete with a younger keeper for a place in the starting line up or is the player expecting to be 1st choice at Liverpool? 
If Valdés fully recovers from his injury, which is likely given his position and movement, there won't be any competition with another young goalkeepers with the club that signs him, he'll certainly be brought to Anfield to feature as the starting goalkeeper.
In your opinion is Valdes well suited to the Premier League or does he have weaknesses that will leave him vulnerable?
World class goalkeepers are suited to any league as long as they're correctly allocated to a new country and receive support from club and fans. Valdés will bring his entire family when he moves and I find it difficult to picture such experienced player struggling in the Premier League as long as the language barrier is overcome.
Give his age and pedigree why is there seemingly little competition for Valdes' signature? 
Most top clubs in Europe already have on their ranks a world class goalkeeper, and the top sides that doesn't probably lack the money to fulfil Valdés' wage demands and ambitions, Monaco was a rising club at the time he agreed terms with them and it shows his intentions, Liverpool is one of the biggest in the world with a solid sporting project under the FSG and are currently looking to strengthen their squad further.
In your opinion is Valdes still capable of contributing at the highest level and aiding a team with a CL campaign to deal with?
With the correct mindset, fitness and determination, goalkeepers can reach their 40s without struggling at the top European level, he's only 32 years old and can offer at least 5 years at his best as long as his recovery from injury goes well.
If Valdes' rumoured move to Liverpool does come to fruition, how do you expect the keeper to do? 
I expect Valdés to immediately surprise English fans. He's mostly known outside Spain for his blunders, something every goalkeeper is subjected to, but that was turned into an even bigger struggle by playing at Barcelona where he was constantly questioned by both fans and media, causing his stock in Europe to drop every time he made a minor mistake. He's always stepped up in the tougher matches for club and country when given the chance, including that decisive match vs France in the World Cup qualifiers in 2013, and is bound to earn the admiration of Liverpool fans.