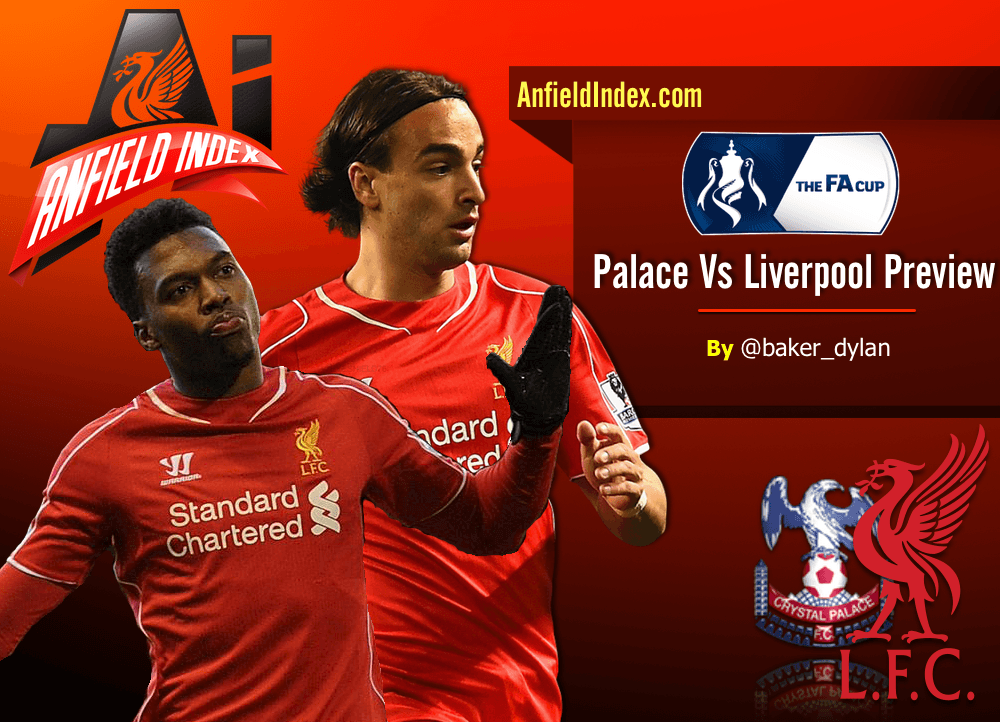 Crystal Palace v Liverpool | FA Cup Fifth Round Preview

Oh, Palace.  How you've become the bane of Liverpool's existence lately.  Selhurst Park is no friendly place to play for any side, but we've performed worse there than any other ground.  If you can even believe it, we've traveled there six times since 2000, and haven't won once (0W-2D-4L).  If Brendan Rodgers is adamant about focusing on the cup, then he'll have to figure out a way to end this abysmal streak.  With new manager Alan Pardew off to a great start, advancing to the next round will be quite the task.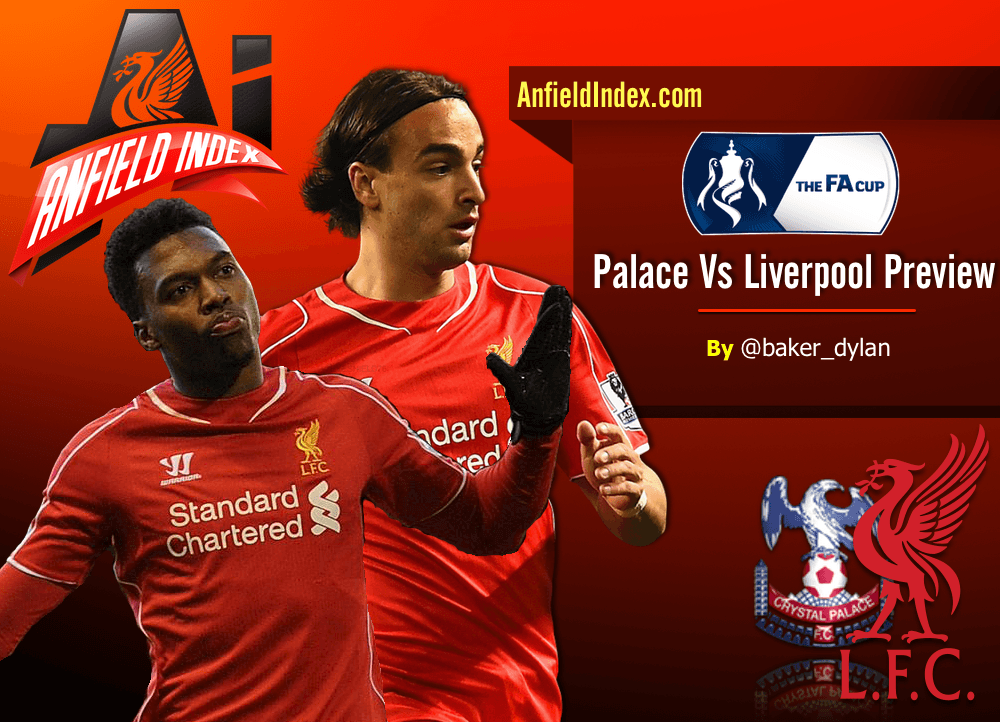 Where Things Stand
My dislike for this club was naturally born in the dying embers of last season.  We all know about it.  Three goals in the last ten minutes to begin the end of our title run.  And they drove the nail deeper into the still-open wounds earlier this season, thrashing us 3-1 in yet another dismal trip to Selhurst Park.  While my thoughts on whether the FA Cup should be a priority should be known by now, we have to assume that Rodgers will attack this game with as top a squad as he can manage.  So we might as well look at this FA Cup tie with the same scrutiny as any other match.
After the stunning victory against Tottenham this week, it's fair to say Liverpool are riding higher than ever.  At the moment, we currently hold the longest active unbeaten streak at nine games.  Several media websites were calling the weekday match one of the most important this season.  The teams trying to hawk that final Champions League spot are so unbearably close to one another right now that each point is vital.  Grinding out a 3-2 victory on Tuesday was massive.
Crystal Palace have had a similarly good time lately.  Manager Alan Pardew took the reins of a club in the relegation zone and has worked them into a highly favorable position.  Just two wins off the top half of the table, the Eagles are on a tremendous run of form at the moment.  Pardew has taken 12 of the first 15 points available to him, masterminding the triumphs over red-hot Southampton, Burnley, Leicester, and Tottenham on his debut.
Some of the positives that we have going into the cup tie: our form, as I mentioned, has been outstanding.  The Reds have showed a sort of mentality change since dropping out of the league cup to Chelsea.  Articles and podcasts alike praised Liverpool's performance against the Premier League heavyweights, and the side has maintained its intensity and passion since.  When we last faced Palace, we were in the "wish-we-could-forget" time of the campaign.  Confidence was nonexistent and the players weren't comfortable with each other yet.  We came to Crystal Palace shouting for revenge, and received a shellacking in return.  Liverpool know that they cannot lose like that again.
My lack of priority placed on the FA Cup and desire to destroy Crystal Palace are clearly two feelings that contradict one another.  It makes my feelings here hard to call.  I wouldn't mind at all if we went out of the competition, but my American arrogance makes it impossible for me to accept another loss to the Eagles.  Winning the tie means adding another round of matches to Liverpool's already cluttered schedule.  The ripple effect of just one game has totally unknown outcomes.
But we can't. Lose. To Palace.  I'll have a damned aneurysm.  Grr.
Talking Point: Injuries
One of the biggest factors going into the weekend are the injuries on both sides of the ball.  Sterling sat out on Tuesday due to an injury "to the bottom of his foot," says Rodgers.  No information has been released for a potential return date.  Lucas joined him on the sidelines with a thigh injury that will keep him out of the side for a month.  Both have been integral parts of the system that has kept Liverpool's top 4 chances alive this season.  Steven Gerrard was also substituted off against Tottenham due to a recurring hamstring injury.  Reports released Thursday morning suggest that the captain will be out of the side for three weeks.  In that case, the side might look quite different on Saturday.  I'm hoping for a bit more rotation for the cup tie, anyway.
Palace have some of their own injury problems as well, though it's forced a formation change that has served well for them.  Marouane Chamakh has been out for a game or two, but came back in their weekday clash against Newcastle.  He's played striker and attacking midfielder for the Eagles most of the season.  Chamakh hasn't been on wonderful form, though, and Alan Pardew has recently discovered a 4-2-3-1 formation that's garnered two wins in two.  Neither are utilized in the setup.  Also lost during the Newcastle match was Yaya Sanogo.  I think it's safe to say he wasn't our biggest worry going into the weekend, but his size can pose problems at times.  Scott Dann also doesn't look likely to come back.  Another injured man, undoubtedly the most influential of the set, is Mile Jedinak, leading goal scorer and exceptional free kick taker.  He was taken out of an Asian Cup match with his Australian national team, and hasn't returned since.  His replacement, James McArthur, has performed very well, but doesn't possess the same sort of game-changing talent that Jedinak has.
In light of those injuries, let's have a stab at some line-up options.
Predicted Line-ups
Liverpool
The injuries I mentioned are going to force some changes, and I think it's going to come through huge here.  We constantly discuss ways to get Gerrard out of the side and onto the sidelines.  Now, there's a chance to test some things.  Normally, a simple move of Henderson from wing back to the defensive midfielder solves the equation.  With Lucas gone, however, Rodgers has to decide the other half of the midfield pair.  I really, really don't want to Joe Allen come and fill that role.  This is a cup competition, so why not give Can the opportunity to move forward for a while match?  Lovren held his own during the last half hour against a raging Tottenham side.  I didn't see any glaring errors out of him, and the situation demands another center half.  I don't think Kolo Toure will be ready to go by then, so it's time for another run in the team for the Croatian.  I don't like it, but getting Can into a more advanced role is well worth the sacrifice of starting Lovren for a competition I don't care about.  He also didn't play poorly against Spurs, so I think it's a fair trade-off.
That said, Sterling's injury also means some alterations to the attacking players.  I wouldn't mind seeing Moreno get a rest this match, but there's just no trust in Jose Enrique at the moment.  There will be a change to the other side, however.  No matter how much we've loved Jordan Ibe over the last couple of matches, the boy is cup-tied to Derby County for the remainder of the competition.  Markovic has been enjoying his attacking role lately, and young Javier Manquillo hasn't had a run out in a while.  I expect to see him playing in behind the Serbian for this match.  Coutinho needs a rest, as I think was evident in the weekday fixture.  Against Palace, I think this is a good opportunity to give it to him.  Rodgers will surely want him in the Europe League match, so why play him in the FA Cup?  Give Lallana another run out in the side.  Sturridge will undoubtedly start as well.
Crystal Palace
Pardew has some options here, and an interesting choice to consider: where does Bolasie fit back into the side?  Hence, the given formation.  I think he goes back to the 4-2-3-1 after only getting a draw during the week.  There, Palace lined up in a 4-4-1-1 and looked stale until they went down a goal.  Considering their track record against us in recent times, they'll want to push harder against us from the start.  Let's break it down.
Dwight Gayle has always given us problems, and there's really no good reason why.  He's been in and out of the side for a while now, but he somehow performs well against us.  Perhaps there's some voodoo woman out there that hates Liverpool, and wants to spite us with the forward.  There's no telling, really.  But if Pardew has kept up with recent results, he'll start Gayle against us.  Chamakh shouldn't start, like I said before.  I think this is the chance to start Zaha in a more central role.  His skill on the ball and good vision should provide a little more creativity for them in the middle of the pitch.  Bolasie gave us a lot of problems earlier this year, having started on the left and switched to the right.  Puncheon prefers the right side, so Bolasie will start opposite him at the beginning.  With Jedinak out, James McArthur has been the preferred choice in the midfield.  He and Ledley have been stout enough in recent games, and I doubt there will be a switch there.  Martin Kelly and Joel Ward have been consistent throughout the season, and with Scott Dann presumably still injured Haangeland will replace him.  Paired with him will likely be Delaney, as the right-sided center half has been pretty consistent all season.
The Baker Forecast
Our width is going to be key here.  Our build-up play typically doesn't come from the middle, and the threat of Bolasie and Puncheon out wide will cause problems.  We need to funnel them into the middle to clutter their attacking play.  Manquillo and Moreno will get some big defensive tests in this one, further proving their worth to the club.  Going forward, we need to push on down the line.  Martin Kelly and Joel Ward are no standout full backs, so continued pressure from Lallana-Moreno and Markovic-Manquillo is a must.  Getting around them and driving the ball back inside will be crucial to our game plan.
With Gerrard out of the match, the rotation should prove beneficial for our team selection.  We'll miss some of Coutinho's creativity, but I have to believe we break out Selhurst Park curse with this match.  We don't need to stay in the FA Cup, but I don't think there's any way around a win here.  2-1 to the Reds.  I can see Markovic open the scoring and Sturridge will put us up by two goals before Gayle maddeningly finds another goal against.  We'll shut up shop from there and walk away the victors.