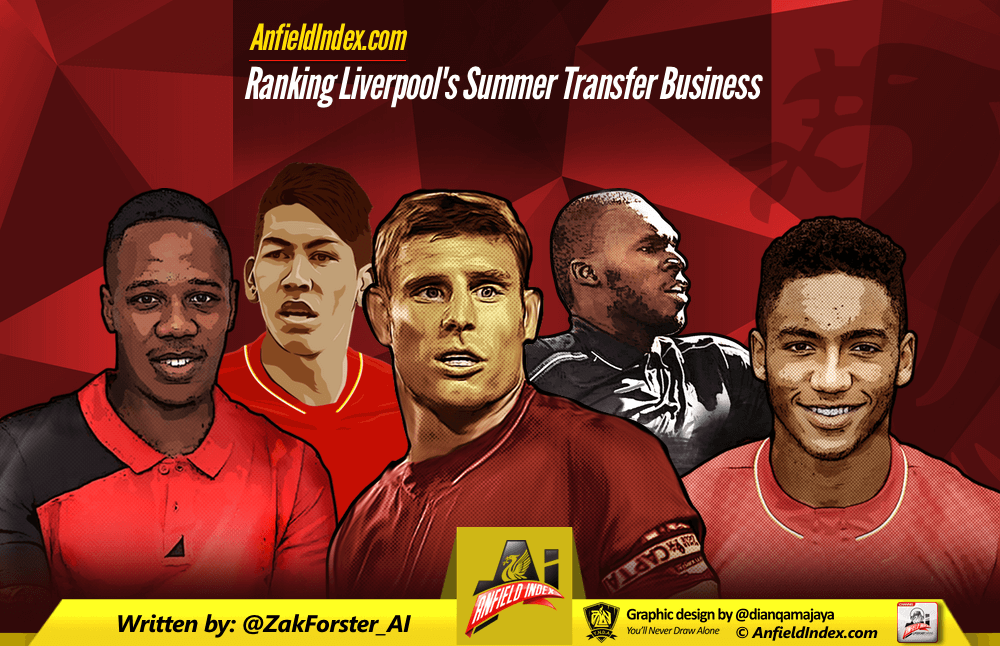 Ranking Liverpool's Summer Transfer Business
Well, the international break is sadly upon us and Liverpool, alongside the rest of the Premier League, are four games deep into their long season. Four games sounds like a reasonable time to take stock so the international break will probably be welcomed by many managers who are completing last minute checks on their squads. Of course, Liverpool have known their squad for the 2015/2016 season for some time with business wrapped up over a month before the season began. This was a wise choice by manager Brendan Rodgers who seems to have happily integrated all the new signings into his new look squad – 3-0 defeat to West Ham not included.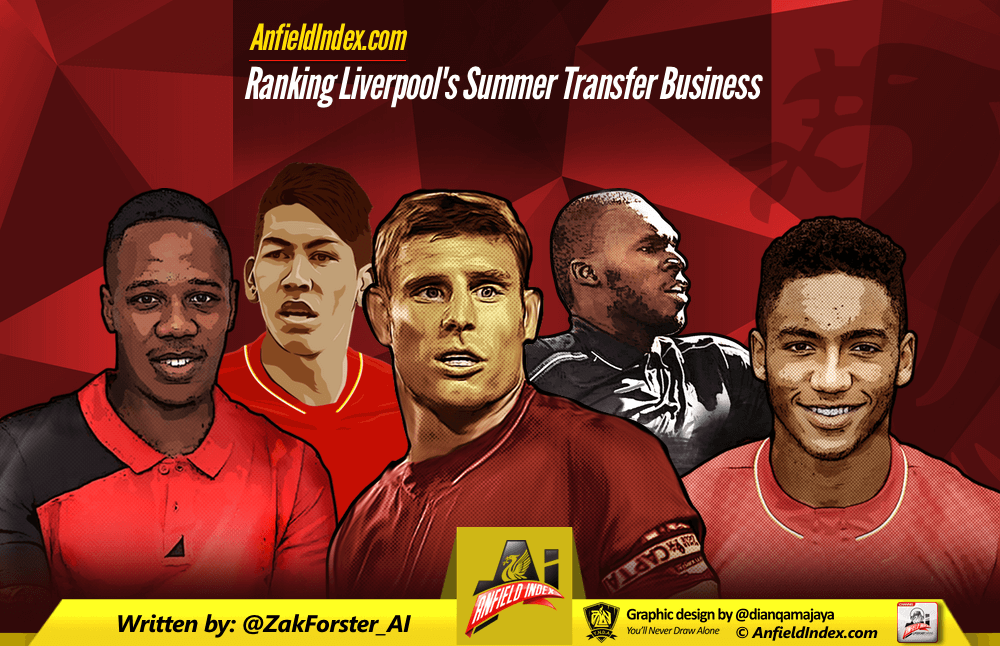 So, what of these signings? After four games, most of the new boys have made an appearance or two and have contributed in one way or another – with some doing more or less than others. Who's been the best signing so far? And who is yet to shine? This piece will aim to rank the new signings in order of their success so far in their short Liverpool careers to date. However, this piece will not aim to make out that one signing is a complete right-off or a total success because four games, a nice chunk it may be, is not long enough to judge a new signing (Allan Rodrigues is not included because he's solely a youth team signing at this moment in time).

8.) Adam Bogdan 
Adam Bogdan was obviously the least attractive signing of the summer and his addition to the squad was simply made to keep Simon Mignolet on his toes. He's yet to make a competitive appearance for the Reds but if his presence helps to improve and maintain the form of Mignolet I'm happy to have him around the squad. 
7.) Divock Origi
Like Bogdan, Divock Origi is yet to make a competitive appearance for the Reds and it doesn't look like a first outing is close for the Belgian international. Origi is certainly a solid prospect and his two goals in pre-season, alongside a string of close calls when a more experienced striker would have benefitted, prove he's got an eye for goal. He may find himself in the starting XI for the Carlisle United match-up in the League Cup third round so long as he isn't shipped out on loan beforehand – West Ham have been heavily linked and Slaven Bilic looked keen to speak with the young Belgian after the Hammers' victory at Anfield in gameweek four.
6.) Danny Ings
Danny Ings knew he was brought in as backup when he was signed on from Burnley and it's proven to be a slightly frustrating time for the young Englishman so far with around thirty minutes the only slice of time he's received up to now.
He nearly made his debut against Stoke City, only for Philippe Coutinho, the man he was to replace, to smash home the winner as he was preparing for his entrance. Ings ran out for his debut in the defeat to West Ham with Roberto Firmino making way. Hopefully regular minutes will follow for the young Englishman.
5.) Roberto Firmino
Roberto Firmino wasn't Liverpool's most expensive signing but he was certainly the most exciting. Firmino is a proven Bundesliga player with his days at Hoffenheim littered with goals and assists to boot. The Brazilian international is highly rated across the world and it was a real surprise when Liverpool were able to swoop in and snatch the creative midfielder despite reported interest from Manchester United.
With full match fitness still being built up to by "Bobby", Reds supporters are yet to see the best of him but flashes of brilliance against Arsenal and West Ham were enough to wet the appetite. Expect big things when Bobby, Coutinho, Sturridge and Benteke eventually click.
4.) James Milner 
James Milner has done exactly what James Milner promised. He's worked hard and helped the defence with energy in the pressing role ahead of Martin Skrtel and Dejan Lovren. In the first three games, this pressing worked a treat but against West Ham it wasn't anywhere near as visible. Milner, a £150,000 per week paid player, needs to show more than just pressing actions to prove to Liverpool fans that he's more than just a workhorse.
3.) Christian Benteke
Suffice to say, this scribbler wasn't keen on Christian Benteke becoming Liverpool's second most expensive signing of all time. For me, Benteke would not fit Liverpool's desired style of play under Brendan Rodgers – despite the Reds not having a real designated style of play to speak of last season.
However, Benteke has been in Liverpool's top three players so far this season with a goal against Bournemouth kick starting his Merseyside career in front of the Kop. Benteke has performed well in three of his four appearances for Liverpool so far (in addition to his screamer against Swindon Town during pre-season) and looks set to get better after the international break. Hopefully "Big Ben" continues going from strength to strength. He'll need more support than he received against West Ham though.
2.) Nathaniel Clyne
Manager Brendan Rodgers announced that Nathaniel Clyne was definitely England's best right-back in his pre-West Ham presser and, surprisingly, I couldn't agree with him more.
Clyne has been a breath of fresh air down the right hand side and his defending has been good for the most part. His delivery was poor against West Ham but his ambition and energy down the right is to be admired. He's managed to force Glen Johnson out of the conscious thought of the Liverpool fan base which is a massive compliment because he'd affected Kopites so deeply that many thought he'd never be forgotten. At £12.5m Liverpool seem to have bagged themselves a bargain.
1.) Joe Gomez 
Undoubtedly Joe Gomez has been Liverpool's best pound for pound signing this summer. The England youth international has impressed for Liverpool in a string of performances in an unfamiliar left-back role with Alberto Moreno a non-starter in all four gameweeks so far. Gomez has performed with composure and strength beyond his tender years but a shaky performance at home to West Ham reminded Kopites how far he still has to go to reach anything like his full potential.
So that's our rundown of Liverpool's signings from the summer of 2015. Down the line these rankings will change and fluctuate as each signings fate becomes clearer through the long term. I'd love for all these players to end up being a success but inevitably some will fall by into the failure category. Hopefully it's the expensive ones that turn into successes.