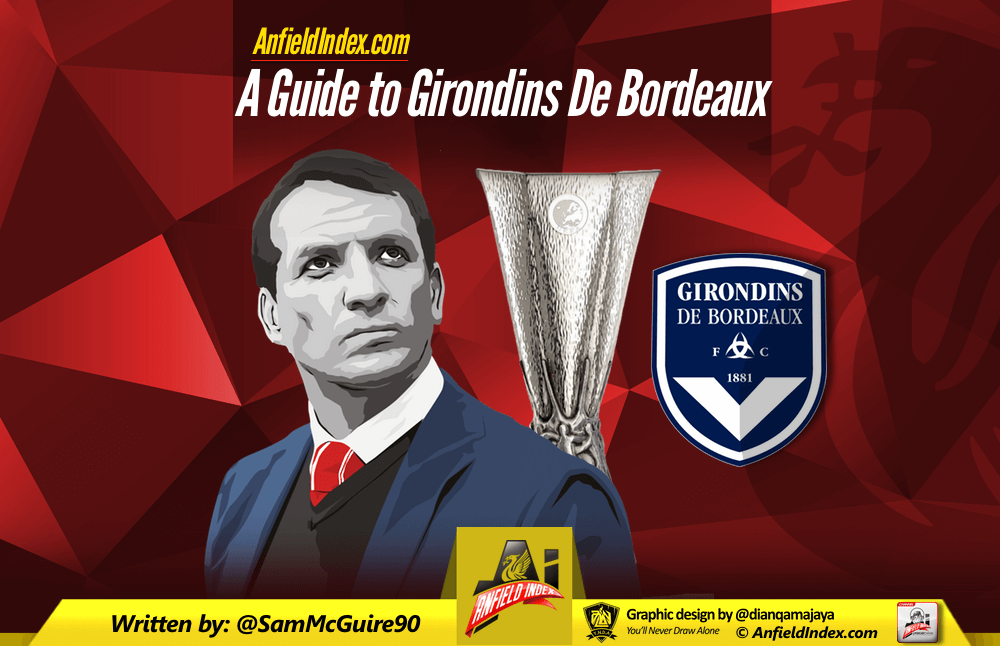 A Guide to Girondins De Bordeaux
Liverpool's Europa League draw wasn't the toughest all things considered. Barring the trip to Russia there shouldn't really be anything there to concern us. There's no reason The Reds shouldn't top that group but It'd be foolish to take these matches for granted. Many fans don't watch Ligue 1 and I myself only watched Bordeaux last season from time to time to see how our on loan Tiago Ilori was doing. So as a guide to the French side I spoke with Florent Toniutti of Eurosport France. You can find him on Twitter @flotoniutti, be aware though he's not very complimentary when it comes to Tiago Ilori.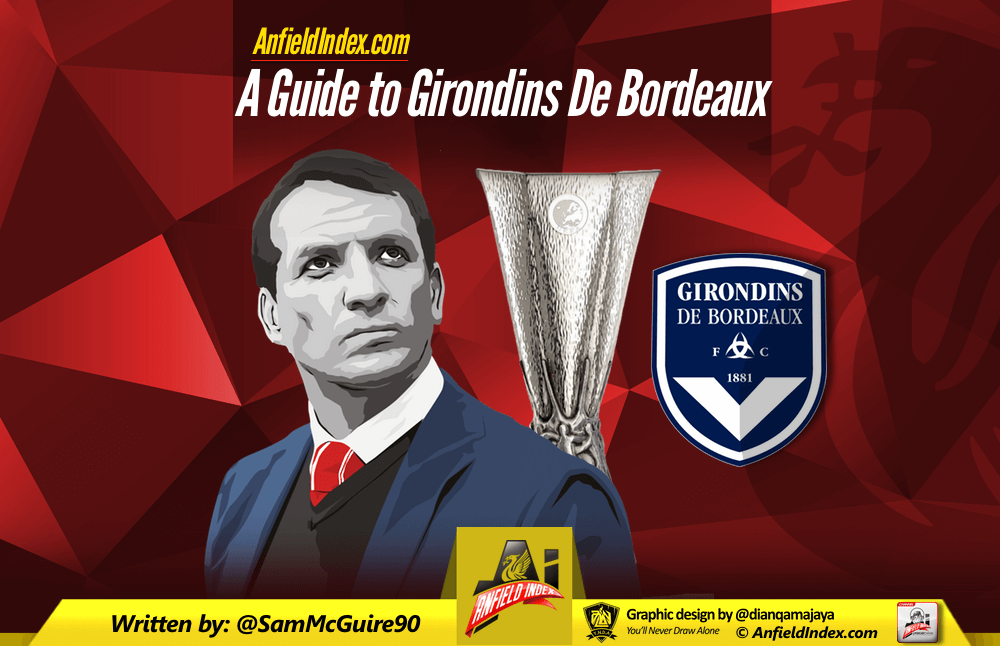 What style of play should we expect to see from Bordeaux? 
They like to hold on to the ball when they have it. Defenders try to play short with the midfielders who are starting attacks for the forwards. Since this summer, Henri Saivet (former huge young player, find some videos of him at 16 on Youtube) plays in the midfield. He lost his speed and velocity but still has everything else, he can pick a pass, has clever positioning and generally starts attacks for the team.. So he's the main man for our attacks. You'll need to track him, and well.

Upfront, we usually have one big guy, Cheick Diabaté who is currently injured , Isaac Thelin who you may have seen at the Euro U21 tournament with Sweden  or Enzo Crivelli, a French MMA fighter.  The team also has guys with skills, Wahbi Khazri, Diego Rolan and Thomas Toure, who all like to attack the defence with the ball. Of course, the full-backs are offering width when they have space.
Who is your key player?
Like I said, Henri Saivet. But we also have one central defender who's playing pretty well right now: Nicolas Pallois. Bordeaux tries to press high up the pitch (second team on the PPDA's metrics in August behind Lyon), and Pallois is the main man to win the ball back when the opponent is forced to play long balls from the defence (because of the pressing).
And Bordeaux relies a lot on it because they're not good when they have to defend in their defensive third. For their defence, they suffered from injuries since the beginning of the season: they lost Carrasso (best goalkeeper), Sané (best defender), Sertic (who was a leader before 2015, not much since, but still a huge blow), Plasil (best midfield and first guy on the team-sheet when he's healthy) and Diabaté (best scorer…). Carrasso is back. Plasil and Sané may be back for the first game but unsure right now.
Are there any players to look out for who may surprise people?
Like I said, Saivet, Pallois. Crivelli could surprise you by his fighting spirit but he's not a great player (or even really good) so far. Then, if they are in a good day, all of our skilful players can surprise you. Also for his fighting spirit and his « Matuidi-role in the team, André Poko could become a good fit for a Premier League standard team in a few years. But I think Milan Gajic will be the « sleeper » of the season for us.
Are there any weaknesses in the team?
We have lost our spine with all of the injured players, and substitutes are of course not as good. Our positional defence is very poor right now (maybe it'll be better in a few weeks) and we have a lot of inconsistant players such as Contento, Poundjé -Left-Back-, Yambéré -Centre-Back, Poko, Traoré, Khazri, Touré, Rolan all of whom are midfielders. Only Saivet and Pallois were constant in August.
How do you think the group will finish?
At first, I was kind of scared to see Kazan with us and you. But after a look at their squad, they're far from the team who were Champions a few years ago. So, we can finish 2nd behind you. The problem is: Bordeaux is a team which plays as the opponent. So if it's a big one, they'll be able to do a big game (but maybe lose). And the same applies for a small one. Like the last games against Kairat Almaty. They rise to the occasion but falter against lesser teams.
So, 2nd if they play at full capacity.
Finally, are there any nice places to visit in Bordeaux if people have time?
For drinking, there is the Milo's Café with their famous Long Island Iced Tea. Say you come from me, they will love it (and maybe call me). To eat: West Coast Burgers, Cappadoce (turkish kebabs, best in Europe, no kidding). Also to drink, nice place during the afternoon: Chez Fred.
If you want some culture: the downtown is little, so it'll be easy to see everything in a short period of time (1 or 2 hours: Quinconces, Victoire, Grand Théâtre, Gambetta, Quais, Miroir d'Eau, Place de la Bourse etc…). Then museum for more (CAPC for contemporary art).