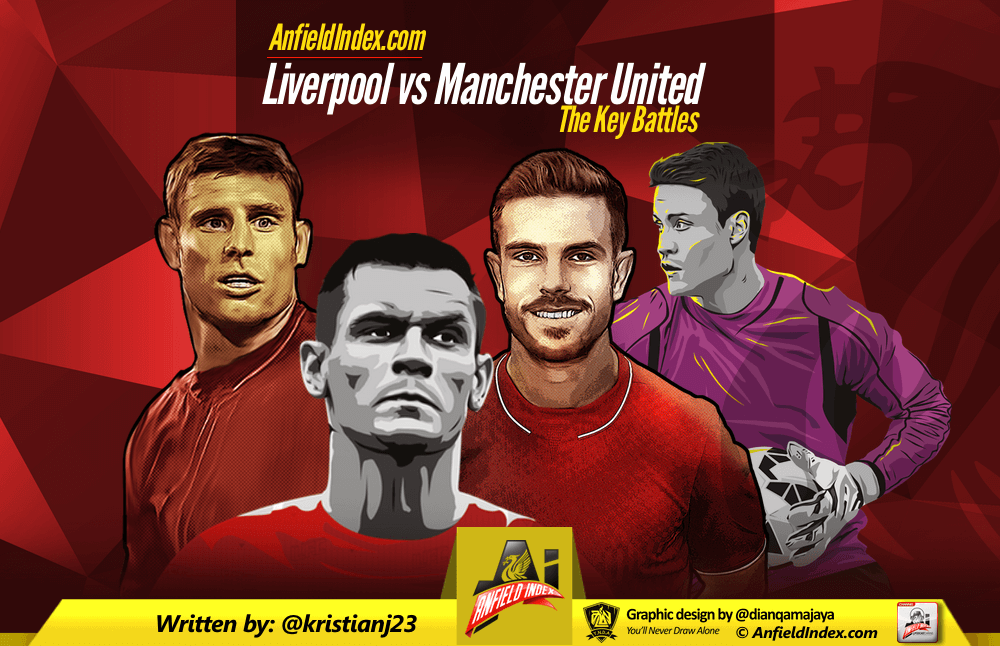 Liverpool vs Manchester United – The Key Battles
Liverpool travel to Manchester United after the international break with an almost identical record after four games played. Both teams have seven points from their opening quartet of fixtures, having won two, drawn one and lost one apiece.
Both teams also go into the game on the back of their solitary defeats so far. Liverpool's 3-0 humiliation at home to West Ham still lingers in the mind while United will be looking to banish the memories of their 2-1 loss at Swansea City.
Manchester United ran out comfortable 3-0 winners in this fixture last year, but a combination of David de Gea heroics and poor finishing from Raheem Sterling meant that the final score, and even the result, was by no means a fair reflection of the game.

Ahead of Saturday's encounter, Kristian Johnson takes a look at the key battles.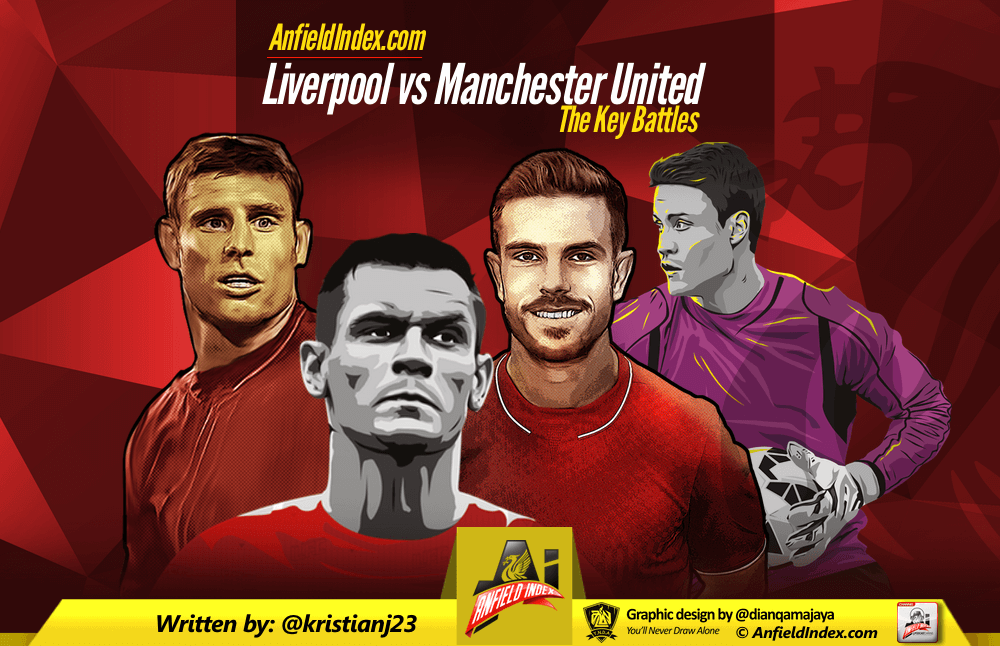 Christian Benteke vs Chris Smalling
For many, the abiding memory of this contest comes from the 2012/13 season – when the then Aston Villa frontman twisted and turned Chris Smalling before sending him sprawling with a shuddering shoulder charge – but Smalling has come a long way since that debacle and is now arguably Man United's senior defender.
A key part of this battle will be who comes out on top in the aerial duels, which will be no mean feat for Smalling considering Christian Benteke has won a staggering 10 aerial duels per 90 minutes in a Liverpool shirt.
Nonetheless, Smalling has won an average of 3.75 aerial duels per 90 minutes so far this season, far more than Daley Blind (2), Martin Skrtel (2) and Dejan Lovren (2.5), which seems to suggest he will be tasked with keeping Benteke in check.
The Man United defender also leads the way in terms of tackles won per 90 minutes (1.5), with Blind (1.25), Skrtel (0.5) and Lovren (1) all lagging behind in this department too.
Benteke certainly has the tools to bully his opponent, but it will be a more difficult task than it would have been even one year ago.
Jordan Henderson and James Milner vs Bastian Schweinsteiger and Morgan Schneiderlin
For years, Man United's midfield has been their soft underbelly. Tom Cleverley, Anderson and Darren Fletcher are all examples of their mediocrity in the position in recent seasons. Last year, Wayne Rooney was even deployed there for considerable chunks of the campaign in an attempt to resolve the issue.
However, Louis van Gaal made this a priority over the summer and brought in Bastian Schweinsteiger and Morgan Schneiderlin. Having conceded just two goals in four games, the duo have helped to make Man United harder to break down.
In Jordan Henderson and James Milner, Liverpool have the antithesis of United's midfielders. With bundles of energy and power, the England pair may be able to disrupt the flow of Schweinsteiger and Schneiderlin with their relentless pressing.
The key to this, though, is to make the game as mad and open as possible. Henderson and Milner have the legs to get up and down to pitch and if they can quickly move the ball into the feet of Benteke and Philippe Coutinho, Man United's midfield pair will be bypassed with ease.
However, van Gaal will urge his side to play the game in the slow, turgid manner that they have attempted to impose in their opening four games this season. If this happens, Liverpool will struggle to break the stranglehold that Schweinsteiger and Schnedierlin will impose in the centre of the park with their passing and positioning.
Best go hell for leather, then.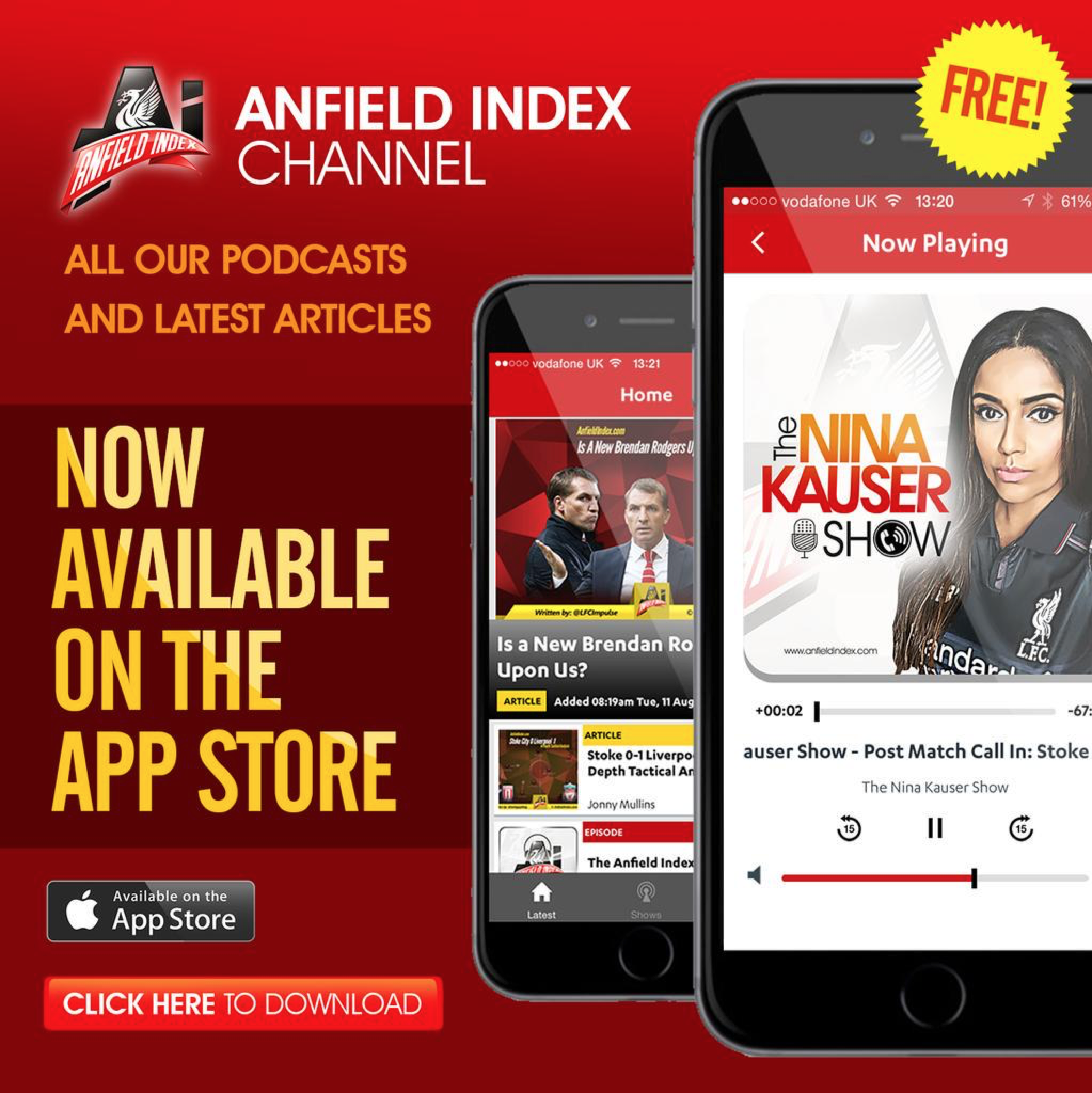 Dejan Lovren vs Wayne Rooney

Wayne Rooney may well have found the back of the net for England, but San Marino's defenders are even worse than Dejan Lovren, believe it or not, and he has scored just once in his last 12 Premier League appearances.
A hat-trick in their Champions League qualifier against Club Brugge aside, Rooney's goalscoring form has been woeful of late.
Lovren seemed to be turning a corner in the early stages of the season, but all his good work came undone with his West Ham horror show and his confidence is likely to be as low as it has ever been.
Rooney and Lovren have come face-to-face three times in the Premier League and Rooney has scored in just one of those ties, last year's Old Trafford victory.
The winner of this particular battle on Saturday may simply come down to who lifts their game slightly above the shambolic level they've shown so far this season.
Simon Mignolet vs David De Gea
In this fixture last year, De Gea produced one of the finest performances of the season to earn his side all three points. Meanwhile, Simon Mignolet was dropped "indefinitely" prior to the match after his poor displays in the first half of the campaign.
Just nine months later, the roles could well be reversed.
Dropping Mignolet proved to be a masterstroke. He has had a renaissance of sorts after his omission at Old Trafford and now looks a far more assured goalkeeper. Meanwhile, De Gea has missed all of Man United's games so far this season as he has been unable to concentrate of football matters.
Nonetheless, with his Real Madrid move stalled for at least another four months, he may well return for the starting XI for the first time since May.
For all the hundreds of millions of pounds of outfield talent on display, the game may hinge on whether van Gaal will swallow his pride and reinstate De Gea.
Let's hope he continues being stubborn and sticks with Sergio Romero.