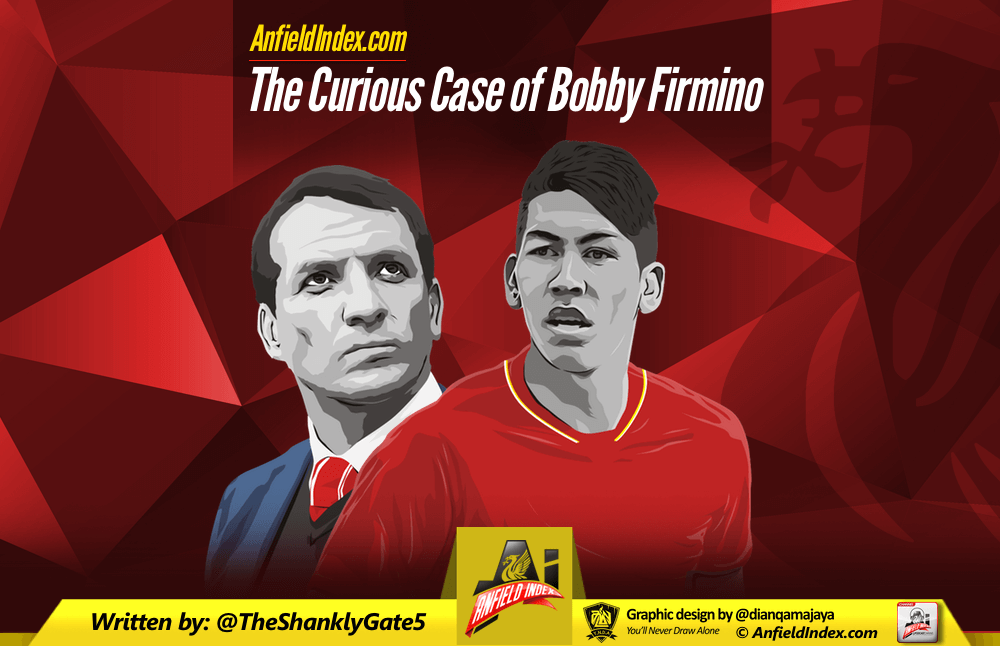 The Curious Case of Bobby Firmino

Our transfer record under Rodgers has been filled with expensive mistakes and poor decision making with names like Markovic, Balotelli and Lovren all being proved as flops in their first season at the club. However, the general feeling was that we actually had a successful transfer window this summer with the free signing of James Milner and the signing of a goalscoring Christian Benteke looking like first-team quality. One signing that caught many by surprise was the signing of Roberto Firmino from Hoffenheim. An attacking midfielder whose stats show 23 goals and 21 assists in 66 league games makes excellent reading. The feeling from the fans and media alike was that Roberto Firmino was the marquee signing of the summer at £29million. With this arguably being the first marquee signing since Luis Suarez, there was optimism on Merseyside for a promising season. Sure, we're only 6 weeks in to the new season, but things haven't quite exploded for Firmino as expected.
The latest South American to arrive at Liverpool has featured in 6 games for the Reds and played a total of 240 minutes in the league. So far, Firmino has failed to score or register an assist for his new club. If we look at his first six games last season, the Brazilian had already scored one goal and assisted 2 goals in the Bundesliga. Is Roberto Firmino struggling?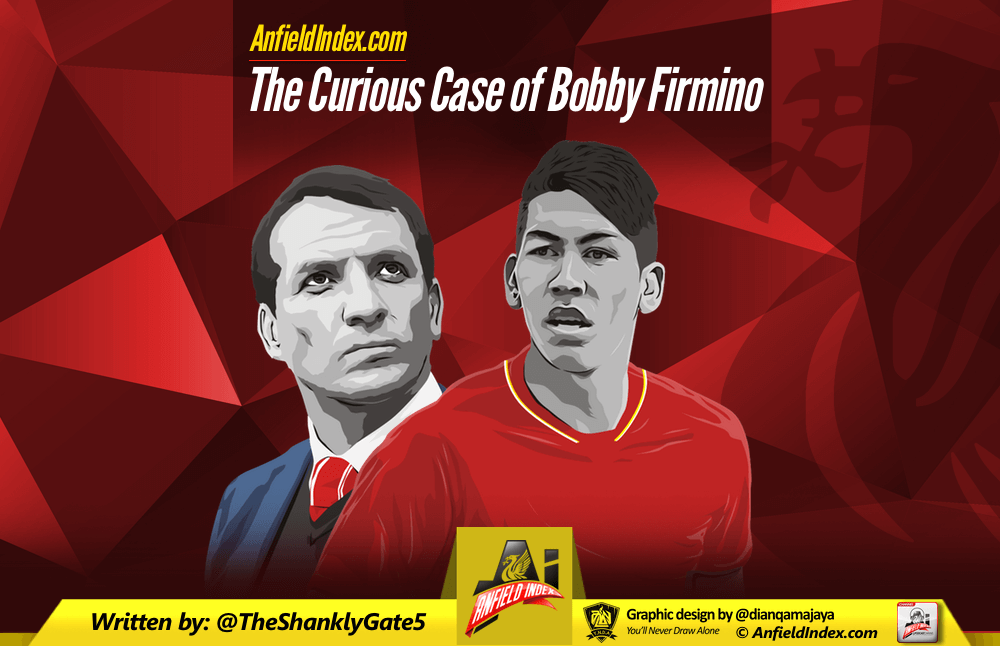 Being shifted to the wing
At Hoffenheim, Roberto Firmino was stationed behind the striker in the number 10 position. This central area allowed Firmino to flourish as he utilised his dribbling skills and vision to become the chief creator for the German side. His link up play with Kevin Volland in particular was a positive from this role. Playing as a central attacking midfielder was what earned Roberto Firmino his price tag and you'd assume that is where he would be played at his new club. You'd assume wrong. Yet again, the naivety of our current manager (at the minute) has seen our marquee signing be shifted out to the wing where he has been ineffectual. It is like buying a brand new Ferrari and only taking it out on the local streets. Take the Ferrari out to the motorway or a race track and you'll see what it can really do. The potential is there for Firmino to strike up an understanding with Benteke/Sturridge and even more excitingly his fellow countryman Philippe Coutinho. If this is created, we could once again become an attacking force in the league. For us to see his true ability, Firmino needs to be played in his favourite position.
Adapting to the English game
When any foreign player comes over to the Premier League there is always the 'they need time to adapt to the English game' excuse ready in the manager's vocabulary. Many players have previously arrived with a big reputation and ended up being forgotten and eventually sold. Andriy Shevchenko is one of the most high profile examples of a world class player who was unable to shine in England despite his undeniable quality. In Germany, the brand of football played is fairly similar to what we are used to, maybe just not quite at the same intensity. This could be part of the reason that we are yet to see the Roberto Firmino of the last few years. After building up his match fitness and adapting to the new environment we may see more of Firmino's quality.
Injury at Carlisle makes things even harder
If things weren't quite working out for Firmino so far, the injury he picked up in the League Cup on Wednesday will only add more pressure once he returns. Why we felt the need to play the Brazilian against a mid-table League Two opposition is beyond me, but early in the game Firmino fell awkwardly which has caused a significant back injury. Rumours of a broken bone in his back could see a prolonged absence from the first team. This will bring more issues for Firmino. We all saw last season how injury stunted the form of Adam Lallana just as he was finding his feet. After scoring a brace against Swansea in December 2014, Lallana was injured just over a week later against Leicester City. Upon returning Lallana was never able to regain this form and has continued to struggle through to this season. The hope is that once Firmino returns he will be able to find some form quickly. However, if other players in the squad have performed well, Firmino may find his chances limited despite his Bundesliga pedigree. After a full rehabilitation from injury it is important that Firmino takes his chances and shows all the fans how impressive he can be for the team.
Lies, damned lies and statistics
0 goals, 0 assists, so what? Sure, a goalscoring midfielder who can change the game at the flick of a switch is what all fans dream of, but unfortunately, there are not many of those around. Having to deal with changing clubs, countries and on top of all having to play under a tactically inept manager is very tough. In my opinion Roberto Firmino has been solid if unspectacular. One stat that is overlooked is that Firmino has made 7 key passes in his 240 minutes on the field. That is 4 more than Coutinho (played 398 minutes), 1 more than Wayne Rooney (played 450 minutes) and only 1 less than David Silva (played 343 minutes) who is considered to be one of the best number 10's in the Premier League. They are outstanding numbers for the Brazilian and it really highlights his key abilities.
Another massive part of Firmino's game is his pressing when his team don't have the ball. It is a quality that would perfectly match the supposed high pressing style we were expecting at Anfield; unfortunately we have not seen this pressing much. However, Roberto Firmino has continued his impressive pressing game with 13 tackles. To put that in perspective, Coutinho and Rooney have only made 2 tackles, and David Silva has made 5 tackles. This is a quality that will endear him to the Anfield faithful as we see Firmino chase down the opposition and win the ball back for our team.
After the last two seasons that Roberto Firmino had the expectations were very high upon his arrival at Liverpool. Many were expecting to see a number of goals and confident performances in his first few games. The reality is that Firmino has failed to score so far, but he has been played in an unnatural position and he has been slowly integrated to the side. In time he should become more comfortable which should allow his natural game and skill to be shown every game. Also, with it looking possible that we may see a new manager at the helm of the club soon, it could be that Firmino has played his last game under Rodgers. If Rodgers is sacked in the next 10 days as has been reported, we could see Firmino played in his natural number 10 position under a top class manager. This will hopefully allow us to see the true attacking ability of Bobby Firmino.