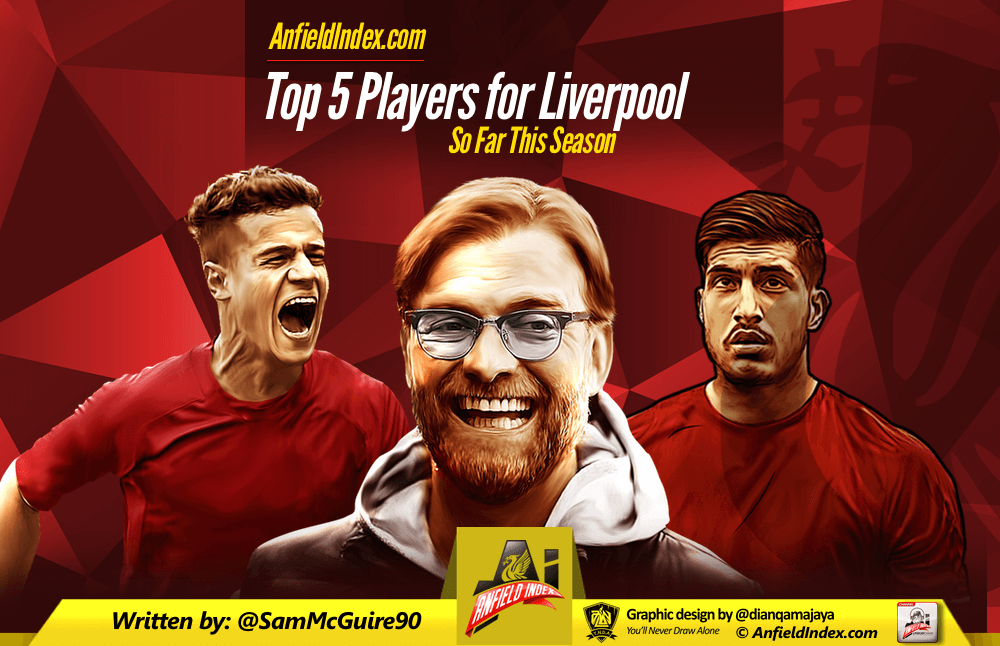 Top 5 Players for Liverpool So Far This Season

We're coming up to the midway point of the season already. It's hard to really get a handle of what's happened so far. Depending on the day my opinion shifts from 'how are we halfway through the season already? It feels like it's just started' to 'how are we only in December? It's dragging'. The knock on effect of changing your manager in October can do that to you.
It's been a rollercoaster of emotions for the fans so far, some wanted to write the season off in September and now the same fans are saying we're challenging for the title. With such skewed expectations can the players be judged fairly? Probably not, but I'll give it a go.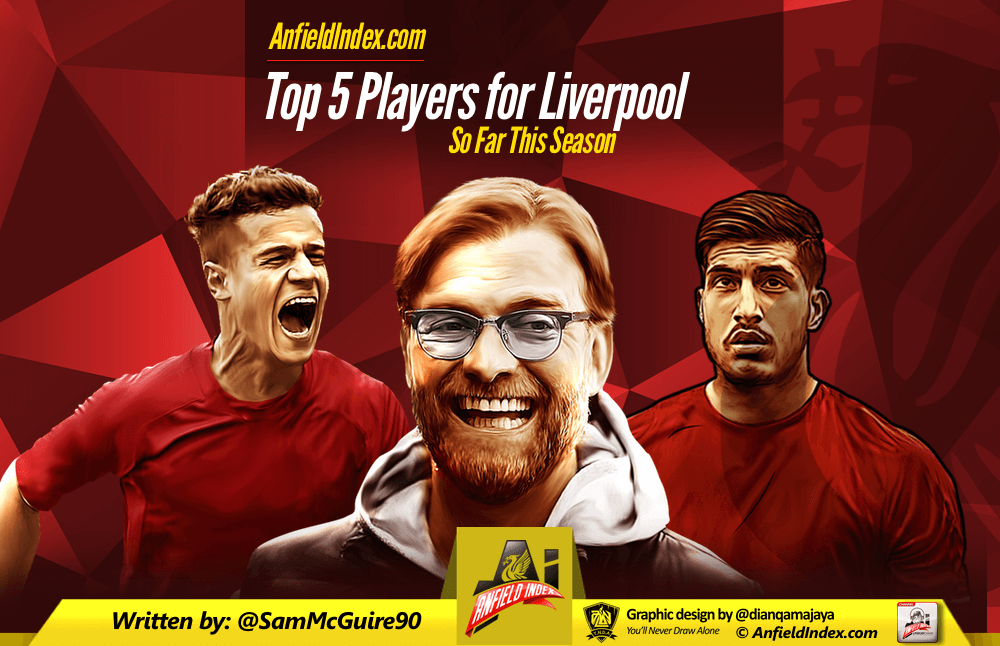 The Top 5 players for the first half of the season –
Adam Lallana – This may surprise a few people after the piece I did a few weeks back slating Lallana for his lack of goals and assists for the team. I do think he needs to offer more but in terms of this season he's played a part in all 3 of our big wins; 3-1 against Chelsea, 4-1 against City and the 6-1 drubbing of his previous club Southampton. He may not have scored or assisted in these games but his presence has created opportunities and chances for his teammates and he's always a willing runner.
Against City it was his pressing of Kolarov that culminated in the first Liverpool goal. He chased a poor pass from James Milner and didn't give the City left-back the opportunity to play it forward, instead he had to play it back to Joe Hart who then looked for Sagna and the goal came from that.
Standout performances in those big wins mean his contribution to the first half of the season can't be ignored.
Emre Can/Lucas – It's hard to separate these two, they're a bit like Ant and Dec. Both have had some good games since Klopp took over, both have had some forgettable ones but on the whole, together they've put in some brilliant performances. Lucas has been getting plenty of the plaudits but I think the games against Newcastle highlighted how without Can Lucas can look a little lost and fragile.
They've been mainstays of the Klopp midfield since his arrival and with Liverpool's good form both deserve recognition. Can't have one without the other.
Philippe Coutinho – The maestro. His season started off slowly but he's come into his own since Jurgen Klopp was appointed. He's added goals and assists to his game and he's struck up a good understanding with both Roberto Firmino and Adam Lallana.
He's added another dimension to his game, now he's scoring goals when he's not playing well so it makes him even more of a danger than years gone by when he only seemed to score when on form. He could be vital in the latter half of the season if Liverpool are to qualify for the Champions League.
Alberto Moreno – He's still like marmite for some Liverpool fans. Parts of the fanbase like to look at his negatives whereas the other half like to acknowledge what he's been doing well and finding his way back into the first team he's been impressive.
The Liverpool left has been their strongest side and his overlapping runs are the perfect foil for Coutinho (when he's playing out wide). Not only has he improved us offensively his recovery tackles are some of the best in the league and he's making a real name for himself this season.
Still plenty to improve upon but he's had a solid first half of the season.
Drum roll please…
Mamdou Sakho – As if this was even up for debate. When he was reinstated to the first team Liverpool looked like a more solid outfit immediately. He's showed himself to be the leader we've been lacking for a good few years now. Not only that but his performance on the ball can't be swept under the rug, at times he was acting as a really deep lying playmaker starting attacks from the centre-back position. A tool that can't be overlooked it's no coincidnece we've looked a liitle disjointed when starting attacks from defence in his absence.
For me he's the standout performer for The Reds in the first half of the season and his return to the first team can't come soon enough.