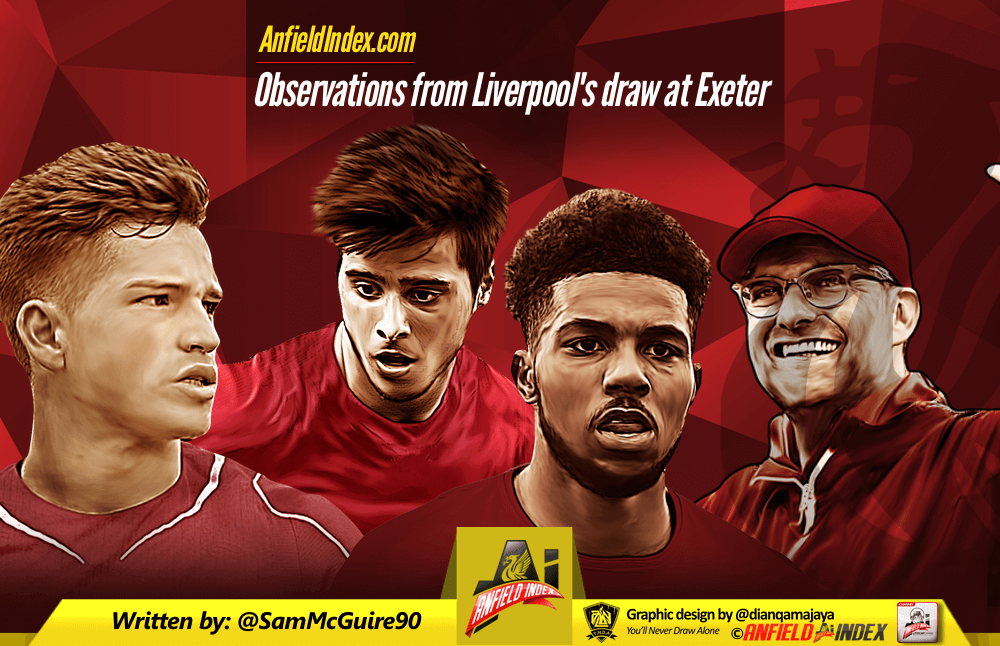 Observations from the 2-2 draw with Exeter City

The kids are alright.
Tonight's draw was a commentators dream. The magic of the FA Cup. League 2 Exeter City earned themselves a replay at Anfield after coming away with a 2-2 draw against Liverpool. The narrative will be that the plucky underdog managed to come away from this match against the Premier League giants with a draw, and in the history books that is exactly how it will look.
But that is not the whole story. A shadow Liverpool side did themselves proud tonight.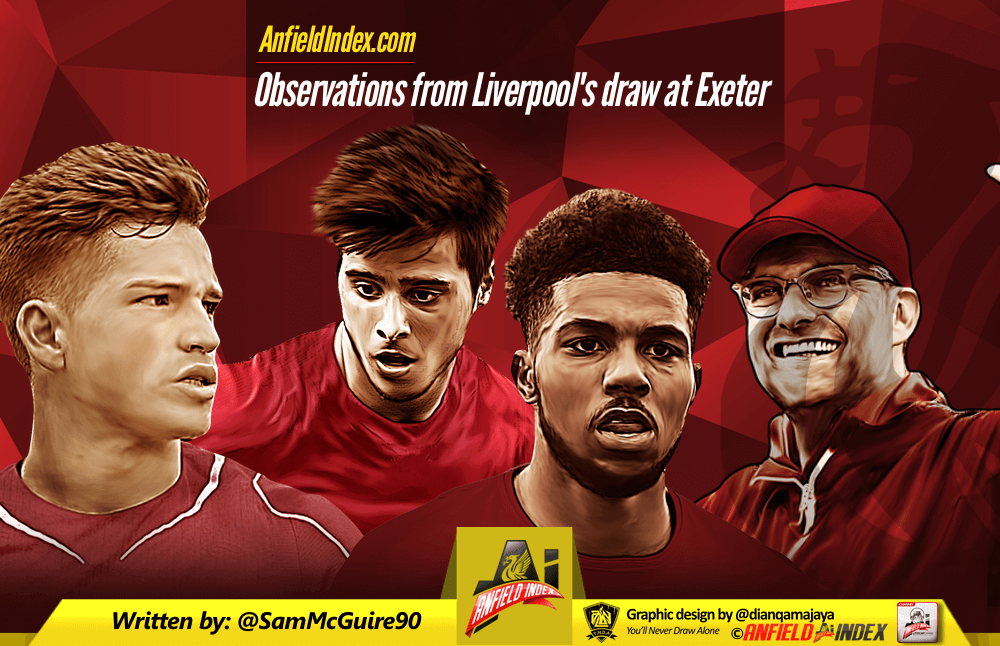 This was an inexperienced Liverpool side thrown together with next to no training as a team. Tonight was invaluable experience for these players and a good learning curve for Reds boss, Jurgen Klopp. It's easy to throw one or two youngsters in with a strong side in an easy cup game but it's difficult to learn much about those players. It's when the match isn't going well that a manager finds more out about his players.
Liverpool came from behind. Twice. People will point out the fact that it was only against Exeter, but every single year there is a cup upset and it would have been easy for these players to mentally excuse themselves for losing because of the circumstances they were put  together under. However, they didn't just give up as time ticked on in the second-half. We didn't see Liverpool having pot shots from thirty yards as they searched for that elusive second goal, instead they worked the ball well on the edge of the area and created an opening. Likewise, the first equaliser arrived just as Exeter seemed to be gaining momentum. The inexperienced players could have gone into hiding due to the pressure of potentially losing, but they showed character.
Experienced players let the team down. Jurgen Klopp named three experienced players in his line-up. Adam Bogdan, Jose Enrique and Christian Benteke. It was these three players that disappointed me the most. Enrique at centre-back was positionally erratic and could hardly be relied upon. Adam Bogdan could have done better for both goals, especially the second, as he just mistimed his jump; an embarrassing moment for a professional goalkeeper. Then we come to Benteke who was captain for the night. His touch was heavy for the entire game and he didn't seem to be linking up with the players around him. Additionally, he wasn't attacking crosses when they did come into the box and he kept doing that weird thing where he runs behind a defender expecting a pass despite logic dictating it is impossible to get a one away. More worrying was the fact he was the captain for the night and when Liverpool were trailing he showed zero leadership qualities. He looked just as inexperienced as the academy youngsters.
Tiago Ilori. The enigma that is the Portuguese centre-back finally made his first start for Liverpool, three years after joining the club from Sporting Lisbon. There is no middle ground when it comes to Tiago. Plenty of fans overrate him whereas a select few seem to hope he fails just so they can claim some strange kind of victory over those that do rate him.
Tonight, he was solid in the first-half. Aerially commanding, positionally impressive and composed on the ball he showed that he should have been getting some game time for Aston Villa. In the second-half he misread a few bouncing balls and looked visibly fatigued after fifty-five minutes but that is to be expected with it being his first competitive match since June. You couldn't really take much away from this performance other than the fact he is actually a football player and not a myth.
Sinclair, Kent and Ojo. Three of the most exciting youth talents Liverpool have on their books finally appeared for the first team. This isn't Jerome Sinclairs first appearance for Liverpool but it was his first goal and he put it away exceptionally well. It's that sort of instinctive, ice cold finishing we have lacked in the team with Sturridge being out injured and it was nice to see. Ryan Kent was lively in the first-half and showed glimpses of why he has been receiving rave reviews whilst on loan at Coventry. It was nice to see a wide player being so direct with the ball and you could see his intent from the off. Sheyi Ojo came off the bench and grabbed an assist (if he has been credited with it) and looked like he had a touch of class the first team could do with. His pass across goal for the second goal highlighted just how composed he is for his age (as plenty would have lashed that across goal) but he seemed to caress the ball into the most dangerous of areas. Hopefully, all three will get games for the first team in the coming weeks.