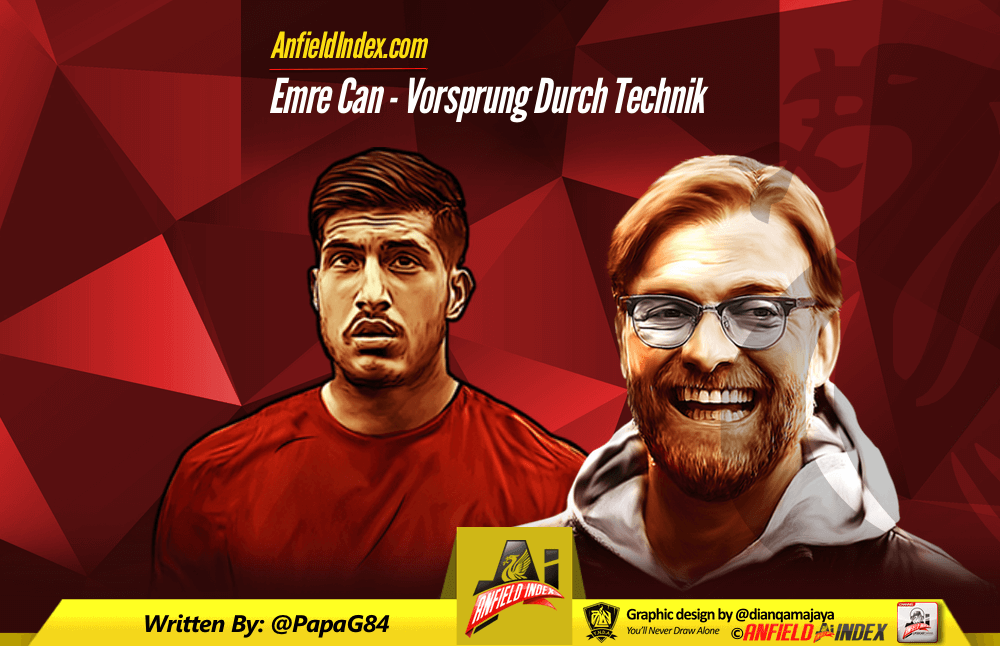 Emre Can - Vorsprung Durch Technik
If you could design the perfect central midfielder, they'd be tall, athletic, with raw power and pace. Then look at Emre Can and tell me he doesn't fit the model?! He, by design, is the perfect midfielder. His attributes are made to dominate football matches in the Premier League and go on to become a top class player for Liverpool Football Club.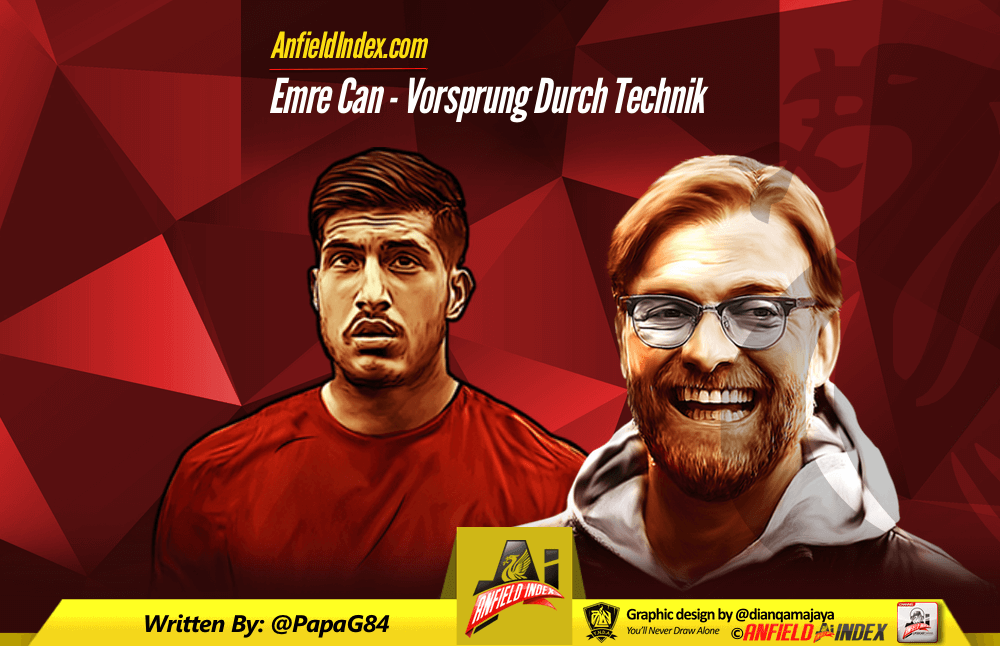 The power and physical stature are clearly without doubt, but his pace is constantly questioned. Whilst not blessed with natural acceleration, once Emre builds up a head of steam, he really motors. As shown this season and last, he has the engine and sheer determination to drive both quickly forward and back. His positioning (whilst still developing) is mostly excellent, but when he's caught upfield, he can recover at pace and make the telling tackle.

You could comfortably argue Emre's been the most consistent, reliable and solid performer for the club this season; most certainly since Jürgen Klopp arrived at the club. You can see him relishing the opportunity to play in his natural position and to be entrusted to not just marshall the midfield, but drive the team forward, create, influence and even lead this side. For those who believed in Emre, this is no shock. But for any doubters, you must finally be realising quite what a player we have on our hands?
For a young man coming to an entirely new country and league, Can initially settled extremely quickly, which allowed his natural game and leadership instincts to come to the fore. He has such confidence and self belief, that even in his first few matches, you could not only see his will and determination to win and succeed, but that mentality to influence others on the pitch. He played with a level of responsibility well beyond his years, and to me has the natural look of our future captain.
His maturity continues to grow each game, which is enhancing his influence on the pitch. He's always the one that goes to the sideline to take instructions from Klopp, which demonstrates his stature in the side. Always playing with his head held high, passing and probing, driving and delving. He is subtly becoming one of our most crucial players, and one of Jürgen's most trusted.
Emre has received much criticism in his time at the club, which I believe is mostly unfounded. Yes, he's made some defensive errors, but who didn't in a Brendan Rodgers side? Part of the difficulties faced by the player, was the insistence of playing him in multiple positions. Despite one run in the team last season in defence, in the briefly successful back three. He's played right-back, left-back, centre-back and in various midfield roles. A little consistency goes an awful long way and that's working under Klopp.
If I were to level any criticism at Can, it's his decision making; notably understanding when to hold the ball and when to release. But that's natural development and is clearly improving. His marauding runs now are far reduced and becoming much more purposeful. It's a trait I wouldn't want him to reduce altogether however, because it shows he's looking to take the game by the scruff of the neck, something desperately needed by the club.
You have to remember he's still very much developing and learning, and with younger players you'd expect some inconsistencies. I've previously written that I'd rather take a risk on a younger player with the right skill set, than a more established pro whose already peaked. A younger player can be moulded, positively coached and influenced by those around them. Once a player reaches a certain age, any bad habits cannot be coached out, but with Emre he's perfect to mould now.
I've talked of his physical attributes, but he has an exceptional passing range that's slowly starting to dictate matches. For such a powerful player, he has a great subtlety to his game. His technique is excellent, which allows him to shoot with the inside of his boot from 25 yards, or play a deft through ball with the outside of his boot. Not many players in world football can pull off a pass like that, with such effortless composure. It was remarkable and a gentle reminder of whats to come in the future.
Emre Can is first and foremost a midfielder. Yes, he's capable of playing in other roles, but you can see that Jürgen is reluctant to move him from the heart of the team. Why, because of his influence on the game. He's calm and collected at all times, he's what you need when thing's do go wrong on the pitch. When we've needed an emergency centre-back in recent weeks, he's moved Lucas not Can. To me that is very notable indeed. It's a statement to say, you are my first choice midfielder, and will stay there no matter what. If that doesn't instil confidence in a player, I don't know what will.
When Jürgen was announced, I remember thinking of the players who I expected to develop most under his stewardship. Roberto Firmino and Alberto Moreno both came to mind, but it was Emre Can who I hoped could be taken to another level. He's a player so tailor made to be developed by Klopp. He has the perfect attitude, mentality and skill set. He has everything required to be a world class midfielder and we're just seeing glimpses of how special he can become.
I'm not one to compare players, so you won't see me labelling Emre Can as the next anyone. At times I understand why this happens, but what I love about Can is he can't be pigeonholed. You can't define him, because his skill set is so wide ranging. He has the strength and ability to tackle of a defensive midfielder. The passing range and awareness of a deep lying playmaker. The stamina and drive of a box to box midfielder, with the ingenuity and subtlety of an attacking midfielder. The complete midfielder, ready and willing to be moulded into Jürgen Klopp's key game changer and future Captain.