In many ways, he was the face of the Brendan Rodgers era. A 15 million pound signing from Rodgers's former club in his very first transfer window in charge, Joe Allen was expected to be the man who took some of the burden off Stevie Gerrard, as Liverpool embarked on a new era.
But after 110 appearances for the club, it is safe to say that Allen has, by no means, justified his price tag or the expectations that Rodgers and the faithful placed on him when he signed.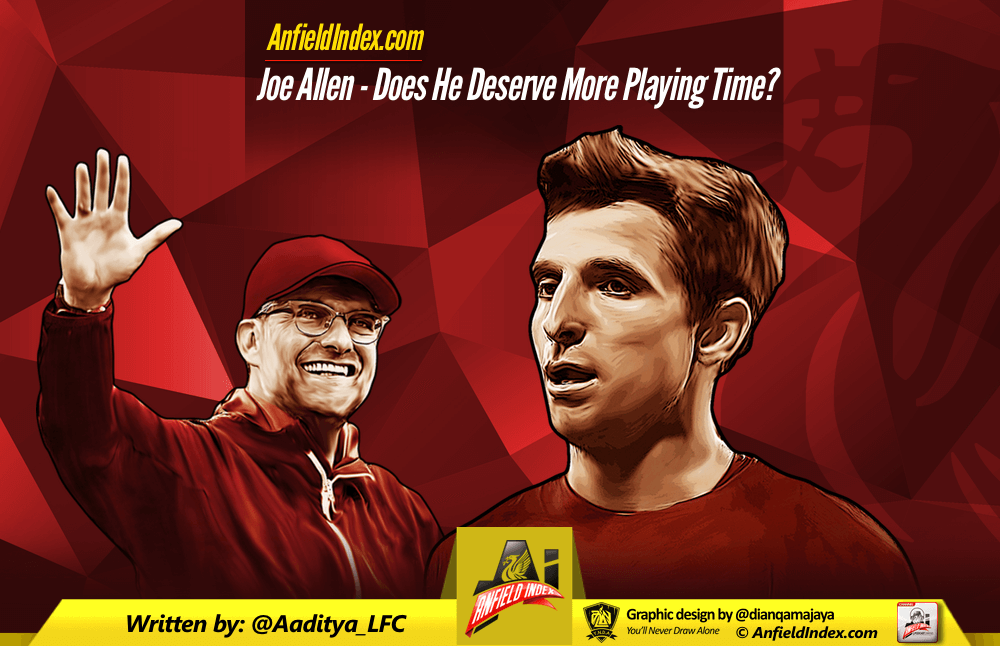 For me, the biggest problem with Allen is his lack of a standout aspect to his game. He isn't blessed in terms of bodily stature nor does he possess natural pace. He has five goals in 110 appearances for Liverpool, and his creativity isn't too much to write home about.
With Jurgen Klopp coming in, Allen has barely had any time on the pitch, especially in the Premier League, with his appearances largely being restricted to the Europa League and the League Cup.
Klopp's first signing of his time at Anfield was 19 year old Serbian that barely any of us have seen play. Yet, when Marko Grujic's signing was announced, many fans bemoaned the fact that he was sent back on loan to Red Star Belgrade despite Allen continuing to be in the squad.
But, the little Welshman seems to be finding a place for himself in Klopp's system. That was exemplified perfectly in the 1-0 away win in the first leg of the League Cup Semi-Final against Stoke City. I'd say, in that one game at least, Allen dispelled all the myths about his game.
The biggest criticism of Allen has been his tendency to play the ball sideways or backwards instead of looking forward. He was constantly goaded by the fans for not moving the play forward, and adopting an approach that is far too safe. Not being the biggest built midfielder, his ability to get involved in a scrap against bigger players in the Premier League was also under huge scrutiny.
But against Stoke, he was dynamic, he was combative, and most importantly, he was assured in possession. He came into the team for that game, largely only because of the injury crisis that had hit Klopp. Jordan Henderson and James Milner were not available, and Emre Can needed a rest. Dejan Lovren limped off in the middle of the first half, meaning that even Lucas Leiva had to move away from midfield into a centre-back position.
The onus was on Allen to show everyone that he was not on the pitch just to make up the numbers, and he did. He read the game well, making some crucial interceptions at critical times. His quality on the ball was a welcome surprise. He moved the ball quickly and confidently strode forward. Some moments that he produced in that game were very pleasing to watch. He got himself an assist, as well, with a neat piece of play to set up Jordon Ibe; although there are still the doubters who think Allen meant that as a shot which luckily moved into Ibe's path.
One aspect of his play that I've always liked is his pressing. There is always an energy and an intensity to it that should have instantly endeared him to Klopp. Not just against Stoke, also in the quarter-final of the League Cup against Southampton as well, when Allen produced a similarly impressive performance, with some beautifully executed passes in that game serving Divock Origi and Daniel Sturridge wonderfully.
His finishing has never been the strongest aspect of his game. His glaring miss in the derby in November 2013 will probably never be forgotten. Last night against Arsenal, as the Reds were fighting to salvage a deserved point from the game, Allen got on the end of Christian Benteke's knockdown and stroked a clean volley past Petr Cech. That was heartening to see, as there has been many an occasion when Allen has lovingly caressed similar shots nearer to the corner flag than the goal.
It has been a reasonable past fortnight for Joe Allen, and for Liverpool's sake, long may it continue. Maybe, get even better. Probably not a Xavi or a Pirlo, but with the qualities that he has shown in his last few appearances, the little Welshman could yet be an integral piece of Jurgen Klopp's Liverpool jigsaw.