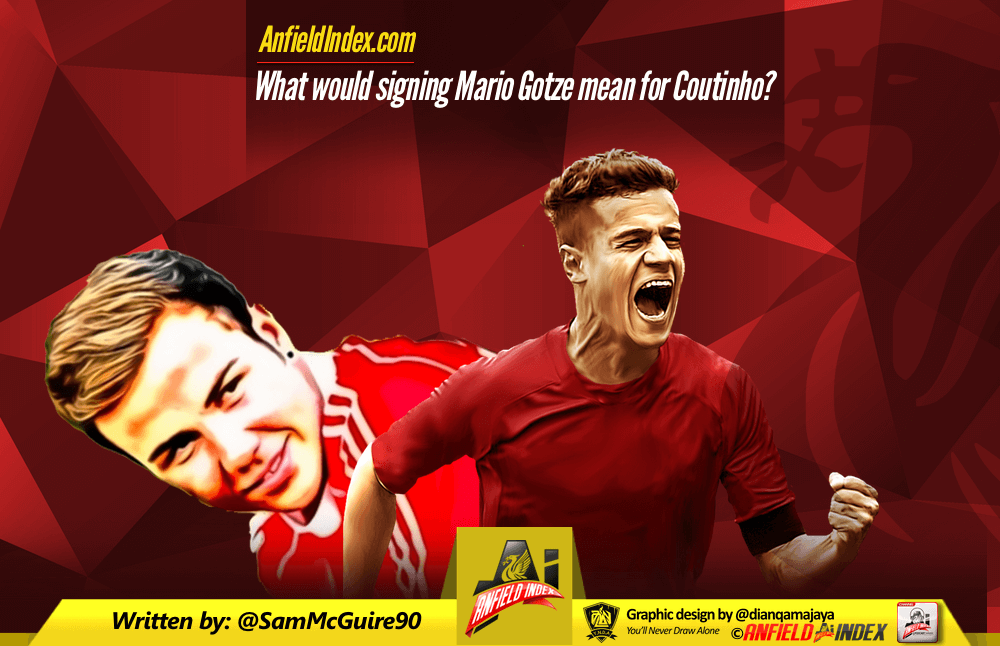 What would signing Mario Gotze mean for Coutinho?

Early last week German tabloids started to report that Bayern Munich weren't in contract negotiations with Mario Gotze to have him commit his future to the club. That's not to say he won't be offered a new contract but by all accounts Bayern tend to get their contract sorted before Christmas. With less than 18 months remaining on his current Bayern deal could the little German be on the move this summer, and would a reunion with Klopp be something that interests him?
Gotze seemed to be receptive to linking back up with Klopp by going as far as saying 'If you want me then come and get me'.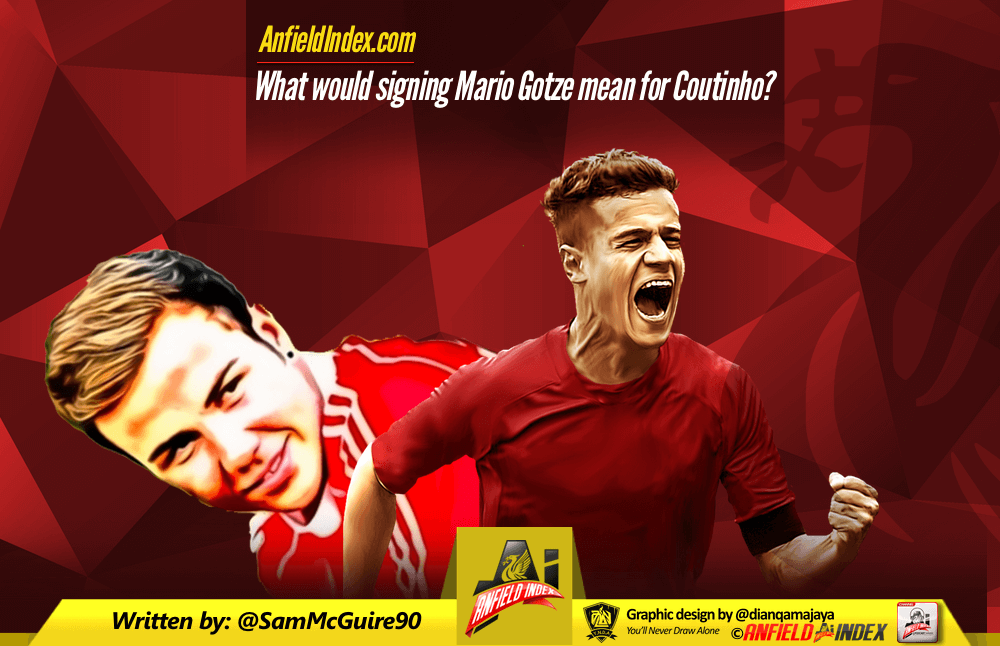 Liverpool signing Gotze would be a real statement and a sign that things could start to change under Jurgen Klopp. If Bayern do decided to cash in as Carlo Ancelloti looks to shape his new side then half of Europe will be courting the German World Cup winner.
The 23 year old is a special talent, the sort of player that takes your entire team up a whole other level. He's a coach's dream. He can play anywhere in the three behind the striker, even playing as a false 9 from time to time. He's an intelligent presser, he works hard off of the ball and he doesn't ignore his defensive duties. He's capable of being that inside forward, to be that extra goal threat but he's just as comfortable being the creative number 10 that pulls the strings for those around him.
His output matches his talent. During his first full season under Klopp at Dortmund he accumulated 2562 minutes, scoring 6 goals and getting 11 assists whilst maintaining an 81 pass success rate throughout the season. This at the age of 18 playing.
The following season he played less minutes, 1213, but still managed to score 6 times and finish the season with 5 assists and an 81% pass success rate.
In what turned out to be his last season with the club in 2012/13 he had his best season to date, featuring in 2048 minutes he managed to score 10 goals, set up 9 goals for his team mates and finished the season off with an overall pass success rate of 85%.
For the 2013/14 season Mario moved to Bayern and his game time was cut. He only featured in 1840 minutes but still managed to score 10 times, assist 8 times and complete 88% of his passes. He's efficient with the ball.
His second season at Bayern saw an increased involvement with the starting XI. 2245 minutes played, 9 goals scored and 2 assists with an average pass success rate of 86%.
Over the past 5 seasons with Bayern and BVB he's managed to score 41 goals and assist 35 times.
That's the sort of output Liverpool need from their attacking midfielders if they're to challenge for top 4.
Gotze is familiar with the Klopp way of things and would be the ideal candidate to take over the left position of the three behind the striker. A position he made his own at Dortmund with Shinji Kagawa as the middle man, which in the instance of Liverpool would be Roberto Firmino.
So where would this signing leave Philippe Coutinho?
You'd first look would be at tweaking his role, perhaps moving him into the midfield? However, if Liverpool do line up in a 4231 formation as expected is Coutinho good enough to play as part of a two man midfield? He was exceptional in 2013/14 playing a little deeper but that was as part of a three man midfield. He has the attributes to be the creator in a midfield three but are we really confident in a Henderson-Coutinho-Can trio?
Liverpool often look bereft of ideas when teams sit deep and having a Coutinho deeper might be what finally unlocks them.
It's something some fans have wanted to see this season but without somebody to replace him in the attacking three and with so many injuries it's not clear if this is something that may interest Klopp going into the new season.
Control yourself. Stop salivating on your phone/laptop.
One signing and the Liverpool strongest XI immediately looks better. They'd have Gotze and Firmino roaming behind Sturridge, Gotze more to the left with Henderson combing the right centre-midfield role and the right wing role almost like Milner was doing early on in the Klopp reign. This would see Emre Can doing what he does best and just patrolling the midfield with Phil Coutinho being tasked with being the playmaker. With runner ahead of him in Emre Can, Henderson, Gotze, Firmio and Sturridge he could do some real damage.
This is genuinely a possibility too. Although the club may think it makes more business sense to do the next suggestion..
Selling the number 10. Many fans dread the thought of Coutinho leaving but if somebody like Gotze is coming in would that change their mind. He's 23, like Gotze, and he's still to find his level. He's so inconsistent. If an offer of £30/5 million came in for him and Liverpool had Mario Gotze would you be tempted to sell? Many on social media would and would you blame the club if they did? They'd practically be switching Gotze for Coutinho.
Gun to head, who would you prefer?