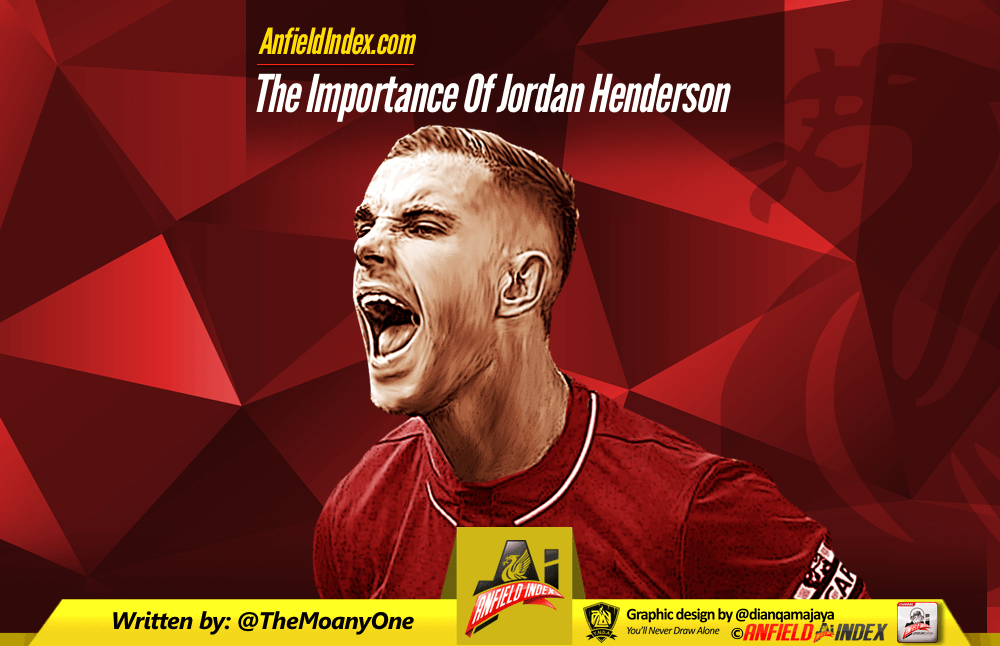 The Importance Of Jordan Henderson

So captain Jordan Henderson is injured AGAIN. Surprisingly enough I'm not that surprised. I mentioned it before the Stoke City match on Tuesday night that maybe it was a risk playing Henderson so soon after the Norwich City match, which as we all know was a high intensity match. With the reoccurring injuries it seems Henderson is going to be suffering from now on I think the club and especially the manager Jürgen Klopp needs to manage him and his injury in a way that Liverpool will get the best from him do that he doesn't miss large chunks of the season from now on through injury. Gone are the days where Henderson will be able to play a match every three to four days, he may need to be handled the same way Spurs handled Ledley King when he was going through his own injury nightmare. Already this season Henderson has missed twenty five games through injury, second only to one Daniel Sturridge. While Hendersons injuries this season are a reoccurrence of the one injury, his loss to Liverpool is massive. Not only is he the captain of the club, he is also the engine that keeps the Liverpool team ticking over.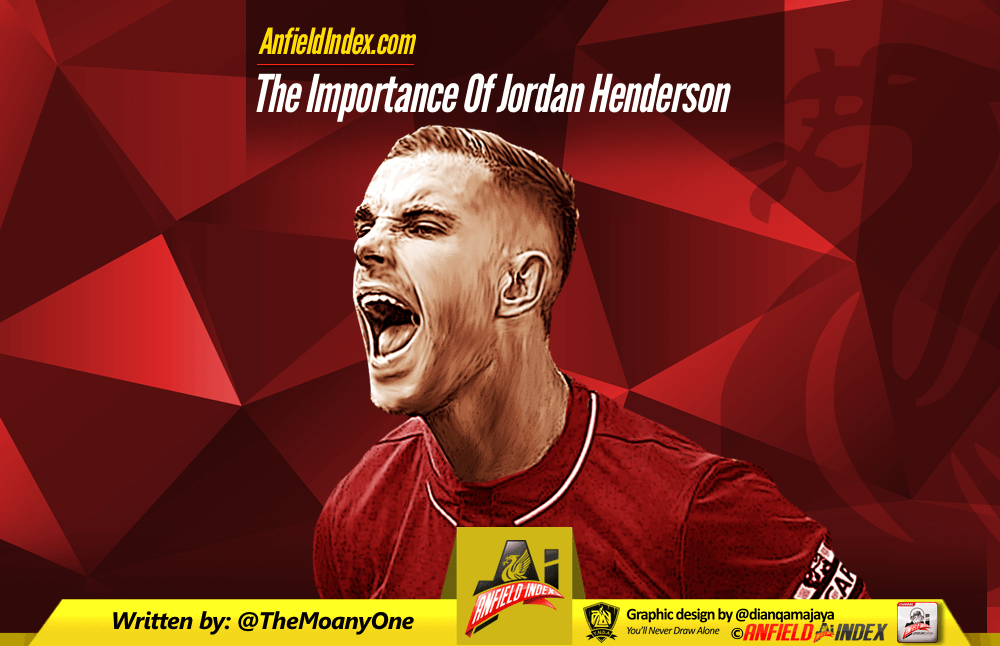 With Henderson in the team, Emre Can is allowed to play his natural game, he is to bomb forward and play the box to box role he seems to enjoy. Also when Henderson is playing the team is more balanced and it allows Klopp to play another attacking player which tends to lead to more goals for the team. This season alone Liverpool have only lost twice in the eleven games that Henderson has started, those losses coming to Manchester United and Watford. Out of those eleven games Liverpool have gone on to win six of those games and drawn three of those games. If you compare these stats to games Henderson doesn't play, Liverpool have won ten games out of the twenty five games he has missed this season in all competitions, lost six including losses to West Ham United twice, Newcastle United and Crystal Palace. Also Liverpool have drawn eight games scoring a total of eight goals when Henderson has been injured.
Percentage wise when Jordan  Henderson is fit Liverpool score 1.81 goals per game while when he is injured that percentage fails to 1.52 goals per game. Henderson this season has grown in to the role of Liverpool captain. By this I mean when he is on the pitch other players aren't worried about what's going on in the defensive side of the pitch. The players know when Henderson is on the pitch that if a ball breaks over their heads, Henderson will be there to sweep the balls up and his presence on the pitch gives the defence a confidence boost. He's also not afraid to get stuck in when it's needed in the attacking side of the pitch scoring and assisting twice already this season.
So those fans that think that Henderson doesn't offer much to Liverpool when he's playing, that his position maybe best given to players like Lucas Leiva or Joe Allen who can be paired up Emre Can in my opinion need sectioning. As a captain Henderson is great example to everyone at the club. His seemless transition from a player who fans wanted to sell a few years ago to club captain and icon is something young players at the club can inspire to become. No matter what level of fitness he has he leaves everything on the pitch. Against Norwich in the Premier League last weekend he gave what I would call a total captains performance. He didn't allow the players heads to drop when Norwich kept coming back at Liverpool. He continuously pushed the team on and was always one of the first players to try and break up the Norwich attack.
Henderson has grown in to the role of Liverpool captain. For me I was a bit underwhelmed when he was named vice-captain when Jamie Carragher retired at the end of the 2012/2013 season. He filled me more with dread than with belief but I fully believe the risk Brendan Rodgers took naming him vice-captain made Henderson the player he is today. It spurred him on to be a better player and a leader to those around him. I would even go as far as to say that Henderson is as important to Liverpool today as Steven Gerrard was in his hay day. And under the guidance of Jürgen Klopp, he'll only improve as a player and show fans and pundits alike why he is now an integral and important part of the Liverpool team.