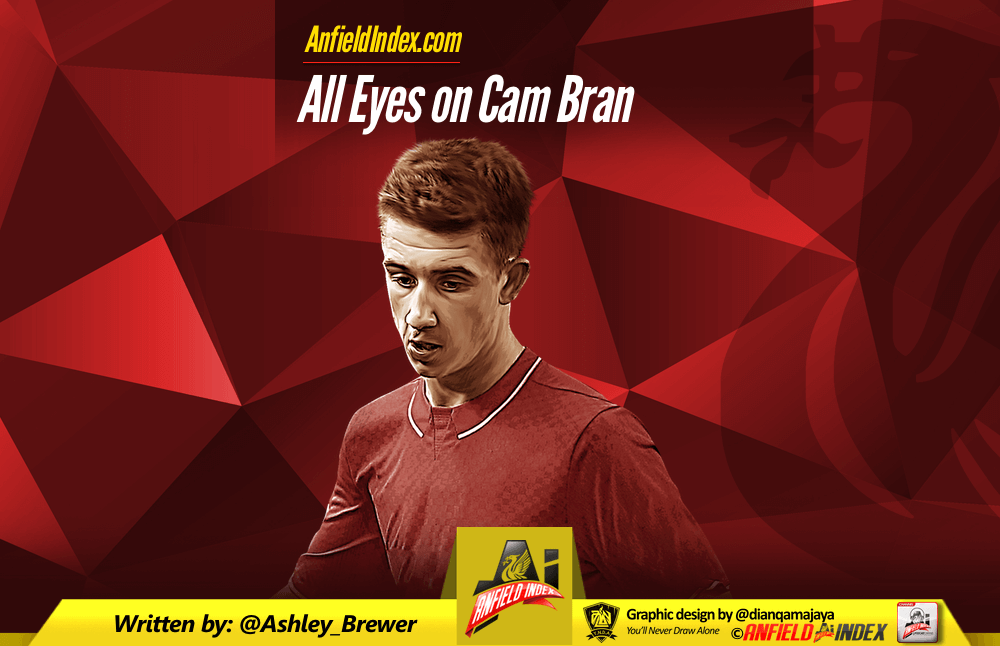 All Eyes on Cam Bran
Somewhere deep inside the Camp Nou is a cabinet. Inside that cabinet, somewhere, is an envelope.
No, it isn't filled with names of players who Luis Enrique feels will let him down this season. It isn't filled with Javier Mascherano's tax forms. It houses the scout report of a player. A player that goes by the name of Cameron Brannagan.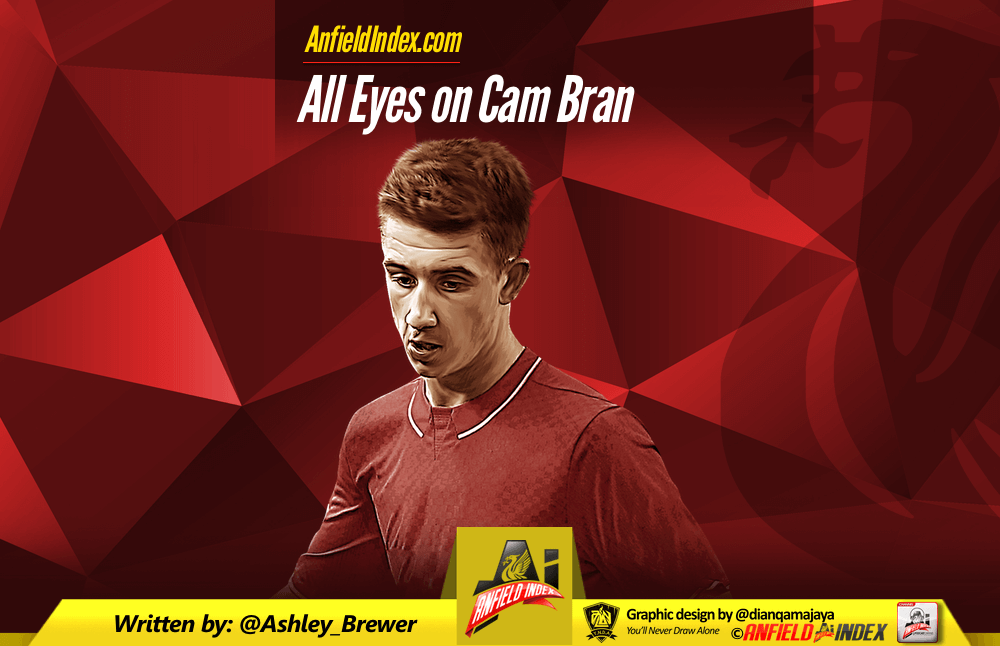 Before I carry on, I should point out the mentioned cabinet and envelope are merely for illustrative purposes and probably don't exist. They'll use computers.
May 2014, you may remember it fondly.
The Independent ran with a story claiming Barcelona were eyeing up the youngster. He had caught their eye during a recent friendly against Shamrock Rovers in Dublin – a game weirdly placed so soon after the conclusion of that heart breaking yet wonderful season.
His touch, his balance, his ambidextrous nature impressed those who would go on to snag another of Liverpool's gems.
Fast forward twenty months. Twenty months that would feel like an eternity.
A new manager would blood new players in the FA Cup, more out of necessity than desire, as Jürgen Klopp dealt with the demands of English football in the winter. While his native Germany cooled its collective footballing jets over the festive period, he experienced one of his busiest Christmases yet because, well, that's just what happens here in good old Britain..
The bright lights of St James Park awaited The Red's bright eyed and eager youth prospects, reserves dwellers, and Christian Benteke.
"ATA LEGOOO!," screams captain for the night José Enrique as he led the young lads, and Christian Benteke, out to the tunnel, probably on one of those twat boards everyone seems to have lately.
One of the bright eyed and eager, was Brannagan.
The Salford native, who turned down a switch to his home town club in favour of a stay in Merseyside, performed well enough against Exeter City. He was even better in the replay tie at Anfield.
Time to get excited?
Hmm, not just yet. As admirably as he performed, it was still against a side currently sat exactly in the middle of the League Two table. Besides, with West Ham, who like Crystal Palace have exchanged their souls for a hex over Liverpool, in the next round, surely that's his chance in the cup gone for now?
Not quite.
The risk of his players burning out again set heavily on Klopp's mind, especially after a League Cup semi final that was taken to penalties. Once again, the kids, this time shepherded by a more reasonable captain choice in Joe Allen, took to the Anfield pitch.
After too forgettable performances against Slaven Bilić's Hammers, it was out with the boring, the beige.
Straight away, the Londoners were pegged back. The Liverpool youth moved the ball around nicely, with Brannagan's influence increasing has the game went on.
The 19 year old didn't let the occasion phase him, an encouraging sign. He whipped in corners, he took on defenders and was unlucky not to find a striker with his crosses. His long range shot giving Darren Randolph something to think about.
A 0-0 bore draw is all the Anfield crowd were given at the end of the night. Another fixture for Klopp's Reds, because that is all he needs right now.
But they were also given hope.
The performance of Brannagan was promising. He got people talking. He got them a bit excited. He was the most memorable element of the tie, Enrique's comical cameo aside.
What is even more encouraging is that Klopp rates him.
"He's really a talent," the German said shortly after Brannagan signed a new contract at the club.
"For his age he brings everything you need for a midfield player he wants to play football, he's strong, he's clear, he's cool."
What is not clear is if he'll actually go on to be a world beater, it is far too early to tell. It wouldn't be the greatest surprise to see him again this season, especially at the the replay tie at Upton Park. It would be nice to see him in a few Premier League games.
Too many times we have been stung by expecting a youth player to go on to great things, but if he approaches his opportunities in the same manner as last night he has a chance.
Maybe that envelope at the Camp Nou may be taken out of its cabinet again.