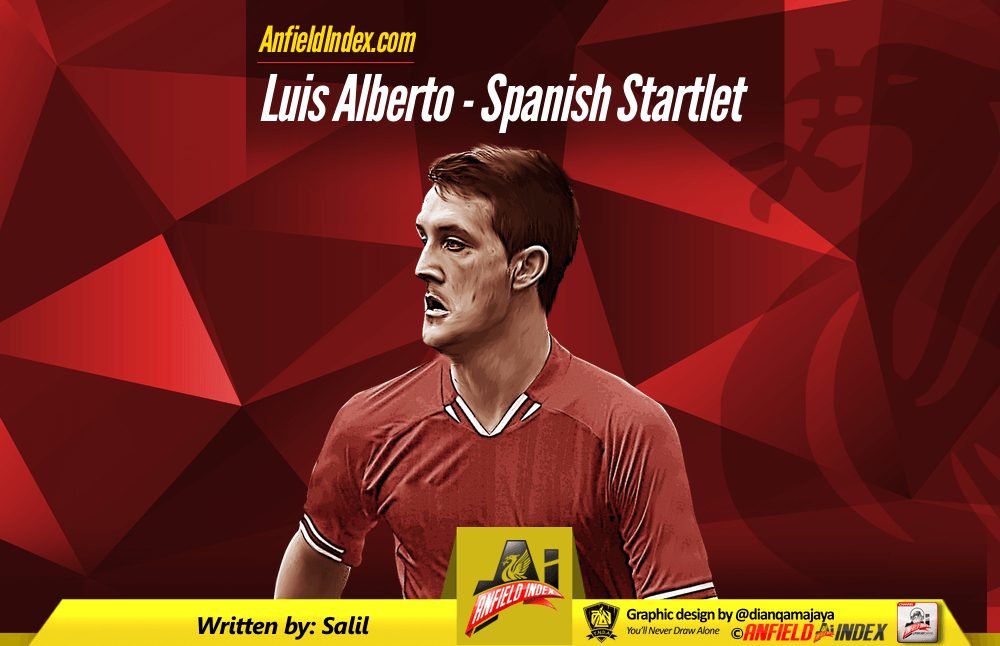 Luis Alberto - Spanish Startlet

When it was reported in the summer of 2013 that Liverpool were interested in buying a young attacking midfielder from Spain, there was a sense of intrigue among the Liverpool supporters.
Liverpool had scouted 20-year old Luis Alberto since he was 16; he was then playing for Sevilla's youth teams. Several top clubs, including FC Barcelona and Arsenal were also keeping close tabs on the youngster. Luis Alberto didn't fail to impress in any of the games and even scored directly from some corners. Eventually, in the summer of 2012, FC Barcelona made a loan offer for Luis Alberto with an option to buy. Luis would play for Barcelona B and train occasionally with the first team. Forging a partnership with Deulofeu, Luis Alberto scored 11 goals and made 18 assists in the Segunda Division that season.
Liverpool then moved swiftly to secure his services for a fee of £6.8 million. Despite impressing in pre-season and scoring against Vålerenga, Luis Alberto was largely ignored by Brendan Rodgers and only made 2 starts and 10 substitute cameo appearances over the course of the season. He assisted Luis Suarez's second goal in the 5-0 demolition of Spurs, besides scoring a hat-trick for the U21s at Anfield in a 5-2 win over Sunderland U21.
A loan move to Malaga in the following season did not prove to be effective, with Luis Alberto's role limited largely to that of a squad player. He scored 2 goals and made 2 assists for the Andalusian outfit. The following season, there were rumours that Getafe, Espanyol and Deportivo La Coruña were interested in loaning the player. Luis Alberto chose to move to Deportivo, where he would meet up with 39-year old ex-Sevilla assistant manager Victor Sanchez del Amo.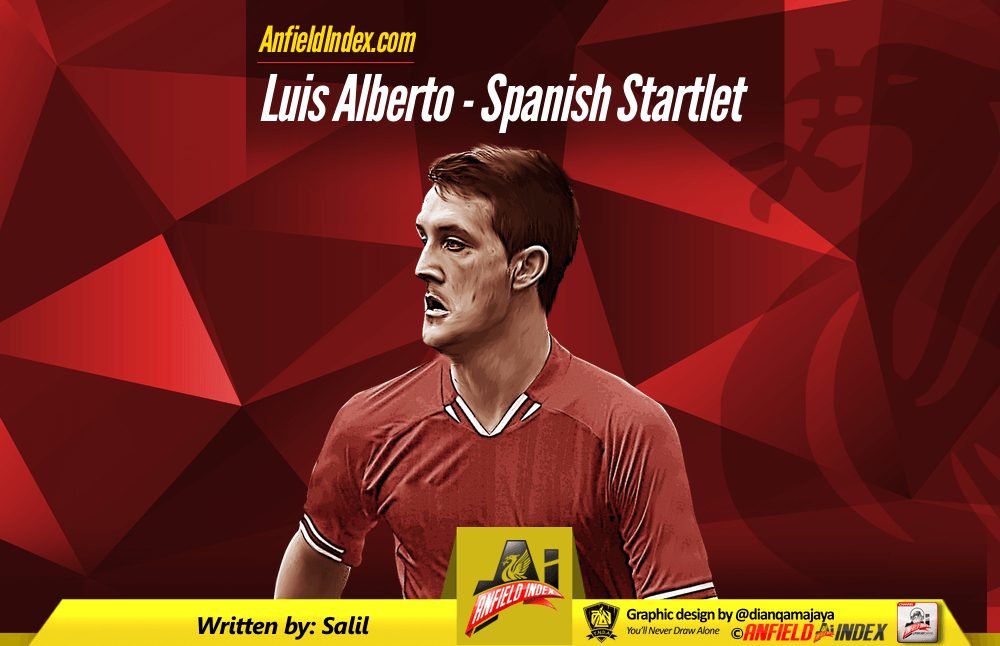 2015-16 Season Review
With 5 goals and 5 assists in 14 starts to his name, Luis Alberto has been one of Deportivo's most effective and most important players this season. His partnership with striker Lucas Perez, who has been one of the league's prolific strikers with 14 goals, has been truly delightful to watch. Together, the pair have contributed to 21 of the team's goals in the league this season.
At the beginning of the season, Luis Alberto was played in the left winger's position. He did fairly well in that position, scoring three goals and assisting two others. He was a key part of the side that was placed 6th in the table, looking for an unlikely return to European football. Unfortunately, he suffered a groin injury and many other minor injuries in November and December that would keep him out for at least 6 weeks. He returned to Melwood for advanced treatment and to meet new manager Jurgen Klopp.
Upon his return from injury, Luis Alberto went straight back into the lineup and has been in great form lately, scoring or assisting every game. He has played in a more offensive role, largely as a second striker just behind Lucas Perez in a 4-2-3-1. He registered assists against Mirandes in Copa del Rey, a no-look through-ball to Lucas Perez against Gary Neville's struggling Valencia and another delightful through-ball against Rayo Vallecano. He also bagged two goals against Real Soceidad and Sporting Gijon. Unfortunately, Deportivo's form in the league dropped and the team drew 4 matches in a row, dropping them to 9th position in the league.
Statistical Comparision
A closer look at some of Luis Alberto's statistics this season shows how he compares to the attacking midfielders and wingers in Liverpool's first team.
(All statistics are based per 90 minutes and only include league games)
Verdict
With Luis Alberto set to return to Anfield next season, many Liverpool supporters are wondering whether he has a long-term future at the club. The attacking midfielder has an year and a half left on his deal, with a clause to extend the contract to June 2018.
New manager Jurgen Klopp has shown that he is willing to give every player a chance, and it is very likely that Luis Alberto will get a chance to prove his worth at Liverpool in pre-season. Should Liverpool decide to sell, however, one can be confident that the club can manage to recoup the fee paid for him.
The other question is whether Luis Alberto fits Klopp's style of play and whether he is quick enough for the Premier League. As I have watched all of Deportivo's games this season, I can confidently say that he does fit well into a counter-attacking team. He may lack a bit of pace, but his technical ability and vision can compensate for that. Most of Luis Alberto's goal contributions this season have come from quick transitions. He is aware of his strengths and weaknesses and uses his pace intelligently. In a counter-attack, he would generally make a defence-splitting pass almost immediately instead of running with the ball and trying to beat his man for pace.
He possesses good technical skill and can nutmeg a player or two (Does this remind you of a certain Luis?). He also has good awareness of space and makes good runs into the box. 3 of his goals this season have emerged from intelligent movement into the box.
Another positive is that Luis Alberto is versatile and can play in a variety of positions. While his best position seems to be behind the striker, he can also play as a winger on either side or as a false nine when required. While some have pointed out that he has the qualities to be mounded into a deep-lying playmaker like Xabi Alonso, it might be too late at this stage of his career and too big a project to try next season.
All in all, Luis Alberto does have the right talent, tools and the mentality to be at least a squad player for Liverpool. His end product is quite good as he has shown this season and he could challenge Philippe Coutinho and Roberto Firmino for a place in the starting 11. His ability to play through balls almost immediately after receiving the ball can be particularly effective against teams with a low block or those that 'park the bus'.