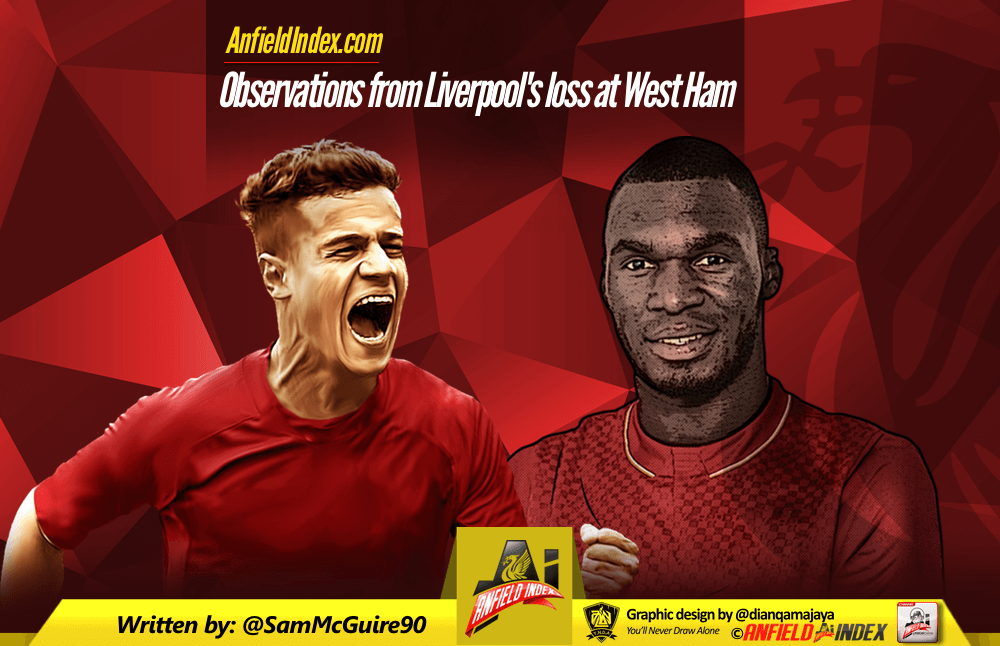 Observations from Liverpool's loss at West Ham

Liverpool play well and lose to a set piece goal. Lucas is too eager in a challenge and gives away the free-kick that Liverpool are punished for. Christian Benteke misses chance after chance. Sounds eerily familiar doesn't it? Liverpool fans once again had their very own groundhog day as West Ham knocked The Reds out of the FA Cup with a last minute Angelo Ogbanna goal. Unlike some of the losses Liverpool have had this season there are plenty of positives to be taken from this performance, and a few negatives of course.
We'll start with the negatives and get them out of the way.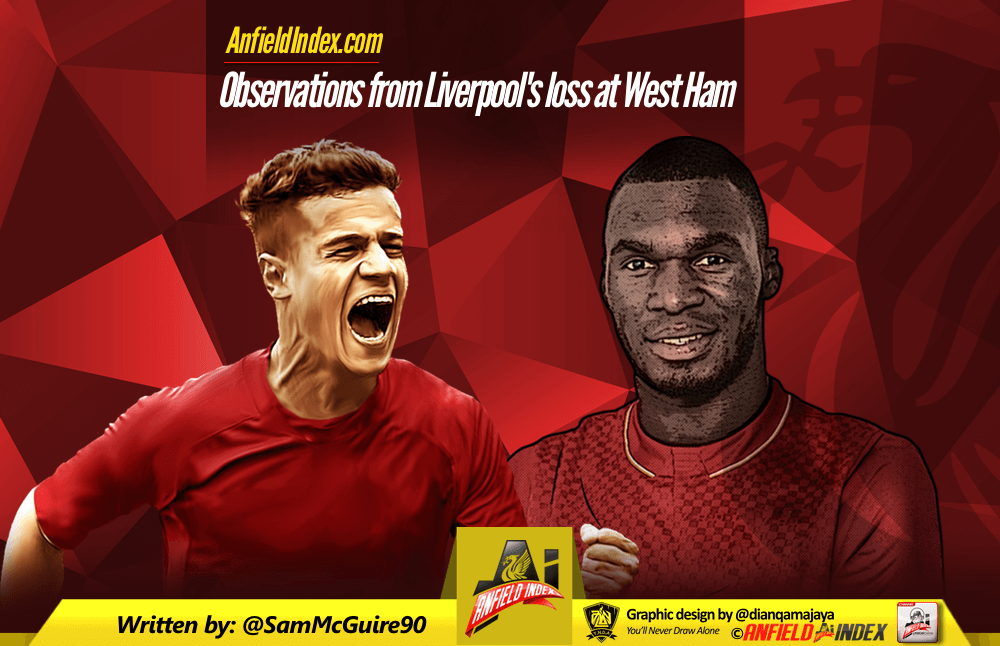 Christian Benteke. I don't know where to start with the Liverpool number 9. He's without a goal in 594 minutes of play, during this time he's only got one assist to his name. He has a disconcerting habit of missing what look like guilt edged chances; ones a £32.5 million striker should finish with relative ease. Two stick in the mind tonight; the volley he puts wide from 14 yards and the one on one he hits straight at Randolph. If the Belgian puts those away Liverpool defeat West Ham at a canter.
The jinxed left-back position. Jose Enrique, Alberto Moreno and Brad Smith are the left-backs Liverpool have on their books and none of the three fill the fans with confidence. Many fans have been calling for Smith to start ahead of Moreno for weeks now, not because he's talented and suppressing him is doing damage to his development, no, but because he's not Alberto Moreno. It's as straightforward as that. Brad Smith tonight showed why he's not all that. Culpable for the first West Ham goal when he gets drawn in centrally it leaves the West Ham player free at the back post to fire home. His night continued in similar fashion as he was nowhere defensively for large parts and didn't try to get back like Moreno does. If you're one of the fans who doesn't rate Moreno how is Smith good enough?
Now on to the positives.
Better defensively. Liverpool as a unit looked much better defensively in both open play and during set pieces (if the winning goal is ignored). Lucas, captain for the night, has taken many plaudits for his display in the heart of the defence alongside Tiago Ilori, who also played well, but a lot of the credit deserves to go to Kevin Stewart and Pedro Chirivella. The two central midfielders patrolled the area ahead of the defence and offered the protection to them that is rarely seen from a Liverpool midfield. Both midfielders are rated highly by the academy staff, especially Michael Beale and Alex Inglethorpe, and if Stewart doesn't get minutes in the Premier League this season it will be a surprise.
Return of cheeky Phil.
https://vine.co/v/i1QlbhagtM7
Look at it. How can Philippe Coutinho pulling the pants down of basically the entire West Ham team not make you smile? To execute such a free-kick just shows how despite missing many matches through injury he's returned just as confident as ever.
The dancing man is back. Daniel Sturridge made his long awaited return early in the second half and showed his class from the off. Even when he's not match sharp he's still the best player on the pitch and he immediately transformed the Liverpool attack. Not only was he a goal threat he was also the creator in chief, threading passes to Benteke who unfortunately wasn't able to finish. The signs are positive though, it won't be long until we're witnessing the wriggly arm dance once again.