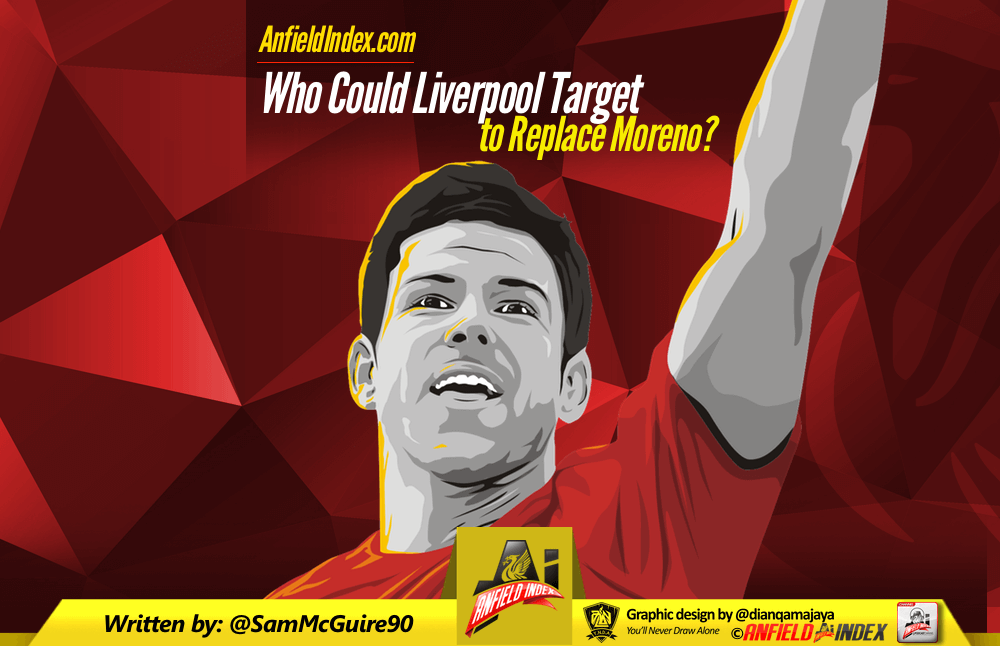 Who Could Liverpool Target to Replace Moreno?

"We are all sharks circling, and waiting, for traces of blood in the water."
– Alan Clark.
As fans we're all guilty of bias when it comes to our opinions on a player. It could be your gut instinct or maybe you see something you don't like early on in their career at the club and from that moment your mind is made up. Plenty of Liverpool players seem to have unfair bias weighing them down, whether that be positive or negative they're both unhelpful.  Alberto Moreno is a player that causes tension amongst fans.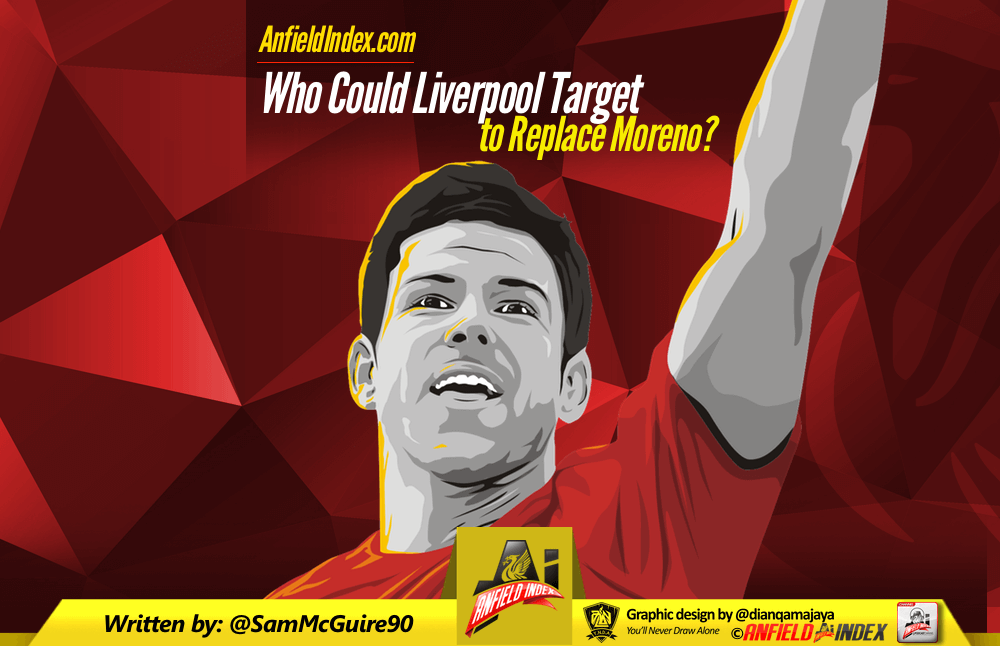 The little Spaniard signed for Liverpool in the summer of 2014 for a fee of £12 million from Sevilla. If you'd had the pleasure of watching him in La Liga you'd have been excited about this signing. A left-back to set us right for the next 5-8 years. A left-back that wasn't Glen Johnson or Jose Enrique. His performance against Spurs was a bit of a false dawn. It made those initially hesitant about his signing think we'd bought the full package when reality there was still a lot of work to be done.
This season fans have witnessed his transformation from impressive performer to headless chicken responsible for lots of the goals conceded in the eyes of many. "Why's he so far up the pitch?", "he's always out of position" are two phrases commonly used when it comes to the 23 year old but what people fail to realise is he can't be in two places at once. If he's been instructed to attack and offer the width down the left then that's his job and the defence/sitting midfielder is supposed to cover for him. People seemed to overlook how many times Brad Smith was caught out of position against West Ham in the FA Cup replay and it's obvious as to why; Kevin Stewart was doing a superb job covering for him. It's very rare Moreno is afforded such a luxury, a defensive midfielder with a bit of energy in his legs.
Look around Europe, are there many, if any, full-backs under the age of 23 who have the speed, the tackling ability, the attacking instincts and the determination to recover that Moreno has? He's by no means perfect but look at the positives.
Many fans will however feel the negatives outweigh the positives and a left-back should be on the shopping list for this upcoming summer transfer window, so here are some alternatives to the flying Liverpool 18.
Elmir Nabiullin
Eagle eyed Reds will remember this 20 year old from when Liverpool faced Rubin Kazan in the Europa League. He's been a bit of a revelation since getting into the Rubin side in 2014, and in the 18 months since he's managed to earn international recognition and be labelled as the Russian Gareth Bale due to his versatility, blistering pace and attacking instincts despite playing as a left-back.
@RubinKazanUK wrote an educational piece on the full-back's rise to prominence here for those interested.
He's been linked to Southampton (always a good sign) as well as a host of Bundesliga clubs, it's only a matter of time before he makes his way to an Eastern European club and his price dramatically increases.
Statistically Elmir looks good: (all per 90 minutes) 72% pass success rate, 1.4 aerial duels won, 1.9 tackles, 2.8 interceptions, two goals and seven assists in 43 games.
Timothee Kolodziejczak
Timmy, to his friends, currently plys his trade in La Liga for Sevilla. Don't shift too uncomfortably in your seat, the Spanish club aren't *that* hard to do business with. The Frenchman started his career off at Lyon before really excelling at Nice and then finally getting a move to a bigger club in the summer of 2014.
The 6ft 1 defender has been moonlighting as a centre-back for Sevilla and with his attributes you can see why, but he's just as comfortable playing left-back. If anything that position allows him to show off his impressive passing ability.
The 24 year old has started 16 games in La Liga this season, the club currently sit in 5th position, as well as all of Sevilla's games in the Champions League.
It's difficult to read into Timmy's stats due to the fact he's played at centre-back this season but for context they're as follows: 85% pass success rate, 2.2 tackles and 2.1 interceptions per 90. Solid defensively.
Jonas Hector
The 25 year old German is the left-back equivalent of Steve Finnan. Reliable, secure, solid and a guaranteed 7/10 every single week. Liverpool lack a 'Steady Eddie' in their team, players tend to go from one extreme to the next. A routine doesn't have to be boring.
The Koln defender has already been linked with a £10 million move to Liverpool as well as being linked to Bayern Munich and Manchester City. He's by no means the glamorous full-back modern day fans crave but he's the type that will improve your defence from the off. Jonas is also able to play centre-midfield and defensive midfield just as effectively.
His stats over the past season and a half are impressive: three assists and two goals, 2.4 tackles, 2.2 interceptions, 81% pass success rate, 2.1 aerial duels won and he's managed to only pick up 4 yellow cards in 53 games.
Ricardo Rodriguez
https://www.youtube.com/watch?v=mztAC32UGEA
Unless you've been living under a rock for the past few seasons you're going to know who this guy is. The 23 year old Wolfsburg full-back is a set piece specialist and he leaves a bulge in Christian Benteke's shorts.
The Swiss international is rumoured to have a release clause in his contract and from 1st July 2016 he's available for 30 million euros. Can you justify spending that much on a left-back when so many other areas of the Liverpool side need improvements?
Statistically he's on another level: thirteen goals and twenty assists in four and a half seasons, 2.4 aerial duels won, 2.3 tackles, 2.2 interceptions, 80% pass success and only 9 yellow cards in this time.
Raphael Guerreiro
The 22 year old Lorient left-back has been impressing many in Ligue 1 for the past two seasons, so much so he almost got a move to PSG in the summer of 2015 to replace the departing Lucas Digne. The Portuguese international finished the 2014/15 season with an impressive haul of seven goals and three assists, and this from the left-back spot. He averages 1.3 tackles and 2.1 interceptions per 90 along with an 80% pass success rate, but only manages to win 0.2 aerial duels, a clear weakness in his game and at 5 ft 7 he'll be targeted.
Stats aren't the be all and end all of course but for context, Alberto Moreno puts up these stats: 2.8 tackles and 2.3 interceptions per 90, 83% pass success rate, 2 key passes per game and he's created the most chances in the Premier League for a defender. All stats courtesy of whoscored.com. If you're going to replace the current incumbent of the left-back role, who would it be with?