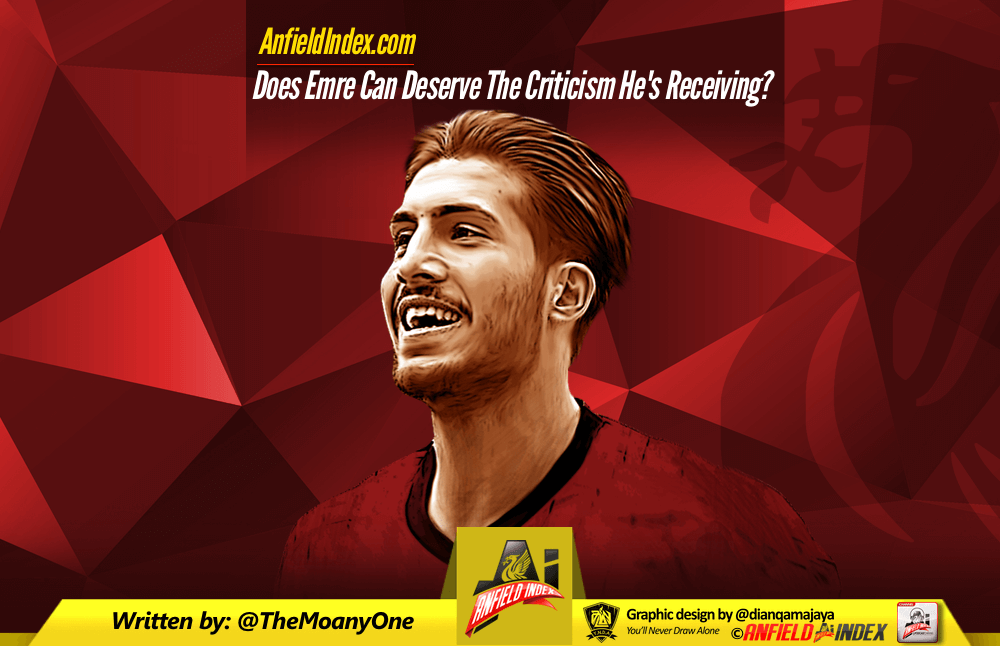 Does Emre Can Deserve The Criticism He's Receiving?

After Liverpool's poor result against Augsburg last week Emre Can is back in the supporters' bad books and has once again been criticised for his performances, some of which I'll admit haven't been up to standard. The criticism he is getting though at the minute is not warranted. As I've already stated Can has had a few bad games this season, but it is not as if any one player this season can say they have played fantastically well in every game they have played. Can's had a lot to contend with in his short Liverpool career to date from being played out of position last season to playing with a broken midfield this season.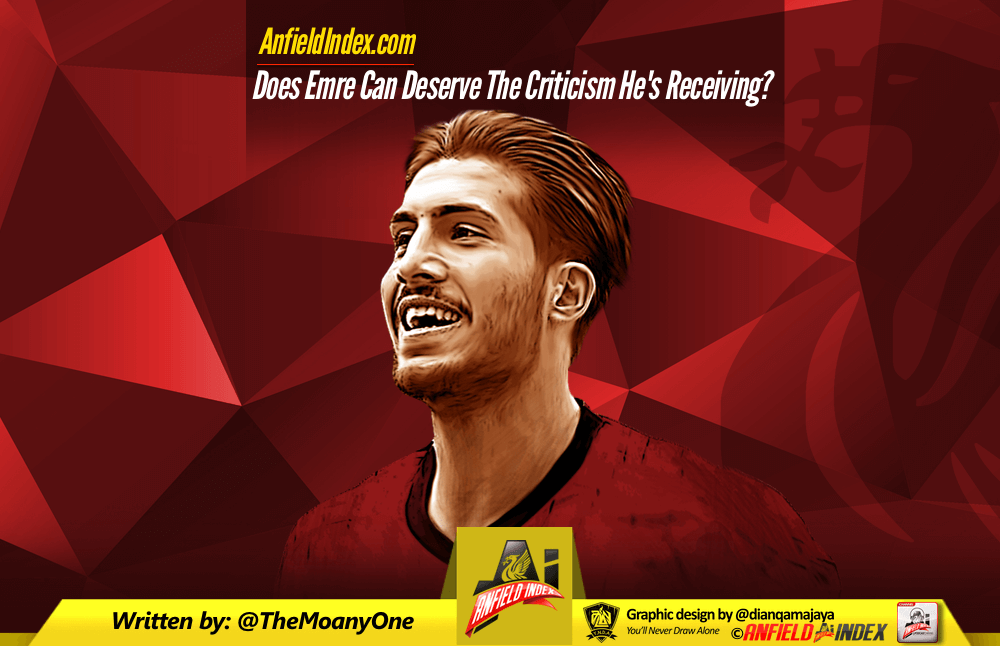 The German joined Liverpool from Bayer Leverkusen in the summer of 2014. At the time of his signing many in Germany were shocked that after one season with Leverkusen he left the Bundesliga to move to the Premier League. When Can left Bayern Munich to sign for Leverkusen there was a buyback option in his contract, something Munich had done in the past with many players. Can had a good season with Leverkusen scoring four times and notched up four assists, whilst largely operating in a defensive capacity. These performances attracted the attention of Liverpool who made an offer for Can that Leverkusen could not turn down. So on the 5th June 2014, it was confirmed by Bayer Leverkusen that Emre Can would join Liverpool on 1st July 2014 after the club activated his £9.75 million release clause. Manager Brendan Rodgers said in a press conference later in the week that Can was an "inspirational young talent". The move was completed on 3rd July 2014.
Emre Can started the 2014/2015 season on Liverpool's bench, which surprised fans because looking at his previous season at Bayer Leverkusen he seemed to be a better all-round player than both Lucas Leiva and Joe Allen. For the majority of the 2014/2015 season Can was utilised at a centre-back in a back three that included a combination of Mamadou Sakho, Dejan Lovren and Martin Skrtel. His inclusion at the back instantly tightened up what was a leaky Liverpool defence, and it gave under pressure goalkeeper Simon Mignolet a break. It also took away a lot of the pressure from under fire manager Brendan Rodgers. Some supporters though thought Can was being wasted in defence and longed to see him in his preferred midfield role. Can finished the 2014/2015 season with forty appearances and just the one goal. He also had to suffer the indignity of playing as a make shift right-back, a role he suffered in greatly.
This season the German international again found himself down the midfield pecking order with new signing James Milner and Lucas Leiva preferred in midfield alongside captain Jordan Henderson. No matter what Can did he would never get a run in the Liverpool team in midfield. This surprised many because Can was one of the stand out players in last summer's U-21 European Championships in midfield. It confirmed what had been written by many other bloggers about Can that under the right environment he will be a world class midfielder.
It took the sacking of Brendan Rodgers and the arrival of Jürgen Klopp for Can to get his chance in midfield. With his seemingly endless energy and his want to cover every corner of the pitch, he is a perfect partner for a fully fit Jordan Henderson, something supporters had time to see when Liverpool demolished Manchester City four-one earlier on this season. In a midfield two, there is no team in the Premier League that can match them. So far this season Emre Can has completed 320 passes with a pass accuracy of 87%, of which 64% were forward passes, Can has created twenty seven chances and has a 53% shot accuracy rate, his passes average 19 metres, Can has won 51% of his duels but as a Can supporter his five defensive errors are a worrying element of his game.
Can is still only twenty two and there is plenty of time for a manager like Klopp to cut out the defensive errors he makes. If you compare how many games Can has played in his short Liverpool career to say Steven Gerrard played at his age, there is no comparison. Can needs a rest, (something Sam McGuire mentioned on Twitter recently) he has played competitive football continuously since January 2015 and with Germany red hot favourites to win the European Championships this summer in France, it looks like Can will not get a proper rest this summer either. So when supporters are criticising the young German try to take the amount that he has played into account and remember also that this season is his first season in his preferred midfield role in the Premier League. He is still only twenty-two, and he has played football continuously for the last eighteen months and he has had no permanent partner in midfield this season with Milner, Henderson, Lucas and Allen all suffering injuries. With a settled midfield partner next season I expect Can to push on and show fans why Bayern Munich were so annoyed that he signed for Liverpool instead of them.