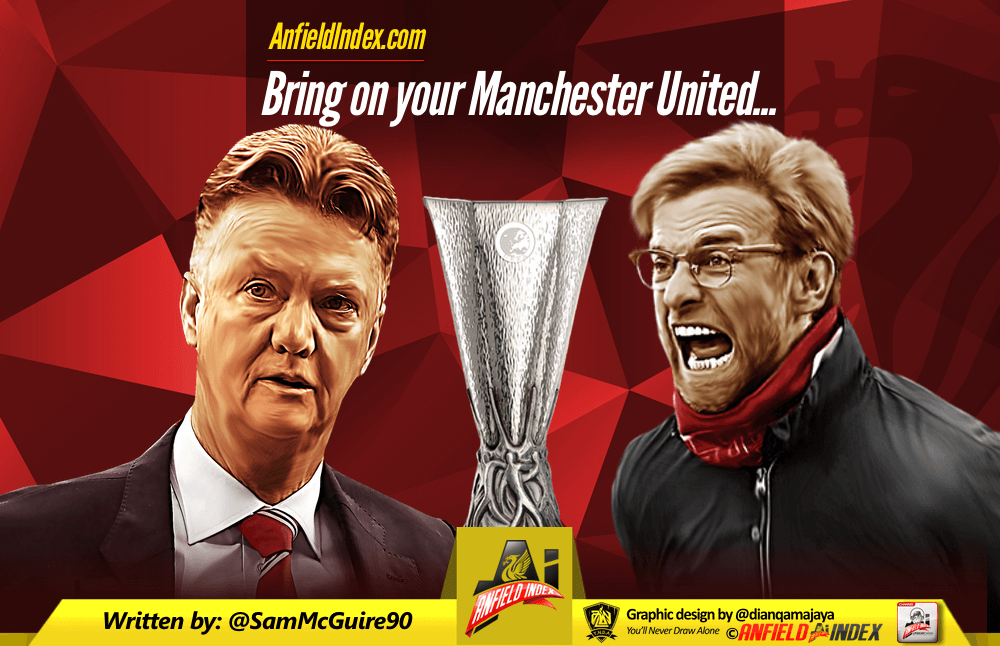 Bring on your Manchester United...

In a cruel twist of fate it will be matches against the two Manchester clubs that will shape Liverpool's season. These upcoming matches are season defining. The Reds have two games against City and then two games against United. Sensible people will talk about the bigger picture and not putting all your eggs in one basket but when it comes to Manchester, especially United, sense goes out the window.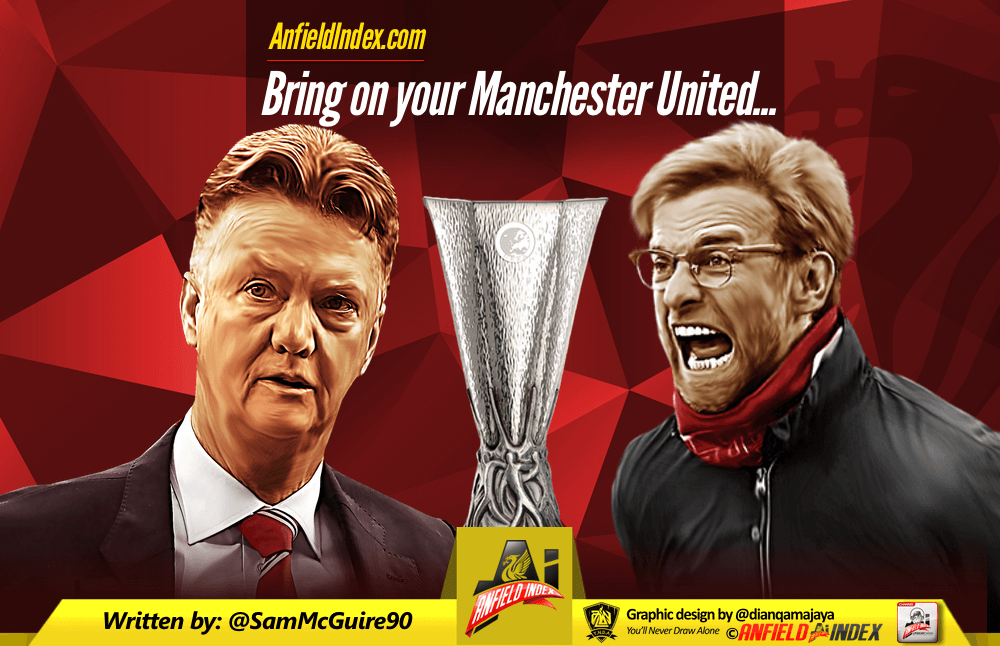 Win all four matches and Liverpool's season looks a lot healthier. A trophy in the cabinet, six points off of Manchester City in 4th position and through to the last eight of the Europa League. The draw itself was a good one, three of Bilbao, Valencia, Villarreal, Leverkusen, Spurs and Dortmund will get knocked out. Over two legs who of those don't you fancy Liverpool beating?
There's not one match out of the four matches I'd look at and think 'if we lost that game it wouldn't be *too* bad'. Many may feel the league match against City falls into that category, but it doesn't. There's still a chance Liverpool can finish in the top 4 and no matter how minuscule it is we should cling onto it like our life depends on it.
Many will argue that Liverpool should go balls out in these matches to get the victory but all the big wins this season have come from chess like tactics from Klopp. One wrong move in these games and the season is literally over.
In March.
As soon as the draw for the Europa League was made social media was abuzz with people talking about one thing only. Liverpool vs Manchester United. The most watched football match in the world. Two fallen giants of English football who had dominated domestically for the best part of 50 years now face one another in Europe for the first time.
It's time for Anfield to come out of retirement. I suggest you gargle water to make sure your voice is in fine form because let's be real, you'll be without it for days after this match. Show the world you've still got *it*. Dust away the cobwebs and remember what made the place one of the most imposing stadiums in Europe. Eleven years ago we put the shits up Chelsea and Juventus on our way to Istanbul. The stadium was literally shaking as Luis Garcia's shot went 4ft over the line.
Ignore the fact a 'day tripper' is sitting in Bob's seat that he's had for 20 years. United may have surpassed us domestically but Europe is ours so show let's them how a big club is supported in Europe. Like the oh campione chant goes, "but Scousers rule all Europe like we've always done before". Let's prove it once again.
Should United be feared? No. Should they be respected? Of course.
Twitter was rife with the Louis Van Gaal image of his record against Liverpool since being appointed as United manager.
Played 4
Won 4
Scored 9
Conceded 2
However, if you break those games down the scorelines don't really tell the whole story.
The first game for LVG was in the December of 2014. The match finished 3-0. In isolation the score looks like a comfortable win for United but David De Gea was their best player. It was the first time that Brendan Rodgers played the 343 system and it was also the game in which he dropped Simon Mignolet for Brad Jones.
De Gea must've made 3/4 saves that kept United in the game whereas our 'keeper for the day dived the wrong way for one of United's goals. The difference in class was staggering. Liverpool also played that game without a certain Daniel Sturridge.
The next game was the forgettable 2-1 defeat at home in March 2015. Liverpool gave United too much respect in that game and allowed them to turn Anfield into Carrington. Once again it was Liverpool failing to turn up for the occasion which cost them. A futile first half performance got a lot worse when Steven Gerrard was sent off 30 second into the second half. When the Reds attacked United it was a different story and the 10 men nearly nicked a draw after Sturridge got them back into the game.
Then came the 3-1 defeat to United in December 2015. Without the injured Sturridge. On paper Liverpool had an attacking line-up with Danny Ings, Christian Benteke and Roberto Firmino all starting, but for whatever reason Brendan Rodgers played Ings and Firmino as wing-backs. Defensive mistakes cost Liverpool as United were handed their three goals and this game will be remembered for Martin Tyler's non reaction to Benteke's overhead kick before he had an orgasm on live TV after Martial waltzed past Skrtel and passed it past Mignolet.
Finally, in January 2016 United won 1-0 at Anfield thanks to a late Wayne Rooney goal. It was a case of déjà vu with Liverpool dominating but being thwarted by De Gea and it was an error by the Liverpool 'keeper, this time Mignolet, that cost us. It was also yet another Sturridge-less game for Liverpool against United.
The scorelines are generous for United. Liverpool have been their own worst enemies in the last four matches against United and it's something that's not sustainable. Liverpool with Daniel Sturridge, Philippe Coutinho and Roberto Firmino are a different proposition to any that LVG has faced during his time with United. If these three are fit for the Manchester United matches then Van Gaal's record over Liverpool won't count for much.