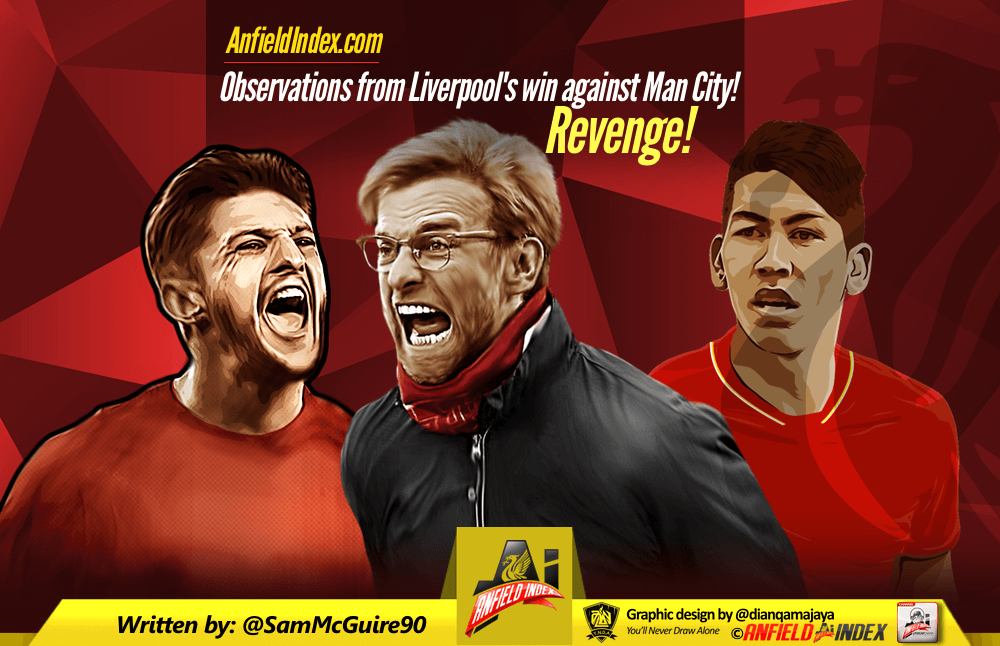 Revenge! Observations from the win against Man City!

This wasn't a result that many people saw coming. On paper, a weaker Liverpool side faced a stronger Manchester City that had defeated them only three days earlier in the League Cup final. The media narrative before the game was Liverpool had nothing to play for and Manchester would get their title charge back on track. That went well, didn't it? A dominant display saw the Reds record an emphatic 3-0 win with every single Liverpool player really pulling their weight tonight. No passengers in sight.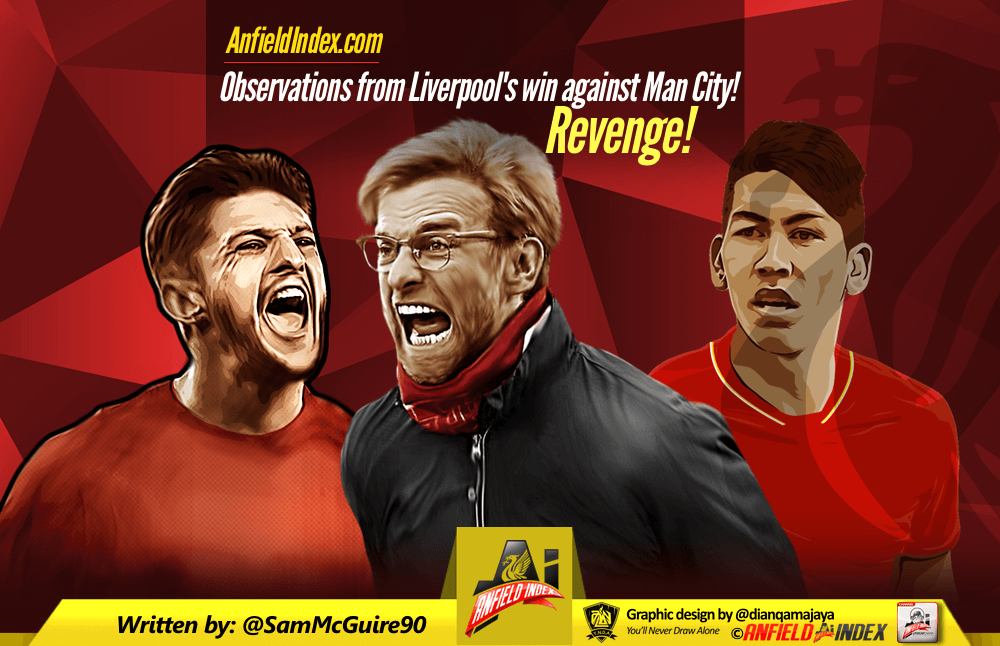 Jurgen Klopp got his tactics spot on. Questions have been asked of the German lately as impatience is rife amongst the Liverpool fan base, but tonight his tactics were perfect.
A slight tweak to the formation was aided by the players coming in. Adam Lallana replaced Philippe Coutinho and Liverpool, without the ball, went to a 4411 formation as opposed to a 4321 formation that the Reds used on Sunday.
Liverpool seemed a lot more solid because of this and, unlike the final, the midfield wasn't overrun. As soon as they lost the ball the players made two solid lines of four and invited City to try to break them down. It was reminiscent ot the performance against Spurs in Klopp's first game.
Finding our snide. Far too often this season, people have said Liverpool have been too soft. Whether that's entirely true is another debate, but a confidence deprived Liverpool do seem a little tentative at times. This wasn't the case tonight. James Milner, Adam Lallana, Roberto Firmino and Jon Flanagan were flying into tackles and ensuring City felt their presence. They weren't getting bullied tonight and it's exactly the sort of fight that played a part on the 4-1 victory at the Etihad.
Roberto Firmino and Adam Lallana. The prophecy spoke of Coutinho and Firmino ripping teams apart but tonight it was a Lallana-lead partnership that really did the damage for Liverpool. If Adam Lallana performed like this much more frequently then plenty of fans would forget about his price tag. The Nivea poster boy left four Manchester City players in his wake as he blazed through to set Roberto Firmino up for the third Liverpool goal. The Brazilian now has six goals and four assists in the last eleven games, is really finding form and looks set to make double figures for both. Not bad for a player that was labelled as a flop earlier in the season.
Divock Origi. Big Div lead the line superbly in the absence of Daniel Sturridge. His running of the channels and dropping deep caused Manchester City all kinds of problems and allowed Firmino, Milner (who was impressive) and Lallana to cause havoc in the space he'd vacated. He's had a difficult first season at Anfield but it's encouraging to watch him up against one of the league's best defences.
Solid defence. A back four of Clyne, Lovren, Kolo and Flanagan didn't give one of the best strikers in Europe, Aguero, a sniff. Sterling went off at half-time due to being ineffective and when City threw two strikers and a full-back on, they didn't look at all fazed. A solid foundation to build from tonight.