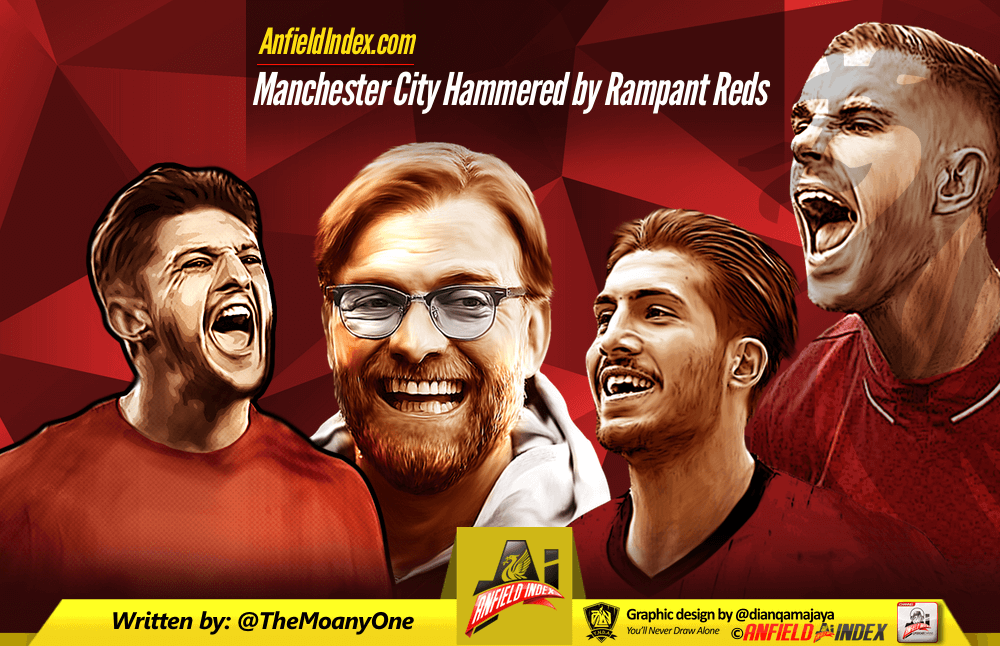 Manchester City Hammered by Rampant Reds
Liverpool avenged last Sunday's defeat to Manchester City in the Capital One Cup final by beating the Citizens three nil at Anfield thanks to goals from Adam Lallana, James Milner and Roberto Firmino.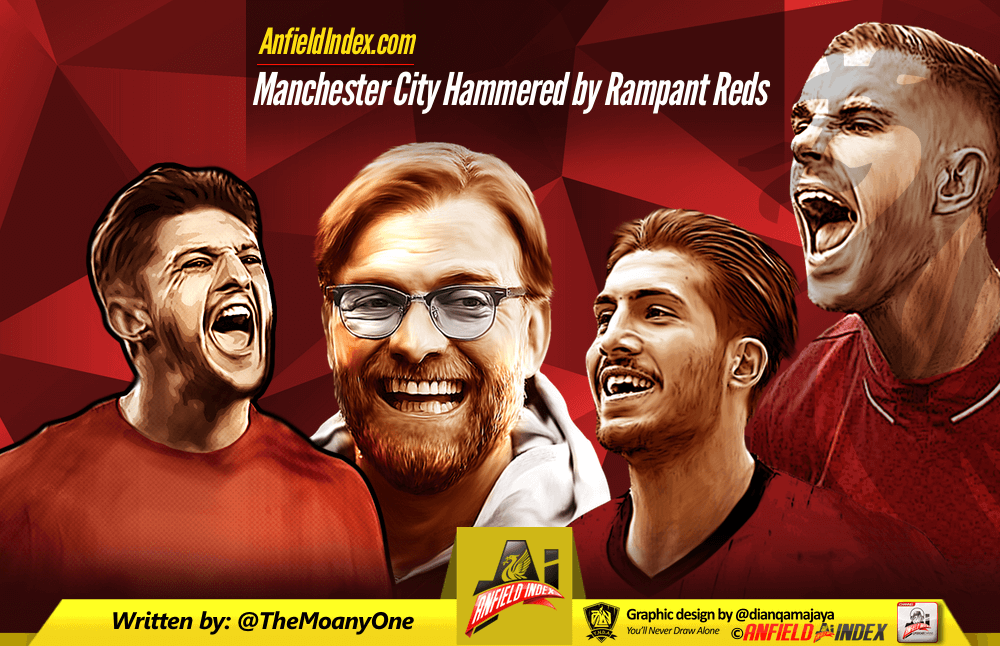 Wow, just wow. What a performance that was against Manchester City. For me personally it was possibly Liverpool's most complete performance of the season to date. It eclipses the earlier wins against City at the Etihad and againat Chelsea. This win leaves Liverpool six points off the Champions League places (dare I dream of Liverpool reaching the promised land of top four this season?), the three goals scored boosts Liverpool's goal difference and most important of all the win puts the disappointment of losing to Manchester City last Sunday to bed.

Jürgen Klopp brought Dejan Lovren and Kolo Touré in to the heart of Liverpool's defence in place of the injured Mamadou Sakho and for some man of the match last Sunday Lucas Leiva. Jon Flanagan started at right-back with Nataniel Clyne switching to left-back in the place of Alberto Moreno and in attack Divok Origi and Adam Lallana came in to replace Phillipe Coutinho and Daniel Sturridge.
Manuel Pelligrini also made changes in what for them was a crunch Premier League tie with Joe Hart replacing Carling Cup final hero Willy Caballero, while Pablo Zabaleta and Jesus Navas replaced Yaya Touré and Bacary Sagna. The changes made by Pelligrini to the Manchester City team did not work out as well as the changes Jürgen Klopp made to the Liverpool team. Whereas City looked tired, devoid of ideas and put in a lacklustre performance, Liverpool played with the energy of a team who had a week off not three days, they countered everything City threw at them and pressed at every opportunity possible.
Liverpool's defence looked solid for maybe the first time this season, Kolo Touré rolled back the years and was up to everything Sergio Aguero threw at him, Jon Flanagan put in another excellent performance, something fans are getting used to from the young defender. Nataniel Clyne showed a different level to his game and did not look out of place playing left-back and Dejan Lovren covered and marshalled the Liverpool defence superbly.
The Liverpool midfield of Jordan Henderson and Emre Can excelled again tonight and Jordan Henderson in particular showed that his performance last Sunday was a blip. Then we come to many people's man of the match Adam Lallana. Lallana played liked a man possessed, he was at the fore front of everything positive Liverpool did. He scored Liverpool's first goal and assisted in Firmino's goal. So good was Lallana's performance against City that Anfield rocked to the sound of fans singing out his name at the top of their voices. Firmino now has six goals for Liverpool in his last seven outings in all competitions and he is on course to hit double figures in his first season as a Liverpool player for goals scored and assists given, that's not bad for a player some said was not good enough for the Premier League. Now we come to James Milner, and I'm sure many of you who read this will be aware I'm not one of Milner's biggest fans in fact I am hoping that he leaves in the summer but his performances of late have been nothing short of fantastic. He put in a shift against City that showed glimpses of why Liverpool signed him last summer. He also got himself on the score sheet and assisted in Lallana's first goal and like Firmino he could finish the season with double figures for goals scored and assists given.
Liverpool against City over the last four days have shown what a Jekyll and Hyde team they are this season. Few will argue that last Sunday they were out played, out manoeuvred by City. But four days on from that defeat it was City who looked out manoeuvred and out played by Liverpool. Jürgen Klopp's men were first to everything, hassled and harried the City players at every opportunity and forced City into making mistakes. I do not know if City were cock enough to believe that all they had to do was show up and they would win, if that was the case, by the time they realised they actually had to play football they were two nil down. Liverpool continued to dominate City at every opportunity and this was evident by the fact the City had only the one shot on target over the ninety minutes.
Next up for Liverpool is a game against Crystal Palace. What Liverpool team will turn up for that game only time will tell, but if they perform against Palace like they did against City, come the end of next weekend Liverpool might be three points away from fourth in the league. It is still all to play for and Liverpool are right in the thick of it.