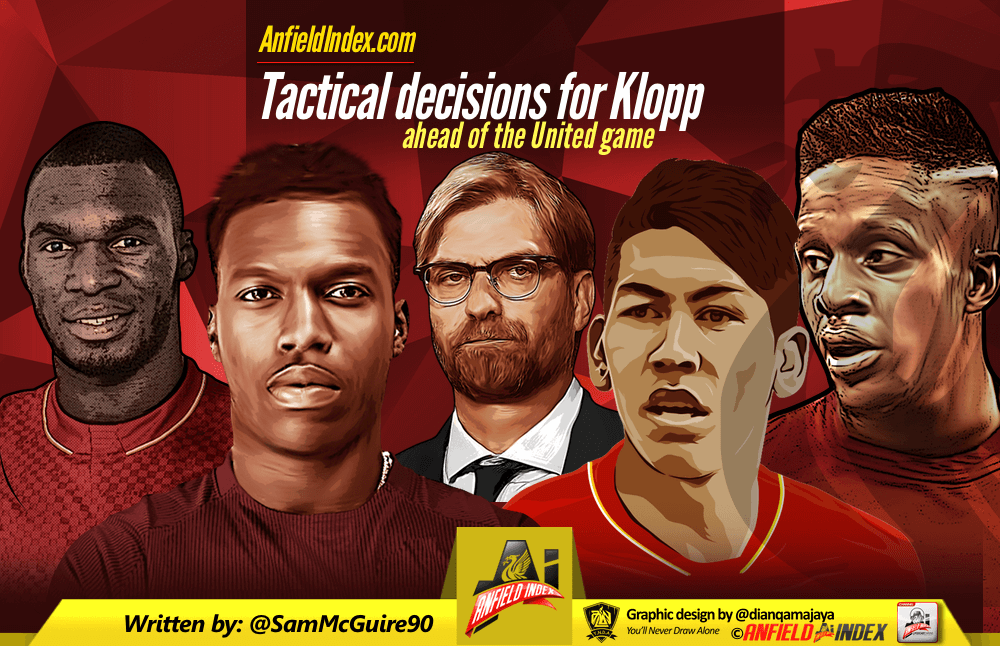 Tactical decisions for Klopp ahead of the United game
"A 2-0 lead is a dangerous score line."
It may be a cliche statement but it's correct. It's the score line that gives a team a sense of security. It's this sense of security that means teams instinctively sit back and invite pressure onto them hoping to hit them on the counter and sealing the win. Respect the opposition too much though and the 2-0 lead can quickly become 2-1 and then it's a different game. The momentum swings and the confidence dwindles.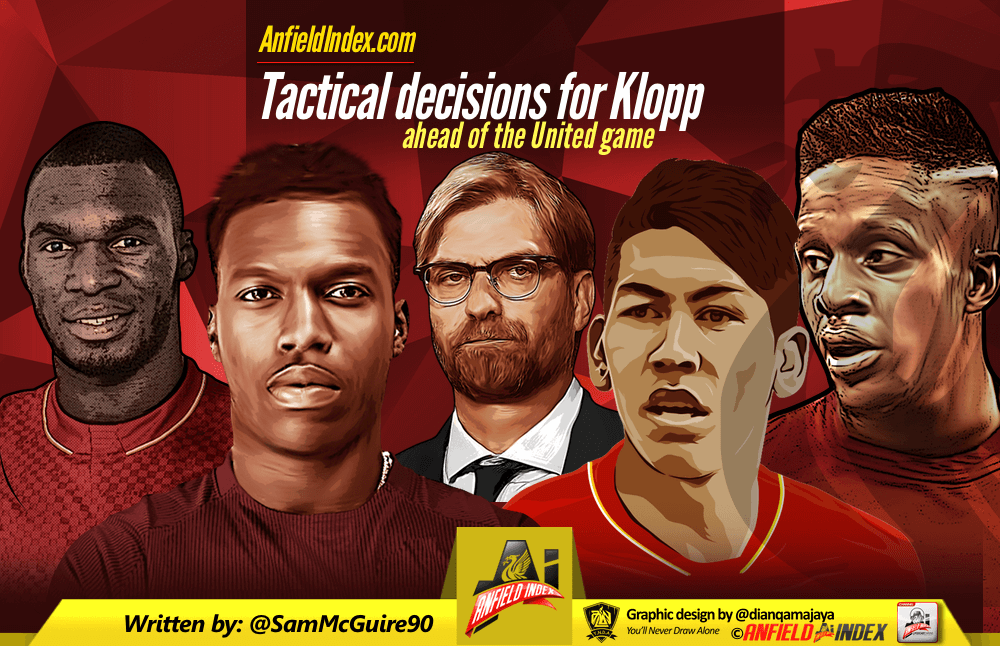 Liverpool dominated United at Anfield, so much so they can afford to sit off against them in the return leg. Liverpool need not take the game to United and risk themselves getting caught on the counter but at the same they can't invite pressure onto themselves for the entire match.

It's a fine balance and one that Reds manager Jurgen Klopp has to get right when he takes his Liverpool side to Old Trafford.
There's a confidence amongst Liverpool fans heading into the game. A belief not seen by many since the 80's. Many fans are often optimistic going into these games but it's a rarity that its genuine confidence on show. One goal for Liverpool means United have to score four to qualify.
"Kill it off inside 20 minutes" is a popular opinion on Twitter. On paper it's an ideal thought. Attack early on, score the away goal, absorb the pressure and then hit United on the break. After all United *have* to attack so the game will be open. Things don't always go to plan though, and if Liverpool concede early whilst chasing that away goal then the resolve of the players will really be tested. Is the team far enough into their lessons under Klopp to really handle such scenario? I guess it's hard to tell until such a situation presents itself.
Jurgen Klopp has an abundance of choices to make ahead of the match on Thursday, almost too many.
There's the defensive question. Should Liverpool keep the same back four from the first leg, or should the Reds make changes to plan for the expected United bombardment? Should Klopp be proactive in the moves or be reactive and see how the game pans out? Liverpool could line up with a back three/five. It's a formation that allows the wing-backs to push on knowing there are enough numbers defensively to cover. It's not an exclusive counter attacking tactic but freeing up Clyne and Moreno gives Liverpool more speed in the attacking transitions.
If this was a route Klopp wanted to go down then it would probably be a back five of Clyne, Lovren, Toure, Sakho and Moreno, the temptation for some may be for Emre Can to drop into the libero role but he's not the greatest aerially.
Then Klopp has to consider the best attack to line-up with. The German could start the same XI that beat United at home with the 4411 formation. Daniel Sturridge leading the line with the inform Roberto Firmino supporting him, then a midfield four of Philippe Coutinho, Emre Can, Jordan Henderson and Adam Lallana. If Liverpool are going to allow United possession, in the areas Liverpool dictate them to be in, then they're going to need a more active/selfless striker leading the line.
Divock Origi would be the ideal player. Similar to Sturridge in terms of movement, the Belgian offers a lot more running off the ball and for the team than his English counterpart, but the side loses a goal-scoring threat. Origi has a lot of potential but how confident would you be seeing him bear down on goal, one on one with De Gea?
Christian Benteke offers the opposition a different proposition upfront. Manchester United struggled against West Ham with the Hammers lining up with both Emannuel Emineke and Andy Carroll upfront. Their physicality and height troubled the defence on numerous occasions and it's something Christian Benteke could replicate. On paper he's the striker you'd want to use if you wanted to relieve the pressure on the defence. Benteke would be utilised when holding the ball up and bringing others into play. His inclusion is a risk though as fans have witnessed many times this season already when he doesn't fancy it he's a passenger.
Klopp could mix it up and use Roberto Firmino in the false-nine role and bring in another midfielder to make it a 433 system. Firmino, Lallana and Coutinho are like a rotisserie of pressing and they're the sort that will execute Jurgen Klopp's pressing traps. Although not playing with a recognised striker Liverpool don't lose 'goals' if they were to adopt this formation, and they add another body in midfield that would help the side dictate the space Manchester United are purposely afforded.
These are just five variations that Klopp could use in the return leg against United but there are least another five. Which route would you like Liverpool to go with?