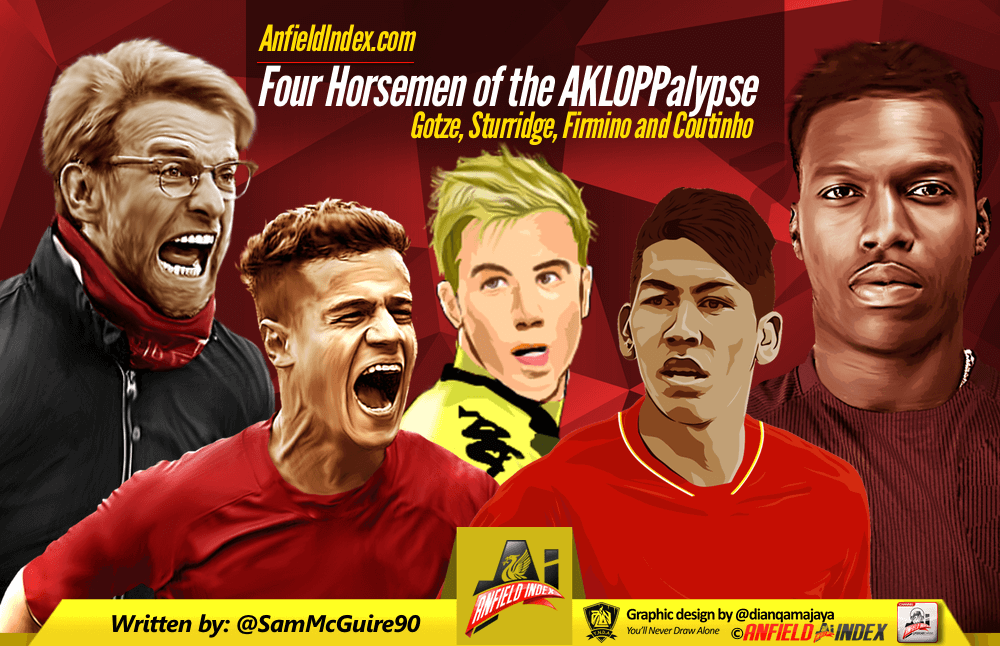 Four Horsemen of the AKLOPPalypse - Gotze, Sturridge, Firmino and Coutinho

Who wouldn't be proud of that headline?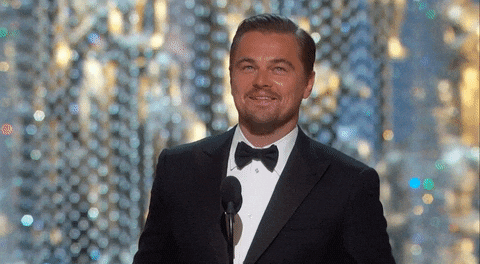 Paul Joyce and Tony Barrett had Liverpool fans a euphoric mess on Monday evening by stating Bayern Munich's Mario Gotze wants to link up with Reds manager Jurgen Klopp once again. If Liverpool were to sign the World Cup winner it would be considered a coup for the club.
Once the champions of both England and Europe, Liverpool's slow decline has now seen them slip from Champions League regulars to Europa League hopefuls in the past few years. The drop-off has seen the links to genuine world class stars dry up. Fans of the club have become used to seeing Liverpool linked with the mid-table Premier League clubs, and not even the good ones. These aren't bad players but then they're also not the players a club with Liverpool's aspirations should be targeting if they're to push on.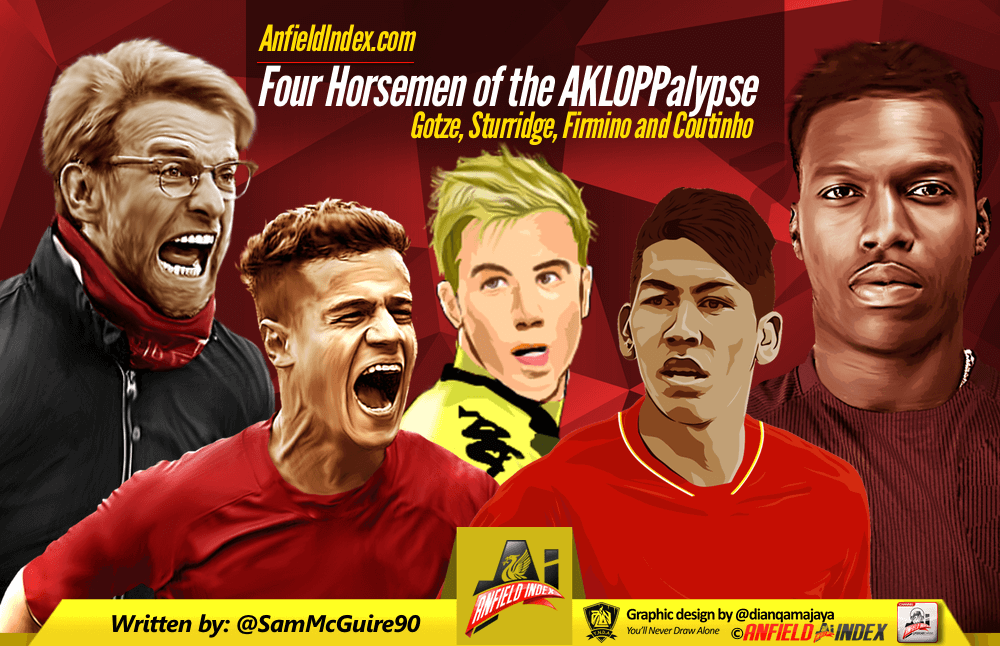 With this in mind, it's little wonder the majority of Liverpool fans lost their cool when journalists famed for their reliability in all things LFC related stated the Reds were in for Mario Gotze.
Taking time out from watching "Mario Gotze skillz 2010-2011", yes with a z, which of course has the mandatory generic house music being played over the video to get you really hyped, I couldn't stop myself imagining just how Liverpool could potentially line up next season if Mario were to sign.
The Four Horsemen of the Apocalypse
Death, War, Famine and Pestilence are the original quartet, however Klopp's foursome won't be as sinister but they could be just as destructive.
The Magician – Coutinho has the ability to go weeks without doing anything of note but he then leaves us talking about a moment of pure inspiration until his next memorable moment comes along. Questions over his place in the starting XI were starting to become more frequent before he superbly lofted the ball past David De Gea to give Liverpool that all important away goal at Old Trafford. He then followed that goal up in the second half with a slaloming run past three/four United players which left them all trailing in his wake. In his very next game he scored that memorable twenty yarder against Southampton. The magic is there, the consistency not so much, yet.
The All-Rounder – Firmino was the wildcard before the season started with many people asking one question; would he adapt to the Premier League? Initially he found the transition difficult as you'd expect. Shot's hitting the woodwork, injuries and being played out of position didn't help. Then Jurgen Klopp was appointed. Since the appointment Firmino has showed he's got the flair everybody has come to expect from a Brazilian but he's also been able to couple that with the German efficiency.
The Brain – Mario Gotze would arrive at Liverpool as a 24 year old, but a well rounded one at that. One word that comes to mind whenever you think of the German is clever; clever movement, clever feet and clever finishing. In certain matches this season fans have seen Firmino, Lallana and Coutinho spurn big chances and it's just not something you associate with Gotze. He's by no means infallible but just watch some of his finishes. Watch his winning goal in the World Cup final. It looks simple but he cleverly cushions the ball down before quickly adjusting his body and taking the shot early. Argentine 'keeper Romero isn't even set for the shot as the ball flies past him.
The Assassin – The much maligned Daniel Sturridge. There may be question marks over his fitness record and his desire to play for the club but  make no mistake the Liverpool no.15 is one of the most clinical strikers in Europe. He may not have scored as many goals as fans wanted this season but look at the technique in class in nearly all of them, especially the three against Southampton. He's a player capable of being on the same wavelength as the aforementioned three and if it clicks it could do some damage in the Premier League. For all the pretty play Liverpool fans want they need that ruthless, cold-hearted assassin when the ball is ten yards away from goal.
Gotze signing opens up so many possibilities
Not only would a Gotze signing be a big statement of intent off the pitch it would also impact the team, and the starting XI, immeasurably. Liverpool would have the players at their disposal to return to the diamond formation.
It's a formation Klopp originally used at Dortmund and it's one he's used infrequently at Liverpool.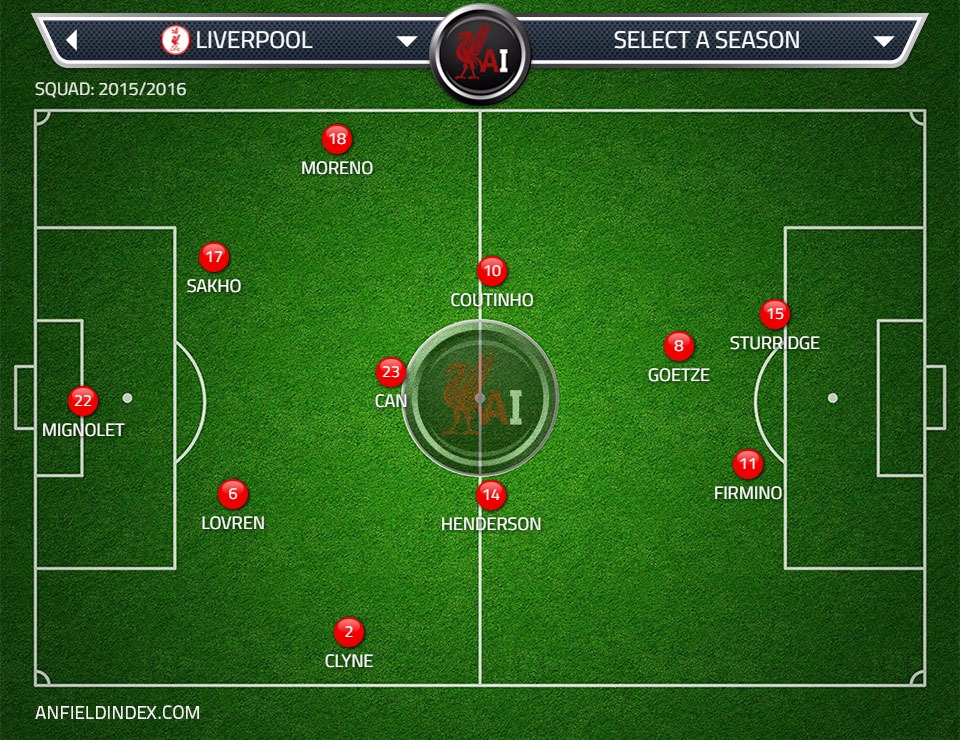 The beauty about this is it's all so fluid. You get Coutinho creating from deep, creativity is something Liverpool have lacked from deep throughout this season. Gotze can play as a striker beside Sturridge with Firmino operating a little deeper. You could have Gotze on the left and Sturridge on the right with Firmino playing centrally. Importantly here you'll see the attacking trio all have goals in them and it's something Klopp wants in his attacking players. When Dortmund were at their best they had eight players score eight goals or more in the league, and five score more than ten. Liverpool wouldn't be as heavily reliant on Daniel Sturridge and they won't be so one dimensional in attack. This in turn will free up Sturridge, much like it did in 2013/14 and he was able to showcase his exceptional talent.
If Liverpool did manage to sign Mario Gotze and keep hold of the other three then for the first time in a while they'd have four genuine game changers. They'd be Klopp's four horsemen as he look to decimate the rest of the league.