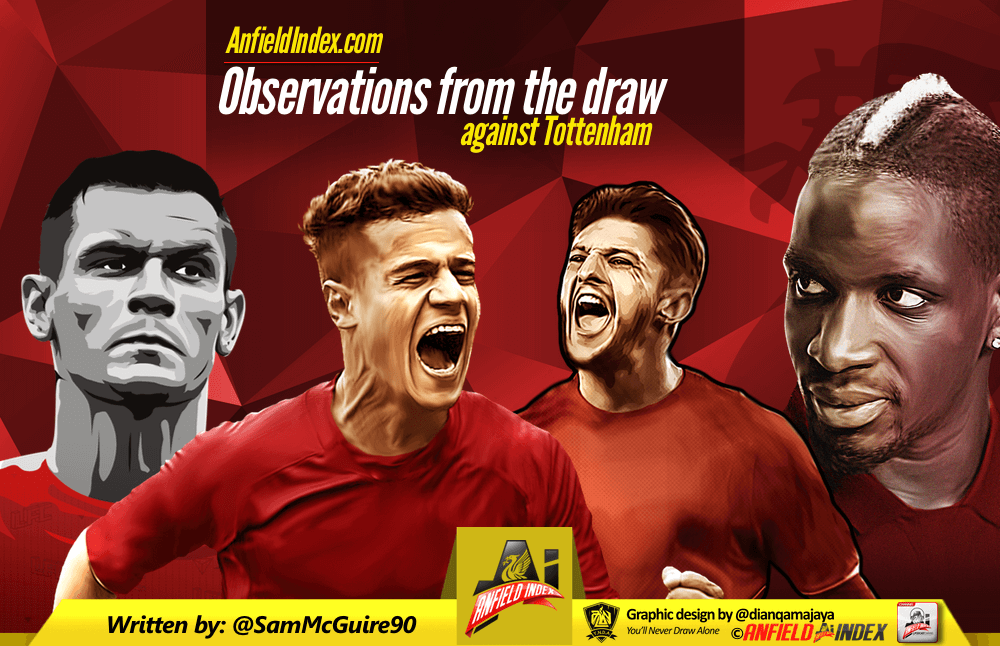 Observations From Liverpool's Draw Against Spurs
A draw at home to Spurs. It's not the worst result but given how the game progressed, Liverpool fans must be disappointed not to be walking away with three points. Both teams went for the win and although Liverpool tried their very best to give the ball away to Spurs on many occasions, it was the home side who could, and probably should, have won the match. Comfortably.
It's a reminder for all Liverpool fans just how poor the league is this season and despite this we find the team languishing mid-table. Spurs are pushing for the title and although they were well drilled and very organised, they didn't really blow the team away.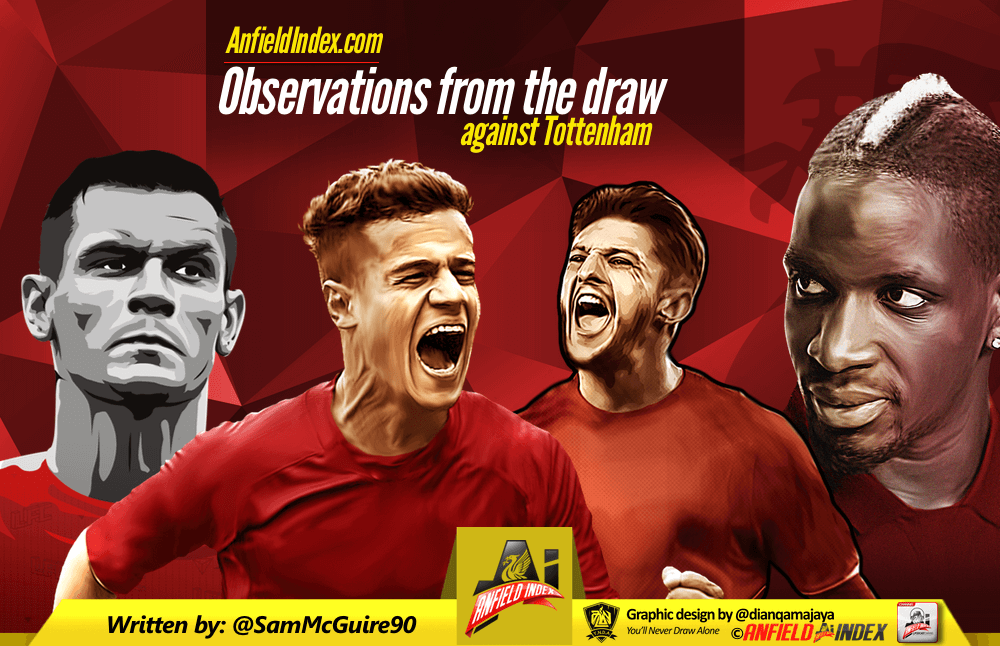 There were both positives and negatives to be taken from the draw:
Liverpool lose the lead, again. There's no middle ground for the Reds – they're either coming from behind to take something from the game or they're throwing away a lead. The team is consistently inconsistent in that sense. Against Spurs, Liverpool took the lead and had chances to put the game to bed, had they done so they would now be sitting eighth in the table, level on points with Southampton but with a game in hand on them and only three points off Manchester United and four points behind West Ham.
Philippe Coutinho scoring, again. The wonderfully gifted Brazilian has now scored in three consecutive games for the Reds taking his tally to double figures this season. A figure many fans hoped he would be reaching. The little number ten is carving a niche on the left and it's hard to see how he will be displaced if his form continues. He may be inconsistent in terms of the magic he produces, but his off the ball work is always good and shouldn't be taken for granted.
A Lallana-inspired performance, again. We're starting to see recurring themes as a Liverpool fan this season and one that's surprised many is how Adam Lalllana is having a such a positive impact on matches. Criticised for his lack of output earlier on in the season, he seems to be unleashed under Klopp and off the back of winning March's player of the month, he put in yet another impressive performance. Starting in a slightly higher position in place of the injured Roberto Firmino, Lallana took the game to Spurs and linked the midfield and attack. He didn't shirk his defensive responsibilities either and was unfortunate not to finish the match with a goal or two. A real positive.
The Sakho and Lovren partnership. Social media is a funny place. One week these two are a solid pair with plenty of potential on show and the next week one of them shouldn't be wearing the red of Liverpool.
It's almost as though players aren't allowed a bad game. Sakho's recent impressive performances were forgotten as he had a first-half to forget. The hysteria on  Twitter, however, was just embarrassing. Sakho, who was monumental against Manchester United at Old Trafford when the rest of the defence were rocking, has supposedly been underperforming since December and doesn't merit a start. Some even called for Martin Skrtel to start. It's pathetic and it shows clear bias against Sakho.
Why not just accept this partnership isn't the best but there is at least a partnership. Sakho has saved Lovren in games and vice versa. It'd be ideal if they both performed as a solid 8/10 every single week but it's not possible.