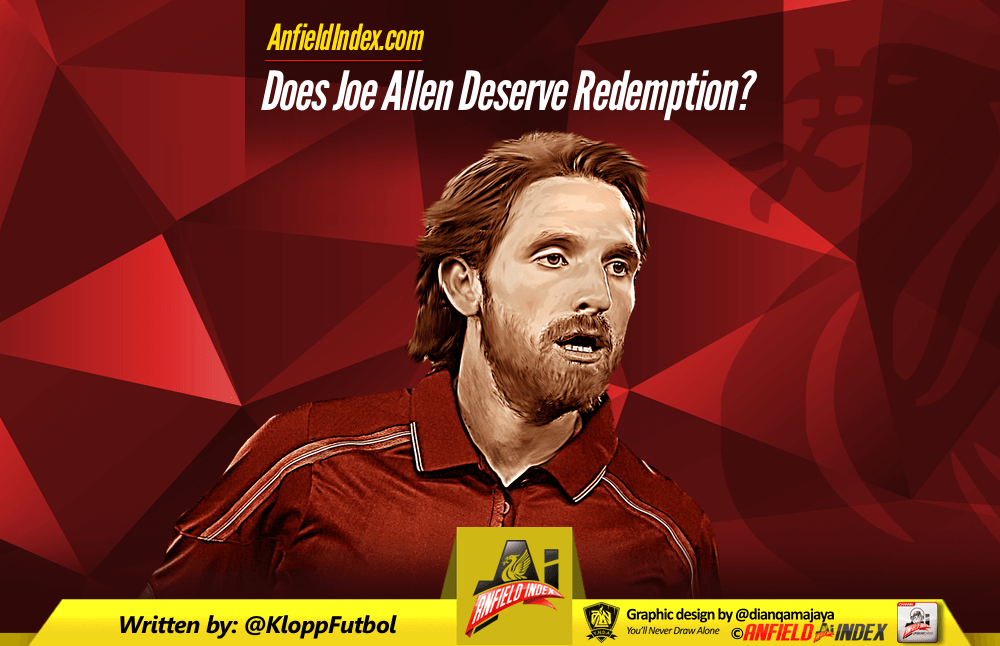 Does Joe Allen Deserve Redemption?

Joe "Jesus" Allen has been a figure of some controversy since joining Liverpool in the summer of 2012 for a figure of £15 million from Swansea. The then 22-year-old impressed in his first Premier League season and the fan base was excited, at least, more excited than the transfer of Fabio Borini. Since then Allen has played a bit part role at Anfield and left many believing that the arrival of Jurgen Klopp meant the end of his time at Anfield. But after a string of encouraging performances has that view changed?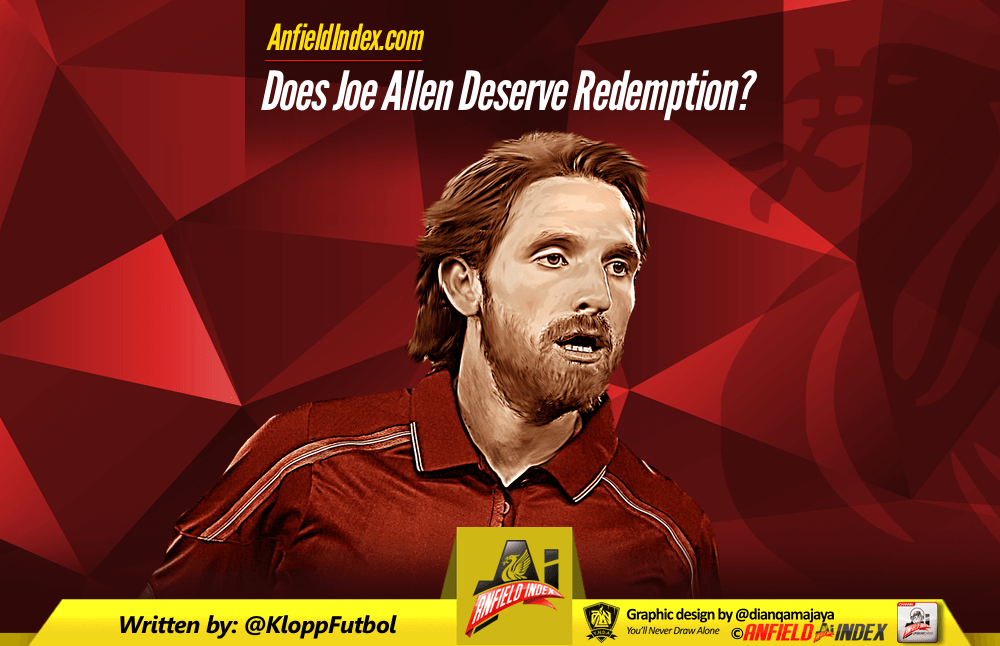 Allen has now made 100 appearances (in Europe and Premier League) for the club and has really failed to make an impact on the first team. Despite a few great personal displays, notably against Manchester City and Spurs in 14/15, he's never added anything to the side in terms of goals or assists. For most midfield players this would be a major concern but Allen has spent a lot of his time being deployed far deeper than others. Yet there is still the concern that Joe has not been able to produce a single assist for the club despite now being in his 4th season.
Rather than look deeply at how well Allen passes and tackles the ball let's think about how much of a role he would play if he stayed at the club anyway. Allen certainly has Emre Can, Jordan Henderson and James Milner ahead of him in the pecking order already. Lucas Leiva could also be in there if he stays at the club too. That is four players, without the possibility of another player being added into the mix. Looking at our squad you would certainly feel that this is necessary as well. The team lacks somebody who can dictate the tempo of the game from deep. When you think of Klopp's Dortmund you remember Gundogan just as much as you remember the Reus' and Gotze's of his team. Add that sort of player to this team and we are a completely different proposition. This would logically make Joe Allen sixth choice midfielder. If I was him I would refuse to be happy with that kind of position.
The 26-year-old does contribute some things very well to the team, though. His pressing has always been energetic and he has become an expert at retrieving the ball in very promising positions too. We saw all of this against Dortmund when he came on for Jordan Henderson. Yet there is a feeling that with the way Klopp plays this kind of quality doesn't make you that special. When Klopp first arrived many spoke of Adam Lallana in the same way we now speak of Allen. He had a lot of energy but failed to add anything to the side. But now Lallana has proved his worth to the boss by adding goals and assists to his name. Allen certainly has a chance to do that now. With Henderson out for the rest of the season, this is Joe's chance to prove his worth to the club. He knows that he is fighting for his Anfield life and if he fails to produce in these next few games he will surely be out of the door. Although despite all that has been said about Allen there would be a certain sadness around the club when he leaves.