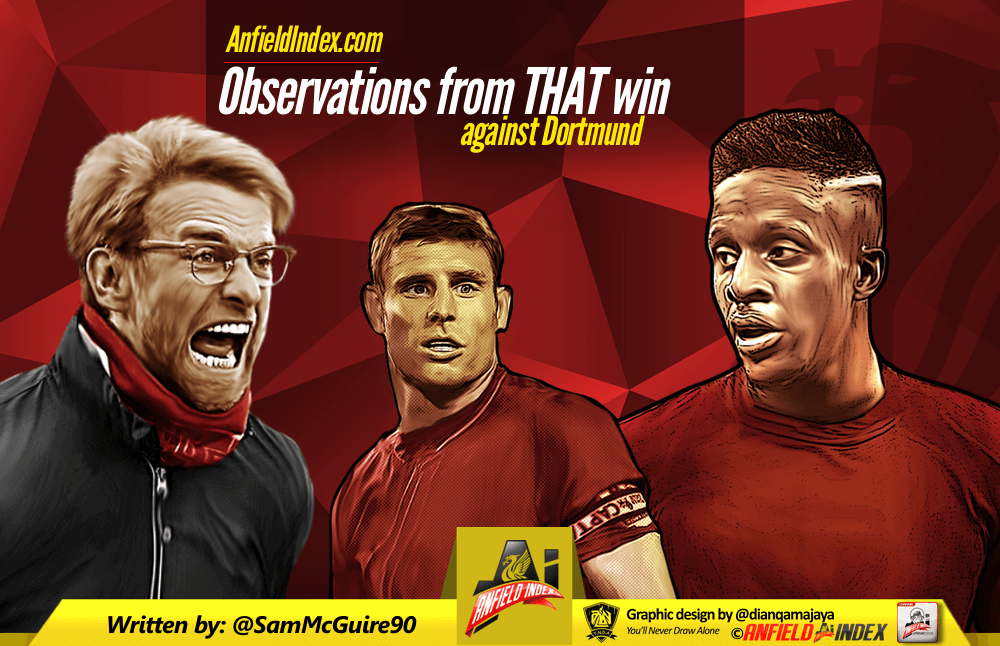 Observations from THAT boss win against BVB

Mad that, wasn't it? Dortmund 2-0 up inside ten minutes and coasting into the semi-final of the Europa League, only to lose 4-3 in added time. Dejan Lovren, the hero with a thunderous header before making his way into the Kop. Sounds like a dream, doesn't it? One you wake up from, tell your best mate and they laugh at you. It wasn't though. It was real life.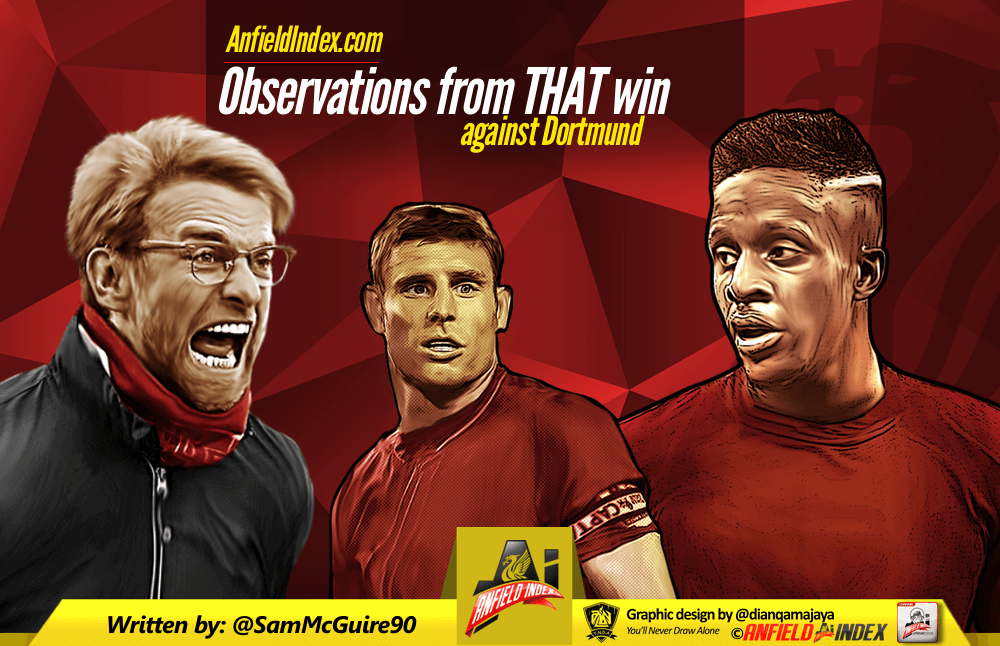 Liverpool are now three wins away from Champions League football next season.
There are negatives from the game but who really cares about those right now? We've just witnessed Liverpool hit four goals past one of Europe's best sides in forty-five minutes of madness. Dortmund, a side that managed to keep a clean sheet against the free scoring Bayern, crumbled when the red onslaught inevitably happened.
It was like the Red Wedding episode of Game of Thrones, but much happier for me.
Onto the observations –
James Milner is an enigma. More specifically his crossing. How is it humanly possible for one man to be so poor at taking corners, yet be so deadly when crossing the ball in open play? That's twelve assists for the season after adding the two tonight. The cross for the winner was right out of a picture book. "How to stand a ball up to the back post" open it and you'd see a picture of that exact cross.
In the first-half, he was all over the show; something that's common when he's played as part of a two-man midfield but in the second-half when Liverpool knew it was all or nothing and he gambled going forward, leaving Can as the sole midfielder, he was popping up all over the show. For the Coutinho goal he was on the edge of the area linking the play with a neat pass into the Brazilian's feet.
The less reliant Liverpool are on Milner, defensively, the better. Also, if they could hire a hypnotist to convince him corners are just open play situations, that would be great.
Big Div delivering when it matters yet again. Before the game, there was a big debate on who Liverpool should start upfront against Dortmund. Origi performed admirably in the first-half and was argubaly the standout performer. Unfortunately, the end product wasn't there and it looked as though Liverpool's wastefulness would cost them.
Then he showed it. His killer instinct. The same instinct many had been questioning he actually had. He latched on to a perfectly weighted Emre Can pass and effortlessly slotted the ball past Weidenfeller. Liverpool back in the game. Then his partner in crime, Daniel Sturridge, was introduced and the duo once again troubled the opposition. Liverpool have scored ten goals in just over one hundred and eighty minutes worth of play when these two have been on the pitch together.
Klopp's Liverpool have so much self belief. Not many teams come back from 2-0 down against Dortmund. Even fewer come from 3-1 behind to beat Dortmund with only thirty minutes remaining. Klopp's Liverpool did just that and it was jackpot city. Not for the first time, Liverpool have looked dead and buried and yet they've come away from the match with a win. As was mentioned previously, it's difficult for teams to actually kill the game off against us because these players, under Klopp, don't know when they're defeated. A bit like in those horror movies when the main antagonist can be stabbed twenty-two times, shot three times and set on fire yet they still come back. Klopp's Liverpool is Michael Myers. The one from Halloween, not the Austin Powers actor.