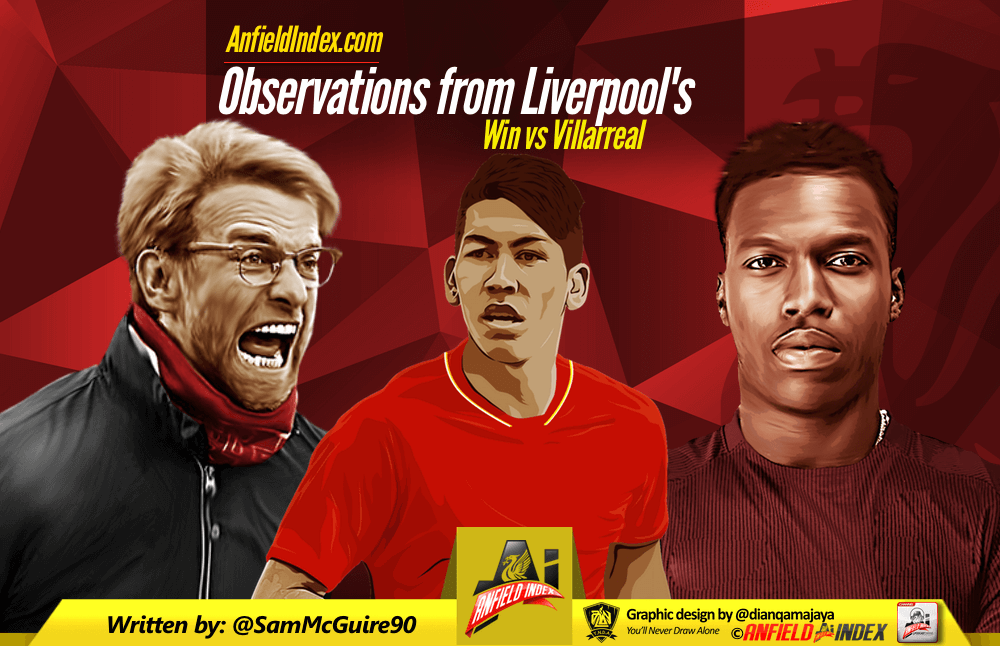 Observations from Liverpool's win against Villarreal
Was it ever really in doubt? Liverpool at Anfield on a European night. There's nothing quite like it. There's an aura of invincibility and a sense of destiny when the Reds are in Europe. It's in the clubs blood. Feeding off such support the heart is once again pumping with Anfield rocking as Villarreal came to town. The fans were pumped. The players were pumped. Klopp was orchestrating everything.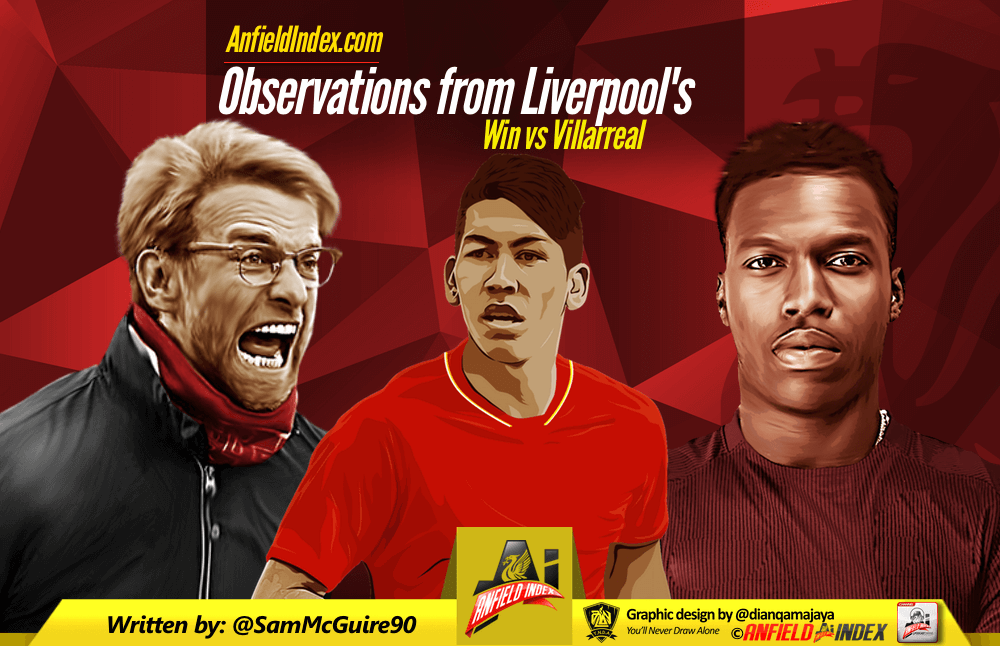 Villarreal turned up with a lead and a confident, bordering on arrogant manager. They came. They saw. They crumbled. It's happened to bigger and better clubs and it'll happen time and time again.
A 3-0 scoreline didn't flatter Liverpool; the margin should have been greater. Villarreal looked rattled from the first minute. The premature celebrations at the El Madrigal last week came back to haunt them as Liverpool pressed and harassed them from minute one. The team talk and match tactics would've been easy for Klopp: show them, the fans who lined the streets of Liverpool to greet the team bus, that you want it as much as they do.
So, observations from the Emre Can and Roberto Firmino Show-
Hurricane Jurgen. It takes a brave manager to have his team play such open and expansive football early in a semi-final when you're a goal down from the first leg. Many managers would set up to keep it compact and not concede and early goal, Klopp however decided that attack really was the best form of defence. If Villarreal didn't have the ball they couldn't score. He took a lot of flack after the defeat in Spain, undeservedly so, but this performance should reiterate why fans should trust him. He has our best interests at heart.
Emre Can is a machine. He had no right to be on the pitch tonight after picking up that injury against Dortmund, yet there he was, running the midfield and setting the tempo as the Reds took an early lead. He was pressing the Spanish team in the 87th minute as if it was the 87th second. He wanted a victory as much as any fan. It was a real captain's performance and it just goes to show that you don't need an armband to be a leader. He was not only instrumental with the ball but he brought balance to the team without it.
People have questioned him this season. He has been inconsistent, but hes really come to the fore as the season has progressed.
Daniel Sturridge likes being challenged. In a weird twist, I think Klopp's management of Sturridge has made him even more hungry as a player. He has almost been tasked with proving himself and he seems to relish it. His celebration tonight was pure emotion. No wriggly arm dance. No waving at the fans. People will call it relief. I prefer to label it as ecstasy.
Fans are forever questioning his commitment to the club, yet three times this season; against City in the League Cup final when he was crying, against Dortmund after Lovren scored the winner and now tonight after his goal he's showed emotion and passion. His heart seems to be in this club. His desire shouldn't be questioned. He's a winner.
Roberto Firmino stepped it up. Some fans still have question marks when it comes to the Brazilian. "He's too inconsistent, and he's always on the peripheral". Granted, after his return from his most recent injury, he has been hot and cold but tonight the real Firmino was on show. Industrious off of the ball and creative when on it, he showed the touches of class which separate the quality players from the good players. He had a role in all three of the goals and was unlucky not to score himself.
More performances like this and he will win the doubters over.