At this time of year, Liverpool supporters are getting excited at the prospect of who the club will be signing in the summer. The excitement has reached fever pitch with Jurgen Klopp in charge, with daily rumours circulating about who his targets are and speculation mounting about the changes that will be made to take the club onto the next level.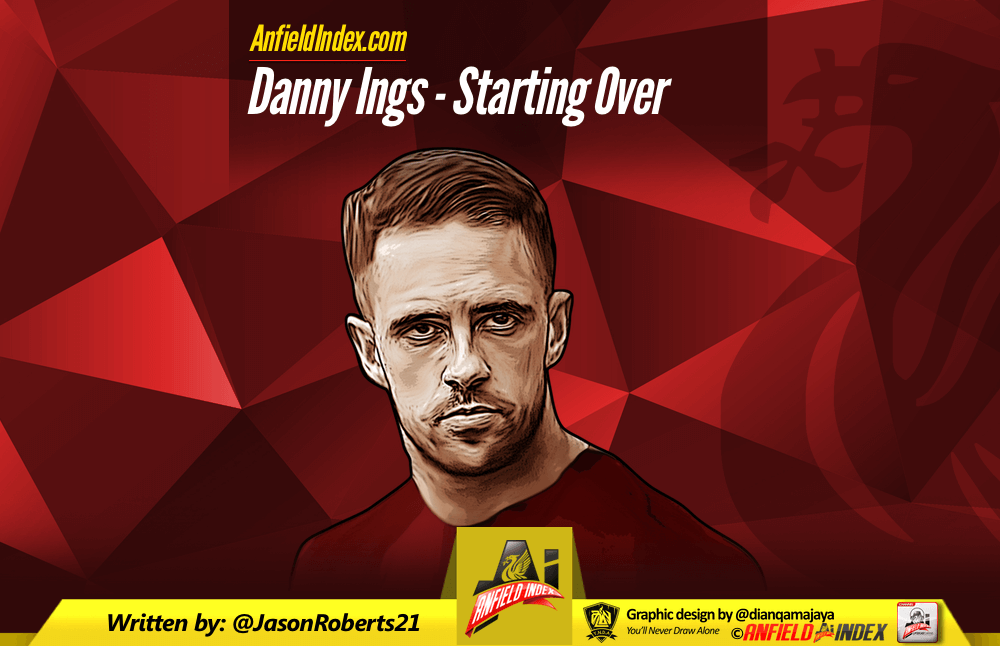 However, it is the return from injury of one of last years summer recruits that has this author equally as excited and intrigued as I am about any potential new additions.

Recently photographs emerged of Danny Ings returning to first team training with his teammates, following the unfortunate cruciate ligament injury which has kept him out of action for over six months. His injury occurred only half an hour into his first training session with Klopp (according to the manager himself), which has meant that he hasn't been available for selection throughout the duration of Klopp's reign thus far.
Upon arriving at Liverpool from Burnley, Ings was proving to be a rare bright spark in an otherwise underwhelming start to the season under Brendan Rodgers. His contribution of 3 goals in 8 games, coupled with his work rate and enthusiasm (not exhibited by a number of his colleagues at that time) meant that he was winning over a number of supporters who had previously doubted his credentials. His form had led to his first England cap and on a personal level, things were really looking up. Then injury struck and his season was potentially over.
Given the nature of the injury, the fact that he has only just returned to first team training and that there are only a few weeks left in the season, it remains to be seen if he will play any part in our remaining matches. But the most important thing will be completing his recovery fully, getting a good pre-season under his belt and starting the next campaign with a clean slate, in many respects, as a new signing. And this is what I am excited about (and you should be too!)
The traits predominantly associated with "Jurgen Klopp players" include a willingness to work extremely hard, both in and out of possession, the ability to effectively press and the attitude and aptitude to give everything to cause. He won't settle for anything less. Of course, these traits need to be complimented with sufficient quality, however there is no doubting how much Klopp appreciates and places emphasis on his players' ability and willingness to work hard.
Since he has come in, you only have to look at the improvement in Adam Lallana and the emergence of Divock Origi as examples of just how important these traits are in his teams. Origi being picked ahead of Sturridge in the Europa League against Dortmund caused some controversy, however was a testament not only to his improved form in the time that Sturridge was out with injury but also to the work rate and impressive performances that he was putting in when leading the line. Roberto Firmino has been a key player for us, showing glimpses of his undoubted quality in terms of goals and assists, but his off the ball work often goes unnoticed and under-appreciated by our fans. But not by Klopp, who has utilised him as a key member of the team when fit, either in an attacking midfield role or operating as a false nine.
Danny Ings is no frills … no glitz … but all business. He works tirelessly out of possession and is very dangerous in it. He is versatile, which has been proven in his time at Burnley where he spent time playing as a wide forward, cutting in to support the main striker. He has the ability and confidence to run at the opposition with the ball from deep, but is equally comfortable playing off the shoulder of the last defender and effectively running in behind. He can score from distance and from tap ins, using either foot or his head.
His return of 11 goals and 4 assists for Burnley in his debut Premier League campaign was impressive if not spectacular, and his overall record of 54 goals and 17 assists in 167 games is good for a young striker who is still developing (he is only 23 years of age despite looking much older!)
He is a direct, dynamic attacking player who likely won't dazzle you with step overs but will get stuck in and score the important goals that will win us points. What he offers won't always be pretty, but it will be effective more often than not.
On an Anfield Index podcast at the start of the season, I spoke with Gags Tandon and Dave Hendrick about my appreciation of Ings and his ability. With his tongue placed firmly in his cheek, Dave playfully dubbed Ings 'The Hampshire Tevez' while we discussed his style of play and what he brings to the table. Whilst there is no doubt that Ings is not at the level of peak Tevez – and may never reach that level – there is an element of truth in the comparison in terms of his tireless work rate, directness and style of play. Dave may have been humouring me, but in terms of explaining Ings' characteristics, it does go some way to describing what to expect from him.
When the inevitable happens and the club sells Christian Benteke, many people will be urging Liverpool to spend big on another striker. However with the emergence of Divock Origi this season to challenge Daniel Sturridge as the main man up top, in Ings we could already have the perfect alternative to compete with the those two and complete an effective trio of striking options. This would allow the club to concentrate on strengthening other areas that need addressing. After all, improving the defence (including the goalkeeper), the centre of midfield and our wide options are arguably more of a priority.
After the club were ordered to pay a fee to Burnley for Ings' services (£6.5m rising to £8m), he really does feel like a new signing in almost every respect.
I know that I am bigging him up a lot here when he is, in fact, far from the finished article. However I had belief in his ability for a long time prior to him signing for Liverpool and in his limited appearances for the club so far, he has reinforced my opinion that he can be a success. He'll need to earn the opportunities to get into the team and when he gets them, he needs to take them and stake his claim to become an important component of Klopp's new look Liverpool. I think that he will, but only time will tell.
Jurgen has already commented on how impressed he has been with Ings' attitude – "The way Danny has attacked his rehab and the hunger he has shown to be back with the team is something I can only describe as an inspiration" before adding,"if he maintains his attitude and continues to work as hard as he has done since suffering the injury, we will have a special player, as well as a special person."
Ings was already starting to win over some detractors prior to his injury, so he needs to continue in this vein next season. One of Klopps mantras upon taking over as manager was the need to turn doubters into believers …. this is also the challenge that Danny Ings now faces.