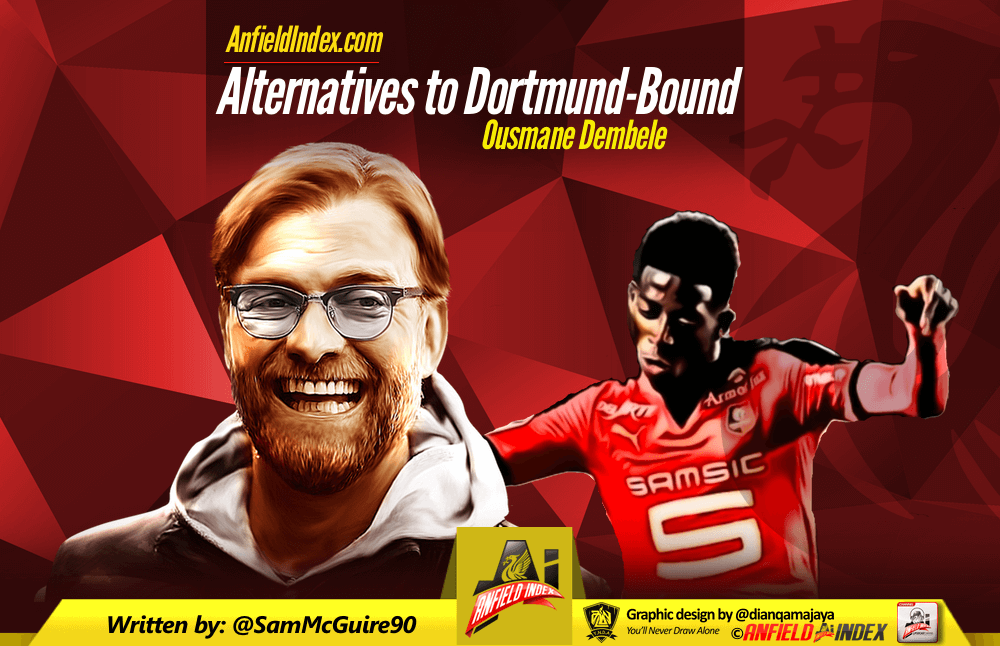 Alternatives to Dortmund-Bound Ousmane Dembele
It was announced today, 12th May, that Liverpool target Ousmane Dembele had agreed to join Borussia Dortmund in the summer. The attacker, who only really made his breakthrough in November for Rennes, tore Ligue 1 apart and after only a few weeks it would have been easier, and quicker, to name which of Europe's elite clubs weren't looking at this kid.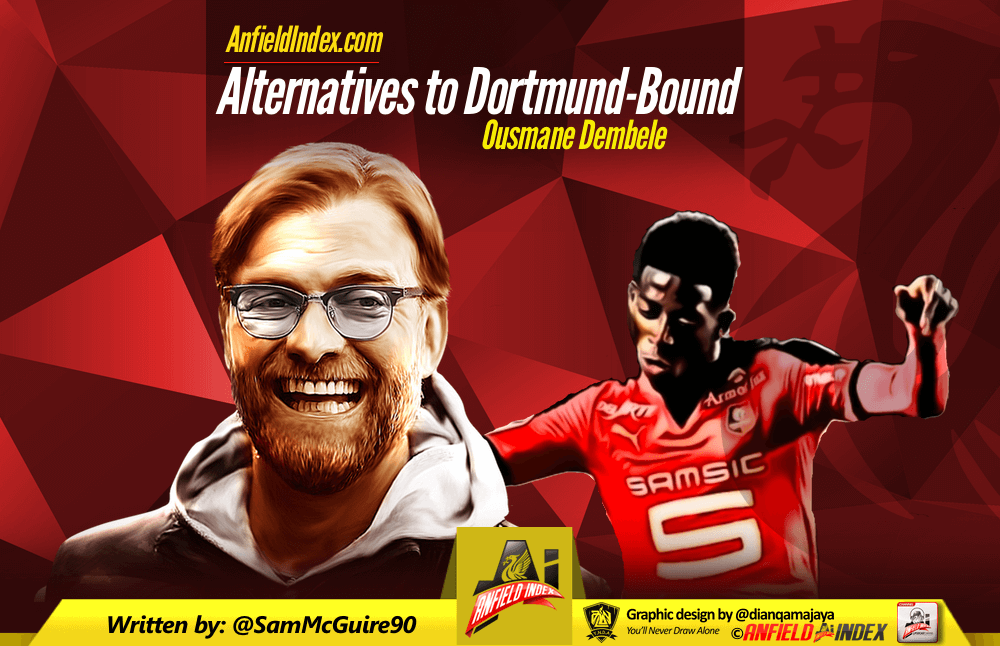 Those unfamiliar with the player won't see missing out on him as such a loss but your writer, possibly Dembele's biggest fan, can't help but feel it's a wasted opportunity for the club to not only sign a player with all the tools and potential to become world class but to do so without breaking the bank. He signed for BVB for an initial £11 million. A quarter of what Raheem Sterling went for, almost a sixth of Anthony Martial's rumoured fee and half of what Liverpool paid for Lazar Markovic.

What Liverpool now can't afford to do is move away from the Dembele profile. He was targeted for many reasons so the club have to ensure they bring in somebody with a similar skillset. The attacker will need to be young, quick, versatile, hard working and a goal threat from wide. These are the parameters that will be used when identifying possible Dembele alternatives, within this article anyway.
As a reference point here are Dembele's stats for this season – 12 goals in 28 appearances, 71% pass success rate, 0.8 successful tackles, 0.7 Interceptions per 90 minutes and 4.2 successful dribbles per 90 minutes.
Breel Embolo. The 19 year old attacker is already closing in on 100 appearances for his club side, Basel. Only one of eight players to have scored in the Champions League under the age of 18, he's in an elite league.
The explosive striker suits the criteria if Liverpool are looking for a player who is similar to Ousmane Dembele. He's versatile, capable of playing in one of the wide positions as playing as a striker in a one or a two, he's got explosive pace and he knows where the goal is. There are similarities in his play to Romelu Lukaku but without the aerial dominance – think 2013/14 when Martinez used him wide right.
The Swiss forward has scored 10 in 26 appearances this season, averages a 78% pass success rate, completes 3.1 dribbles, makes 1.6 successful tackles per 90 along with 1 interception. It's hard to quantify 'work rate' but 1.6 tackles and 1 interception per 90 minutes are pretty impressive numbers.
https://www.youtube.com/watch?v=j6Mrg2TIX8s
Sofiane Boufal. The Lille attacker just keeps on improving. It was a tough start to the season for the 22 year old but since the Christmas break in France he's been in inspired form and helped Lille to the Coupe De Ligue final.
The versatile forward only arrived at Lille in January 2015 from Angers but his development has been nothing short of remarkable and he looks ready to move onto bigger and better things. He's scored 11 in 27 this season, has a 77% pass success rate, makes 1.8 successful tackles and 0.2 interceptions per 90 minutes, not to forget the 4.4 successful dribbles he completes per 90 minutes.
He seems like an ideal Klopp player on paper.
3. Julian Brandt. The Bayer Leverkusen attacker is often ignored when people talk about the German side but it's the 20 year old who broke a Bundesliga record this season by scoring in 6 consecutive games. Able to play anywhere behind the striker, he's used to playing in a high pressing system as that's the basis of the Leverkusen side.
He finished the season with 9 goals in 17 starts (and 11 sub appearances), 77% pass success rate, 0.6 tackles and 0.6 interceptions per 90 and 0.9 successful dribbles per 90.
Despite such the tender age he has experience in the Champions League and the Europa League.
The wildcard in all of this would be Christian Pulisic. The 17 year old Dortmund attacker may find his playing time restricted due to the arrival of the aforementioned Dembele and ex-manager Klopp may be the ideal man to nurture him into a world class talent that many feel he could be. In his very few cameo appearences this season (387 minutes worth) he's impressed and has 2 goals to his name. He also averaged 1.2 tackles, 1.1 interceptions, 1.3 successful dribbles and had a 78% pass success rate. Not the biggest of samples but still, impressive numbers.