Liverpool 0-1 Grazer AK – 28th September, 2000.
Liverpool 0-0 Rapid Bucharest – 24th August, 2004.
Remember them? Nope, me neither.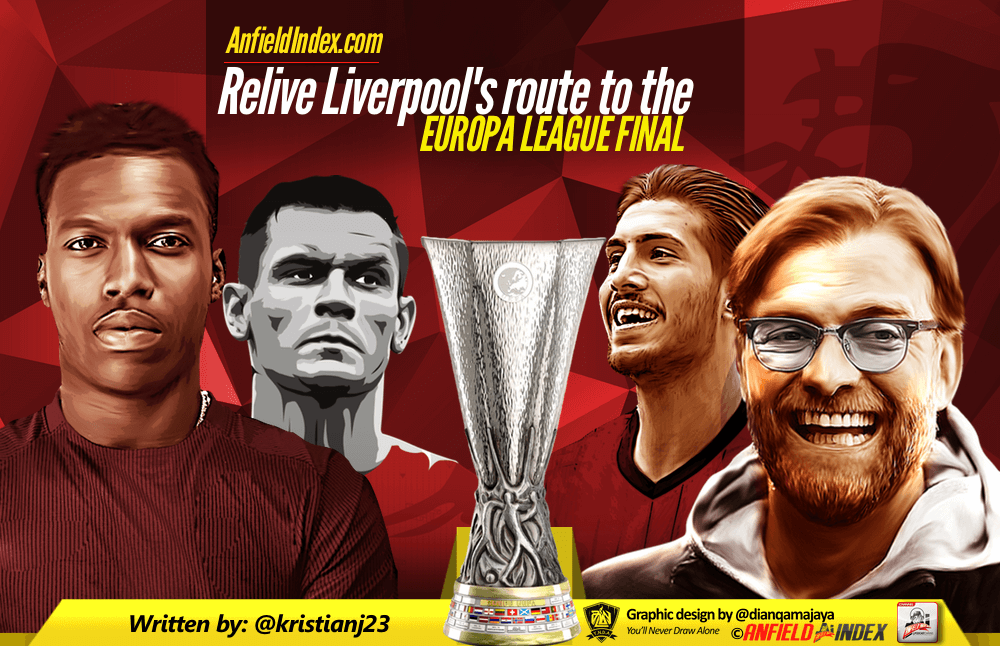 Rarely do European campaigns begin with barnstorming victories and scintillating football. The two aforementioned results won't live long in the memory, but the Reds ended each season with European silverware to their name.
The same could be true if we overcome the Europa League specialists Sevilla on Wednesday, but it's only in recent months that Reds all over the world have started to get excited about the competition.
With the Basel showpiece on the horizon, let's take a look back at how Liverpool have reached their first European final in nine years. Don't worry, I won't linger long on the group stage games…
Group Stage: Bordeaux 1-1 Liverpool
Adam Lallana netted a beautiful goal to set us on our way before a late equaliser left us with just a point. Not too shabby considering we played the majority of the game with Pedro Chirivella and Jordan Rossiter as our central midfielders.
Group Stage: Liverpool 1-1 Sion
Lallana opened the scoring again after just four minutes but the Swiss outfit soon equalised. A rare off-night for Nathaniel Clyne. Pockets of the stadium booed the team off the pitch at the final whistle in Brendan Rodgers's final ever home game in charge.
Group Stage: Liverpool 1-1 Rubin Kazan
Jurgen Klopp's first taste of European football as Liverpool manager was pretty shocking in all honesty. We scraped a 1-1 draw against the ten men of Kazan, who are currently 10th in the Russian Premier League.
Group Stage: Rubin Kazan 0-1 Liverpool
A win! We won a game in Europe! The scene of Klopp's infamous "IBEEEEY" shout after the youngster netted his first goal for the club. Nowhere near as good as his goal against West Brom, mind.
Group Stage: Liverpool 2-1 Bordeaux
Bordeaux scored from an indirect free kick after Simon Mignolet held on to the ball for 22 seconds. That's not a typo. 22 seconds – almost four times the maximum limit. But never mind, a James Milner penalty and Christian Benteke's strike sent us into the last 32 with a game to spare.
Group Stage: Sion 0-0 Liverpool
Two weeks later, Liverpool fans were still trying to work out why Mignolet held on to the ball for longer than Martin Skrtel does with striker's shirts. The only notable thing about this game is that it was played on an ice rink. Oh, and we got a glimpse of Brad Smith's gorgeous crosses too.
Last 32 – first leg: Augsburg 0-0 Liverpool
Business end of the season. Finally, we'll get a chance to see full-throttle football, we thought. Perhaps not. The Reds never got out of second gear in a drab 0-0 against the German outfit. Nonetheless, a decent away result to take into the second leg…
Last 32 – second leg: Liverpool 1-0 Augsburg
It seemed as though Liverpool were going to coast into the last 16 when Milner's fifth-minute penalty put us 1-0 ahead, but the remaining 85 minutes were pretty nervy. Daniel Sturridge struck the post before Mignolet made a couple of decent late saves to help us on our way. The day after this victory we were drawn to play Manchester United in the next round…
Last 16 – first leg: Liverpool 2-0 Manchester United
A week before this tie, we thrashed Manchester City 3-0 at home and we carried the same effervescent display into this tie. The relentless pressing was matched only by the vociferous atmosphere inside Anfield as a first-half Sturridge penalty and a Roberto Firmino strike put us within touching distance of the quarter-finals. Lallana's silky footwork to take him away from two Utd players is criminally underrated.
https://www.youtube.com/watch?v=ndLuBz51-J8
Last 16 – second leg: Manchester United 1-1 Liverpool
The first half was horrible. The awful knot you get in your stomach in such high-stake games was well and truly back. It only became worse when Anthony Martial halved the aggregate score from the penalty spot with an hour of the game remaining. But then our little magician did what he does best. Even now I'm in awe of Philippe Coutinho's goal as he sank the competition's best goalkeeper to his knees before scoring from an improbable angle. The second half was a cakewalk and I'm sure I wasn't the only Liverpool fan squealing in delight as Coutinho continued his fine evening by jinking his way past four hapless Utd challenges with hips that Shakira would be proud of.
Quarter-Final – first leg: Borussia Dortmund 1-1 Liverpool
The quarter-final tie was billed as a battle between the two best teams left in the competition. Eyebrows were raised when Divock Origi was given the nod upfront instead of Sturridge, but Klopp's decision – as is often the case – paid off, with the youngster putting us a goal ahead. Two heroic blocks from Mamadou Sakho and Dejan Lovren epitomised a valiant display from the Redmen at the Westfalenstadion.
Quarter-Final – second leg: Liverpool 4-3 Borussia Dortmund
It's a night that will go down in Liverpool folklore. If anyone dares questions the impact of Klopp in his short Liverpool tenure thus far, force them to watch this game for eternity. A nightmare start saw everyone write our hopes off but this Liverpool side never know when they're beaten. Origi gave us a lifeline before the outstanding Marco Reus drove a dagger to our hearts once again. Then came the tidal wave of Liverpool pressure. First Phil, then Mama and finally Lovren, whose slide tackle celebration has not been given the adulation it deserves.
https://www.youtube.com/watch?v=PmnFG7cD_AA
Semi-Final – first leg: Villarreal 1-0 Liverpool
Bit of a mad one, this. A little like the first leg of the Augsburg tie, Liverpool set up to not get beat, which was going well until quite literally the last minute of the game. There are moments which decide games, and when our left-back decided to play upfront with seconds left on the clock, it proved costly. Their smarmy little manager wheeled away as though they'd won the World Cup.
Semi-Final – second leg: Liverpool 3-0 Villarreal
The majority of people were predicting a tight affair.
"Villarreal have got a solid defence," they said. "They've beaten Atletico and Real, and held Barca to a draw."
What they forgot to mention is that Liverpool were magic. Sturridge had a hand in all three goals and his Gerrard-esque celebration for the second of the night showed an outpouring of emotion not usually seen from the ice-cool hitman. Their smarmy little manager had a little hissy fit after realising that putting a Sunday league 'keeper in goal probably wasn't a great shout.
Liverpool fans will remember the highs of the home ties against United, Dortmund and Villarreal for a long time, but it hasn't always been pretty. The group stage was a slog that all of us could have done without, but none of that matters now.
It's simply time to finish the job.