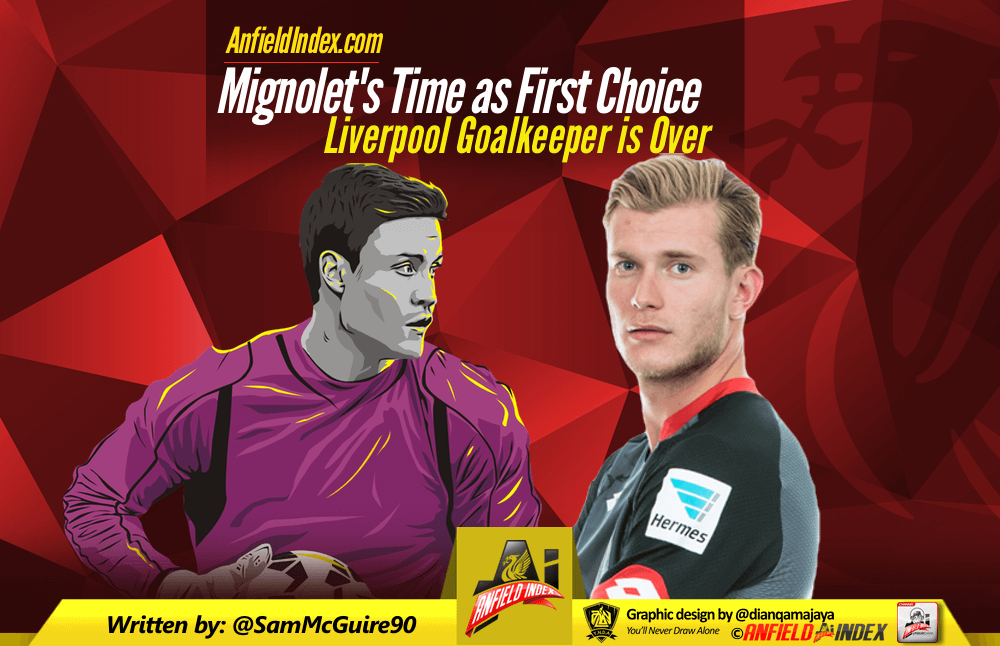 Mignolet's Time as First Choice Liverpool Goalkeeper is Over

Liverpool Twitter is hardly ever united. There is always an argument or a disagreement which seems to fracture the fan base, even with Jurgen Klopp in charge. Yet on Tuesday 24th May 2016 the fan base was unequivocally unified as Liverpool announced that they'd signed Mainz 'keeper Loris Karius. The unity wasn't because Karius is a world class 'keeper, he isn't, but because this spelled the end for current goalkeeping incumbent Simon Mignolet.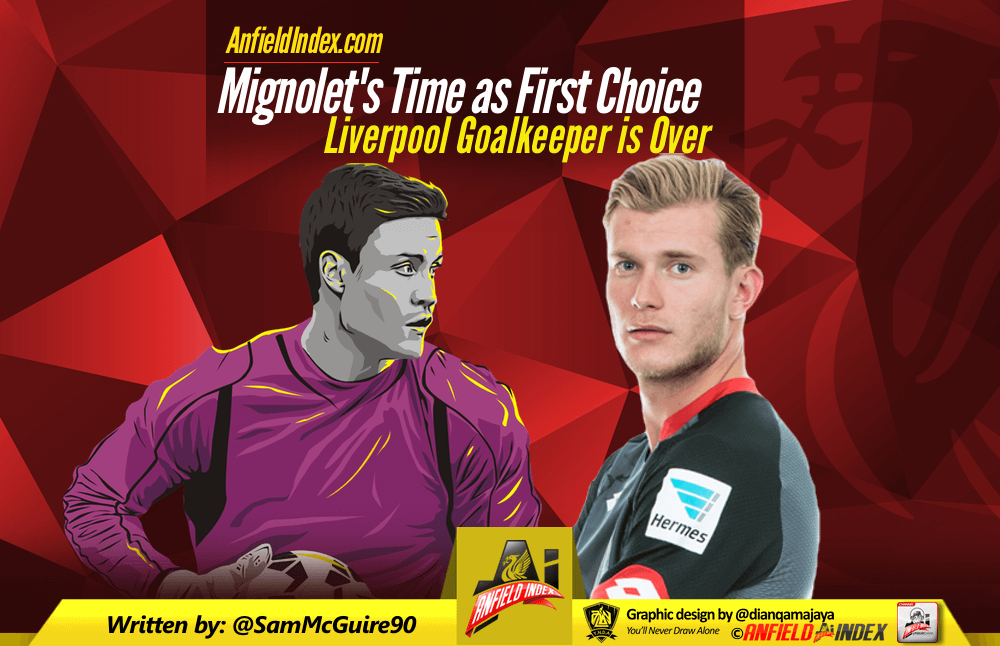 The much maligned Belgian has been the instigator of much frustration this season for Liverpool fans.
A brilliant shot stopper on his day, it's his tendency to inexplicably concede sloppy goals that riles up the fans and these mistakes/errors in judgement are the ones that seem to have cost Liverpool quite a few points this season.
You cast a jealous eye at Manchester United who only had the season they had because of David De Gea's heroics. Arsenal signed Petr Cech and went from fourth to second in the league. Their defence looked much better with the ex-Chelsea man keeping goal. Joe Hart was lauded for some brilliant performances last season as City scraped fourth.
Many see the attack as the most important area of the team but without an adequate goalkeeper you can have the best attack in the world and you still wouldn't win much. That's partly why Barcelona went out and signed two 'keepers when Victor Valdes' form started to wane.
Simon Mignolet only signed a new deal at Liverpool in January but given his form after that it's no surprise Klopp has acted swiftly in the summer window and signed a 'keeper. Mignolet signed the deal off the back of some costly errors. He cost Liverpool points against West Brom in December and followed that up with questionable decisions against Manchester United in a 1-0 defeat and against Arsenal in a 3-3 draw. Liverpool looked comfortable enough in those games to take seven points but instead walked away with just the two.
His new deal was announced the day after the Manchester United defeat and was met by the bemusement of most fans. Some believed it was done as a vote of confidence. New deal, new belief, new Mignolet. That didn't seem to materialise though.
The month that proceeded the contract saw Mignolet's errors cost Liverpool three points against relegation threatened Sunderland as the home side let a 2-0 lead slip and eventually drew 2-2. The 'keeper then forgot he was able to use his hands in the 5-4 win against Norwich, the low point of that was the Bassong equaliser in added time that should've been a routine save for most 'keepers. He almost cost us a victory and had it not been for the Lallana winner, Mignolet would've come under a lot more scrutiny.
Klopp's first final as Liverpool manager was against City in the League Cup. It was a tight affair until Mignolet bizarrely let a Fernandinho drive beat him at his near post. Liverpool did get back into the match before eventually losing on penalties but conceding a soft goal in a final is unacceptable.
It seems to happen with Liverpool players a lot but when they do something that's expected of them they're overly praised simply because fans aren't used to seeing it from the player. This happened with Mignolet. Average 7/10 saves were made out to be 9/10 saves purely because he was making a save.  Even so, his inconsistent form continued.
The Reds are 2-0 up against Southampton. A win puts them right in the mix for a Champions League place finish. Martin Skrtel comes on and the team implodes. He rightly takes the flak but in the midst of all that Mignolet gets away with conceding a sloppy goal. Mane almost fires the ball over Mignolet's shoulder from a difficult angle and nothing gets mentioned.
Once again Liverpool are 2-0 up at home against a team on the verge of relegation. Newcastle are the opponents and the game looks like a walk in the park for Liverpool until Mignolet comes for a cross, gets nowhere near it and like that Newcastle are back in the game and the momentum is on their side.  Six points turn to one.
Rounding the season off, Liverpool once again implode in the second half of a match as Sevilla score three quick unanswered goals in the Europa League final. He didn't have much to do in the match, he had no chance with either of the first two goals but the third is eerily similar to the goal he conceded against United at Anfield. He seems to turn his body which makes the goal even bigger, gets a touch as the goal is fired home. Had he stayed bigger I can't help but feel he'd have had a better chance of saving that shot.
Fans feel he can't be trusted as Liverpool number one and it seems as though Klopp agrees. Loris Karius wouldn't have signed for Liverpool to sit on the bench and bide his time. He's come to be a starter. This isn't an attack on Mignolet, perhaps he just isn't good enough for what's required of a Liverpool goalkeeper. They're big gloves to fill.