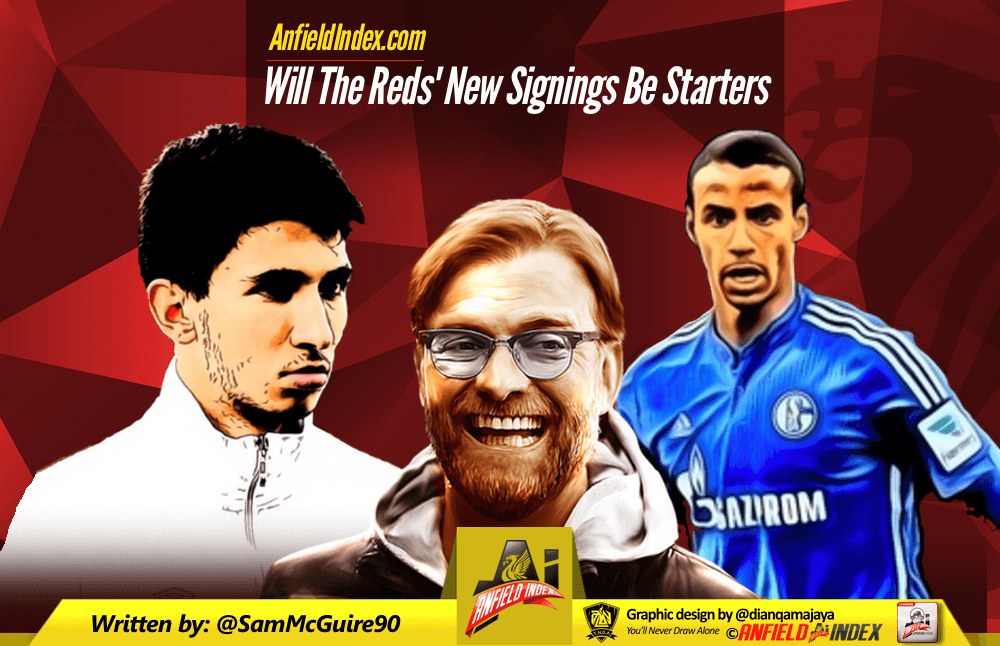 Will The Reds' New Signings Be Starters?

The initial buzz of the summer transfer window seems to have died down a little.
The Piotr Zielinski deal never materialised as many had expected and a Mario Gotze U-turn meant the German hasn't been pictured leaning around Melwood just yet. Loris Karius is the sole signing this summer so far, but with Ben Chilwell expected to join along with January recruits Joel Matip and Marko Grujic it means the Reds have four new signings coming in already. Make no mistake about it though, reinforcements will be on the way as Klopp looks to turn Liverpool into a competitive side.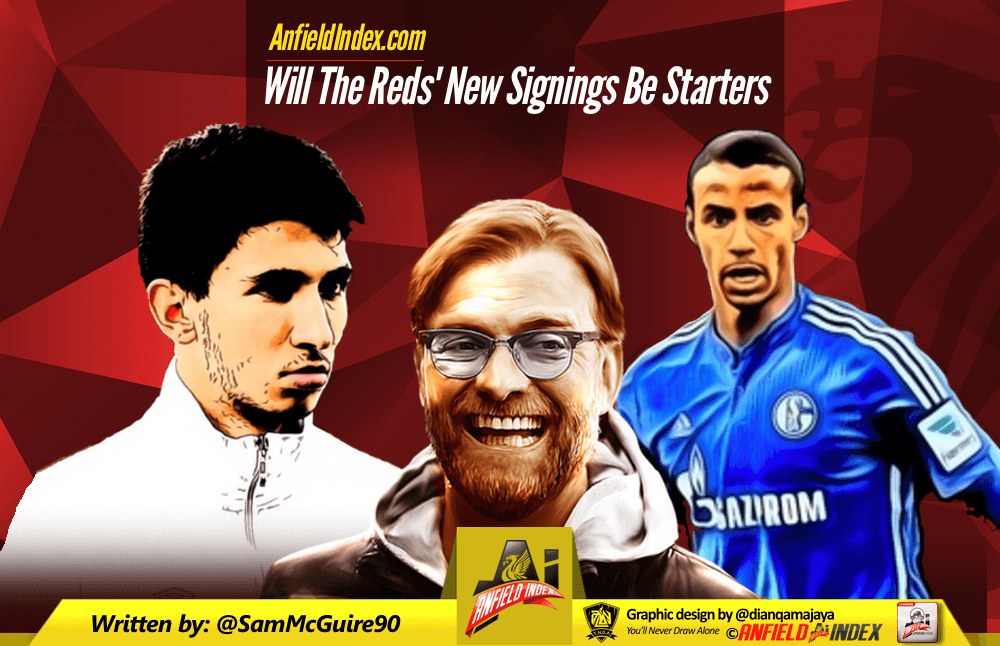 The three definite arrivals up to now are Karius, Matip and Grujic. Many fans on Twitter seem to be unsure of the quality of these players and are questioning whether these players are first team players or just squad players.
With Klopp not having had a transfer window at Liverpool yet it's hard to guess what his thought processes will be with regards to implementing these players. If you look at his time at Dortmund however you get a clear picture of how he treats his signings.
| | | |
| --- | --- | --- |
| Name | Apps in first full season at the club | Minutes featured in the Bundesliga |
| Ilkay Gundogan | 36 | 2066 |
| Marcel Schmelzer | 30 | 2300 |
| Robert Lewandowski | 43 | 1612 |
| Lucas Piszczek | 41 | 2671 |
| Mats Hummels | 33 | 2522 |
| Neven Subotic | 38 | 3060 |
| Henrikh Mkhitaryan | 46 | 2454 |
| Marco Reus | 49 | 2356 |
| Sven Bender | 39 | 1491 |
| Pierre Emerick Aubameyang | 48 | 1974 |
| Shinji Kagawa | 28 | 1371 |
| Mario Gotze | 39 | 2549 |
As you can see from the table above, Klopp buys players to start. They're not brought in to supplement the squad, they arrive pushing the old starters into a squad position. The age of the player isn't really an issue for the charismatic German. If the player fits the profile of what he wants then they start, it's as simple as that.
It may be the German mentality, with many Bundesliga clubs blooding youngsters early on, but Klopp's signings so far seem to indicate a change of league doesn't mean a change of approach. Take Ben Chilwell, the Leicester full-back, who is the topic of much debate amongst Liverpool fans on social media. Many want to upgrade on Alberto Moreno and feel a 19 year old with more experience in the Championship isn't the player the club should be targeting. This won't phase Klopp though if his history is anything to go by. At the age of 20, Marcel Schmelzer was starting for Dortmund having been brought up from the BVB academy. These weren't just cameo appearances either, he played 2300 minutes, which equates to almost 26 full 90 min matches in the Bundesliga.
Another player who may see much more game time than many expect is Joe Gomez. The natural centre-back is only 19 years old but this didn't stop Klopp from starting the likes of Neven Subotic and Mats Hummels. Both arrived at Dortmund at the age of 21 and started immediately. Subotic followed Klopp from Mainz having been a regular there from the age of 19.
Marko Grujic should expect minutes under Klopp. The physically imposing midfielder has all the traits Klopp looks for in a box to box midfielder and his lack of experience and age won't be a problem. Sven Bender was starting games for a resurgent Dortmund at the age of 20 and Gundogdan made the midfield position his own at same age.
Links to Mahmoud Dahoud shouldn't be surprising. Some fans feel a pivot of Emre Can and Dahoud would be too young, but Klopp had Bender and Gundogan anchoring his midfield at Dortmund when they had less experience than Can and Dahoud. It's not unimaginable.
These may not be the starters fans wanted. They aren't the world class players fans seem to expect. They're just players who fit the profile that Klopp's looking for to take the club forward. The Bundesliga and the Premier League are far from identical but if you play talented youngsters regularly they're bound to improve, no matter what league they're featured in.
Klopp is fearless. He hand-picks players he has faith in. He throws them in at the deep end. He builds young teams so they peak together. He wasn't appointed for a quick fix, his plan is about the long term success of the club. Have a little bit of faith in Klopp, he turned a bunch of youngsters into one of the most dominant sides in Europe.