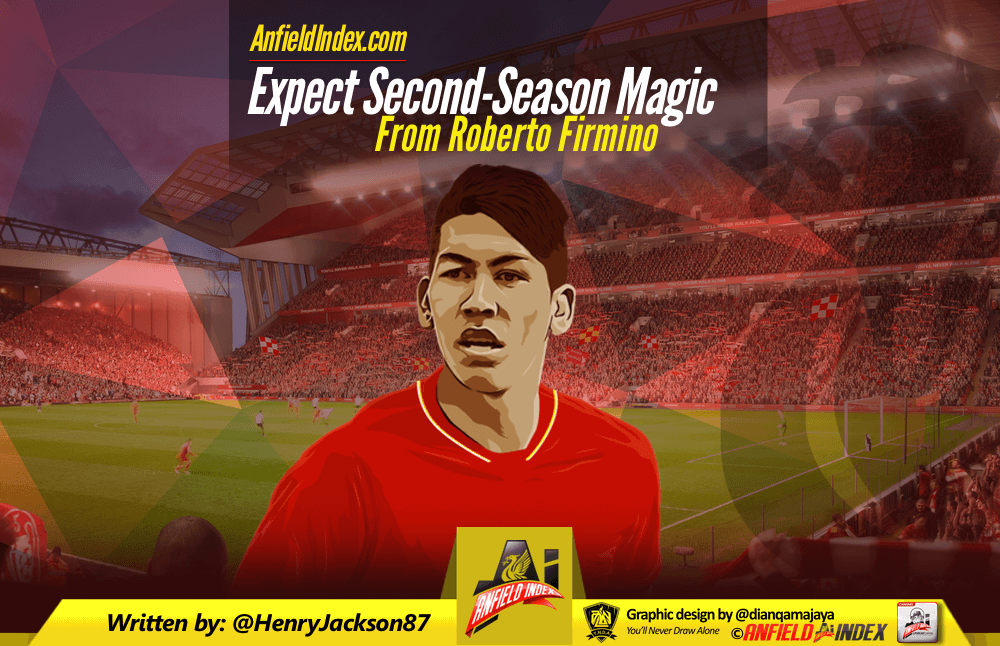 Expect Second-Season Magic From Roberto Firmino
Luis Suarez. Thierry Henry. Dennis Bergkamp. Didier Drogba. What do these illustrious names all have in common?
They all struggled to set the world alight in their first season in the Premier League, among endless other truly brilliant footballers. Given the impatient nature of the modern football supporter, they were written off as a "waste of money" by many, only to become superstars in the years that followed.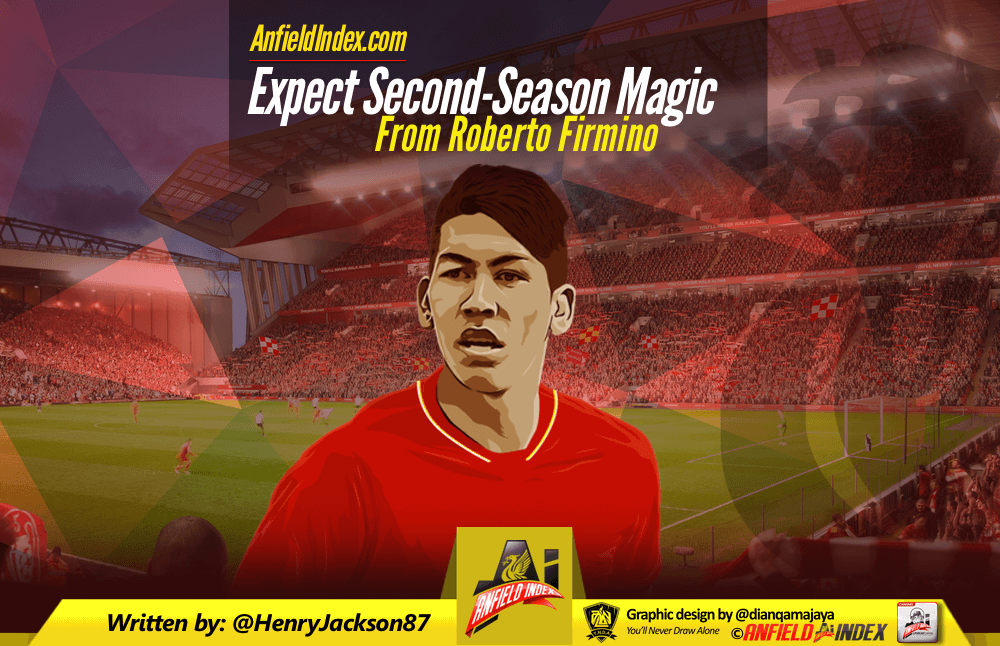 In Liverpool's current ranks, Roberto Firmino has the potential to fall into that category – he won't necessarily reach their level, before you bite my head off – and a formidable second season on Merseyside should be expected from the former Hoffenheim man. It is important to stress that Firmino's maiden campaign in English football was far from a failure, though. He was generally good, if a little hit-and-miss. He took a few months to get going, not helped by Brendan Rodgers'  bizarre decision to deploy him as a right winger, but slowly we began to see the effortless brilliance that the Brazilian oozes.
The 24-year-old finished 2015/16 with 11 goals and nine assists, and while these may not exactly be earth-shattering statistics, they were among the best in an under-performing Liverpool team. Like so many Reds players, Firmino is already someone who splits opinion – some say he's a genius, others say he's an enigma who can't keep hold of the ball – but more and more people will warm to him as his Reds career progresses. By the time next season gets underway, he will be even more acclimatised to life in England, and he will have enjoyed a full pre-season under Jurgen Klopp.
That is huge.
His fitness should be at its optimum limit, following a summer without international commitments, and he should be ready to hit the ground running when Liverpool visit Arsenal on 13th August. Comparing Firmino to Suarez is always a dangerous game, when you consider the Uruguayan is arguably Liverpool's most talented player in history, but there are certainly parallels to be drawn. It is easy to forget that Suarez was far from sensational in his first year or so at Anfield – it was only in 2012/13, 18 months after joining, that he really came alive and blossomed into one of the finest footballers on the planet, and 21 goals in his first 52 appearances, during 2010/11 and 2011/12, were not the figures of a striker setting the world alight.
The same most certainly applies to Firmino's current return as well. The chances of the Brazilian ever reaching the level 'El Pistolero' has are understandably slim, but he is a magnificent footballer who really could become a Liverpool icon. To some, it may not feel like that right now, but the South American feels like a player who has further gears to find. Many have disagreed with me on this, but as an all-round footballer, he is better than Philippe Coutinho. Sure, he doesn't curl as many stunners into the top corner, or beat players with triple step-overs, but there is so much substance and end product to his game. Coutinho is also a wonderful player, by the way.
It's like comparing Kevin De Bruyne and Eden Hazard, both of whom are fantastic. One looks particularly fancy and creative, but the other is more effective, and guarantees match-winning quality in the final third in almost every game he plays.
Firmino's reading of the game is as good as anyone else in the squad, and his ability to make everything look so easy is one of his greatest attributes. He has a Mesut Ozil-esque languidness that works against him – it can be wrongly mistaken for laziness and a lack of interest – but his final ball and composure in front of goal are a joy to watch when he is full flow. If you look back at Firmino's goals last season, only the 25-yard beauty against Arsenal stands out as a genuine cracker, but just look at most of the other finishes. Norwich away; Man United and Man City at home; Crystal Palace away. So calm, crisp and precise. He also covers as much ground as Forrest Gump, which can go hugely unnoticed. Firmino isn't perfect yet, by any means, and he has been guilty of going missing in certain matches, but over time, his influence is only going to grow. The fact that Klopp is a huge admirer of him makes it even more of a surefire thing, with the duo clearly a match made in heaven.
Being a Liverpool fan can be a frustrating obsession, and it's almost impossible to predict how a season will pan out at Anfield the summer before it. Firmino looks primed to go up another gear in 2016/17, though, and I fully expect him to become one of the Premier League's most pivotal attacking players. He will find more consistency to his game, which will ensure a more regular flow of goals and assists, and he will be one of the first names on Klopp's team-sheet week in, week out. The likes of Suarez, Henry and Drogba were not tipped to become legends after their first season in England, but look at the magic they went on to produce.
Will Firmino end up meriting a place alongside players of that quality? Probably not. But assuming he avoids serious injury, special things should be expected from this point on.