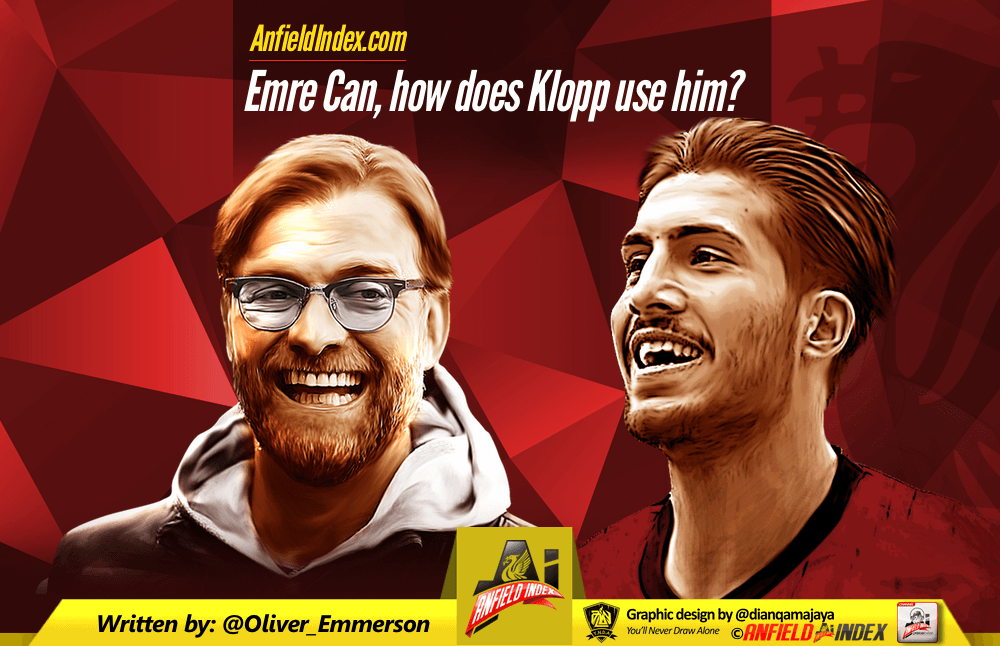 Emre Can, how does Klopp use him?

With silly season in full flow, there's much debate to be had over how Jürgen Klopp is going to strengthen his team for the upcoming season, with new signing's demanded by the Liverpool faithful.
However, surely when considering a signing, you need to establish what you've already got in each position. Therefore, decision's must be made as to which role a player is going to be used in week in, week out, something that isn't all that clear to Emre Can right now.
The German midfielder had a fantastic season last time out, becoming a crucial part of Klopp's midfield ever since his countryman arrived at the club.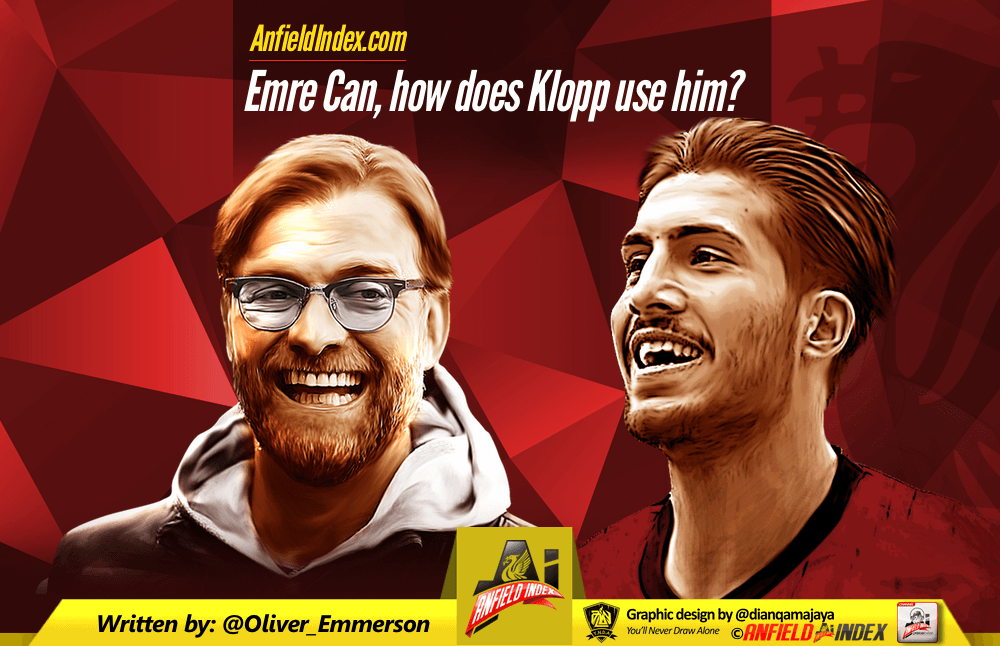 Rightly or wrongly, Can was a key part of Brendan Rodgers' defensive line for some time before that, with all of this experience helping him settle firmly into the Premier League, making the £10million paid to Bayer Leverkusen in 2014 look something of a bargain.
With all of this knowledge, it's safe to assume that Can will be a starter for Liverpool this season, in the midfield two, should Klopp stick with his 4-2-3-1 system. But in what role of the midfield pivot will he play, and where does he slot in if Liverpool switch to a diamond formation, or go 4-3-3? Let's explore.
Starting with the 4-2-3-1 formation, if you were to base things off last season, you'd expect to see Can in the deeper role of the pivot, with a natural box-to-box midfielder beside him. There are doubts over Jordan Henderson's future as a starter at the club, so this man could be Piotr Zielinski.
Setting up like this would allow Can to use his physical presence to dominate games from the base of the midfield. He's ran games against some of the best midfielders in the league already, and whilst he still has the occasional defensive fault, he could potentially be groomed to be an elite defensive midfielder. His ball-playing skills can't be under-estimated either, as he certainly has the talent to distribute effectively from deep, whilst he's also not afraid to carry the ball forward at pace, possibly giving aid to Klopp's side as they seek a chance to counter-attack.
However, there is always the other option, that Liverpool could employ Can as the box-to-box midfielder, with a deep-lying playmaker next to him, rather than a defensive midfielder. A man touted for this role is Mahmoud Dahoud, with the Reds chasing him from Borussia Monchengladbach.
Dahoud and Zielinski are contrasting types of midfielders, meaning that the aim could be to bring Zielinski in as a squad option, due to rumours that the likes of Joe Allen and Lucas will leave, whilst Dahoud may be the man that Klopp wants to partner Emre.
Moving into the more advanced role of the midfield two would allow Can to link up more with those ahead of him, something that he evidenced he can do well with that superb hockey-pass to Philippe Coutinho, leading to Roberto Firmino's tap-in during the 4-1 demolition of Manchester City at the Etihad. Klopp's certainly got options, thanks mostly to the extraordinary talent of Can to perform in multiple roles.
There is the aforementioned possibility that we won't stick rigidly to the 4-2-3-1 system this season, although it is likely to be Klopp's favoured formation. Divock Origi and Daniel Sturridge have worked well when utilised in tandem as a striking partnership, whilst Firmino and Danny Ings can also play that role, potentially seeing Can employed as part of a midfield diamond when Liverpool want added impetus up front to break teams down at Anfield.
Due to a lack of natural defensive midfielder's at the club, or at least when Lucas leaves, Can would expect to be used there if the system was played. However, pushing him a little further forward and changing to a 4-3-1-2 formation would allow him to utilise his attacking talents furthermore, with potential support from the likes of Jordan Henderson and Zielinski to either side. Who knows, maybe even Joe Allen will have a role.
Either way, Can is one hell of player, and provides a fantastic platform for the Liverpool midfield in whichever role he's used. Build around him correctly, and nurture him in the right way, and the Reds might just have something special on their hands.