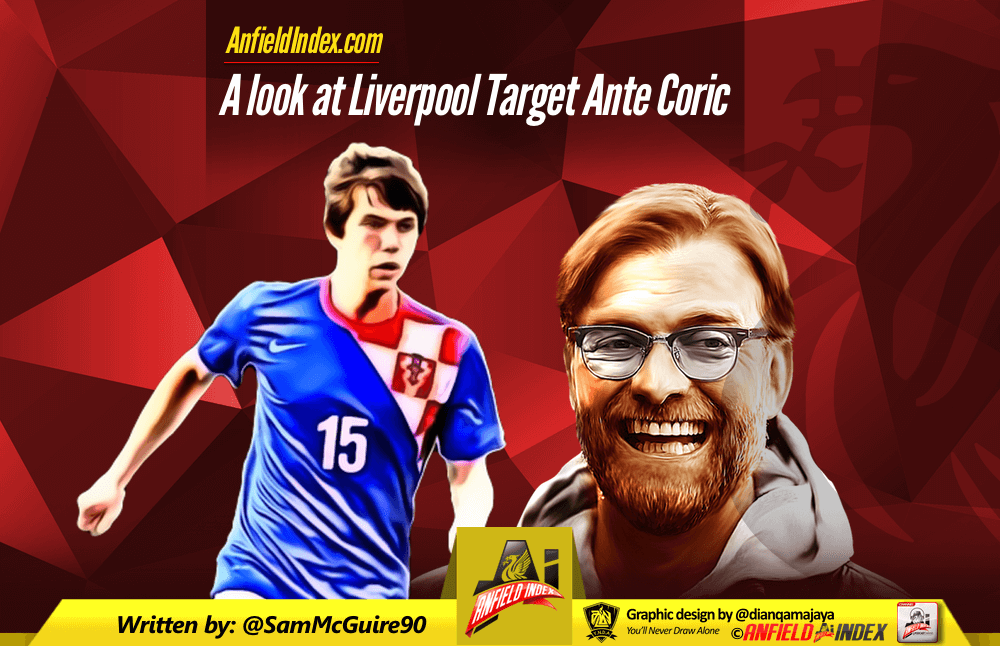 A look at Liverpool Target Ante Coric

The Balkans aren't renown as hot bed for football talent but they're steadily going about piecing together their very own golden generation. In modern day football players now need to be as talented with the ball as they are industrious off of it. Croatian footballers tend to have the knack of merging great technical ability with a high work rate. They're quickly becoming the breeding ground for the perfectly balanced modern day footballer.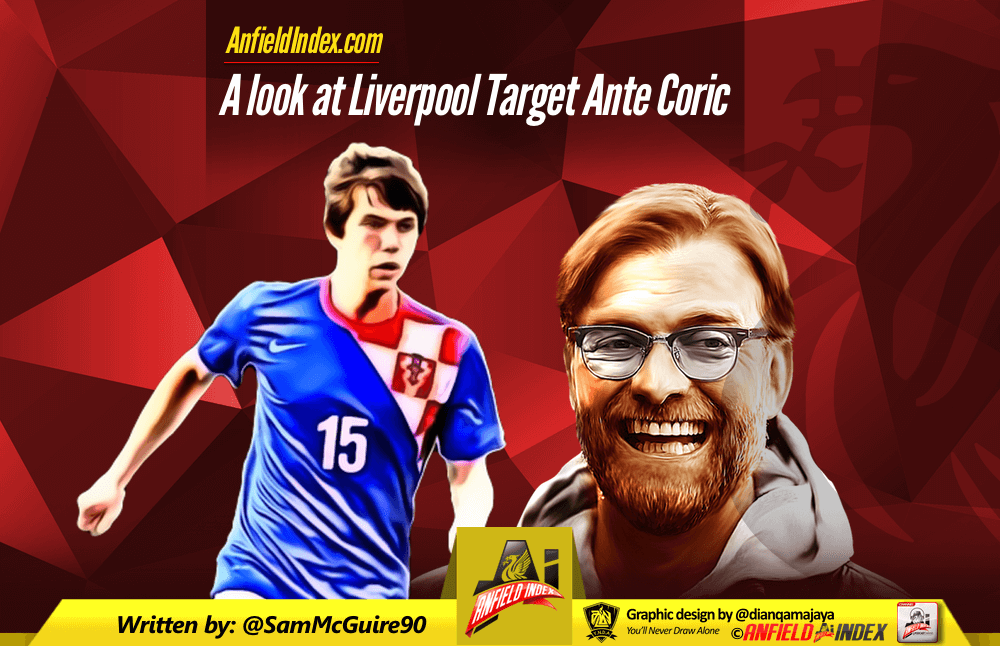 They're able to produce players like Luka Modric, Ivan Rakitic and Milan Badelj, all of whom are talented in their own right and all of which have an abundance of skill on the ball but a desire and a hunger to regain it when they're out of possession. These players are the blueprint for Croatian clubs, they already know how to train their youngsters and they're producing some serious talents at an alarming rate. Allen Haliovic, Mateo Kovacic and now Marko Pjaca and Ante Coric have all impressed Europe's big clubs over the past couple of years.
The latest player rumoured to be on the move is Ante Coric. Reports suggest the Dinamo Zagreb player is at the centre of a 15 million euro bid from Liverpool.
Who is Coric?
Despite being only 19 years old Coric has already played over 70 times for his club side, featured in the Champions League and made Croatia's 23 man squad for Euro 2016. He was an unused substitute throughout but given he only made his international debut in the warm up matches it's clear to see his impressive season with Dinamo didn't go unnoticed.
What does he offer?
The short answer would be everything you want in a Jurgen Klopp attacking midfielder.
He's versatile. He can comfortably play anywhere behind the striker. For Dinamo he tends to play as a number 10 or almost as a second striker as their main striker, Angelo Henriquez often drops deep and runs the channels. The responsibility is on Coric to make the most of the space that's been vacated by the striker and he does so admirably.
He's a goal threat. He gets into good positions and in the 67 league games he's featured in he already has 10 goals. Although goals aren't entirely transferable the style in which he scores them can be replicated. Following in from shots and getting beyond the striker means he'll get chances to score wherever he ends up playing.
Primarily right footed he is able to play with his left foot. It isn't just for show. Being both footed lends itself to his superb technical ability when on the ball. He's not just able to spot a pass but he's able to execute them no matter where he is on the pitch. He's a great asset to have whether it be as part of a counter attacking team or as part of a team that's having to break down a compact deep line
He isn't the quickest of players but he doesn't rely on pace to get the better of people. He's similar to Coutinho in terms of his movement and his dribbling ability. He can easily go past two/three players with the ball at his feet. Labelling him as clever would be an understatement. He has this quirky skill that of just floating between players which then creates space for his teammates.
The screenshots above are of a Coric assist. At first he fakes to go to the outside of the right centre-back before cutting in and running into the space behind the left centre-back. It's the earlier fake that makes the space between the centre-backs even greater and he exploits it. He eventually receives the ball and flicks it on without even taking a touch into the patch of the Dinamo player who slots the ball away.
It's this sort of movement and vision that would be benefical to the Liverpool attack when the likes of Daniel Sturridge and Roberto Firmino roam from central areas.
He's a player who follows up the play. He won't just play a pass and consider his job to be done like some creative players. He'll gamble on a rebound or a second ball falling his way. As mentioned earlier he's a player that likes to take up central positions. They're both huge factors in him scoring the goals he's scored to this date. Nine of the ten goals have come inside the area.
The series of screenshots above show one of Coric's goals. Coric is circled and Henriquez is the player with the square around him. The striker should get a lot of praise of his part in the goal. Initially he drops off and takes the left sided centre-back with him. He then receives the ball and is able to play in Coric who has positioned himself between right-back and right centre-back. Coric shows a clinical nature to make that run and position himself in a blind spot.
Once again it's the Henriquez and Coric combination which results in a goal for Dinamo. Originally the left sided centre-back is marking Coric. He drifts centrally after Henriquez drops deeper. Coric's movement means both centre-backs are almost on top of each other. Coric initially takes a step forward as though he's going to run across the right centre-back so the left centre-back, the one supposedlt marking him, takes a step forward which then allows Coric to quickly drop into that space. The centre-back is now on the wrong side of him and Henriquez is able to slide the ball through to Coric who finishes the move.
If used in a wide role he'd drift centrally much like Sadio Mane is expected to do. He seems ideally suited to a system which looks to flood the middle with attacking talent and have the full-backs offer the width.
He can press and he can harass the opposition. Despite such a slight frame, he's only 5ft 7 and looks as though a strong wind would knock him over, he puts himself about. If he loses the ball in the attacking third he's one of the first to try to win it back. He'd fit right at home in a Klopp Liverpool side.
In today's market 15 million euros for a talent like Coric would be a bargain. Under the right guidance and if he's afforded patience to makes mistakes and learn from them he could be one of Europe's finest attacking midfielders over the next decade. It's exactly the sort of deal Liverpool should be looking at.