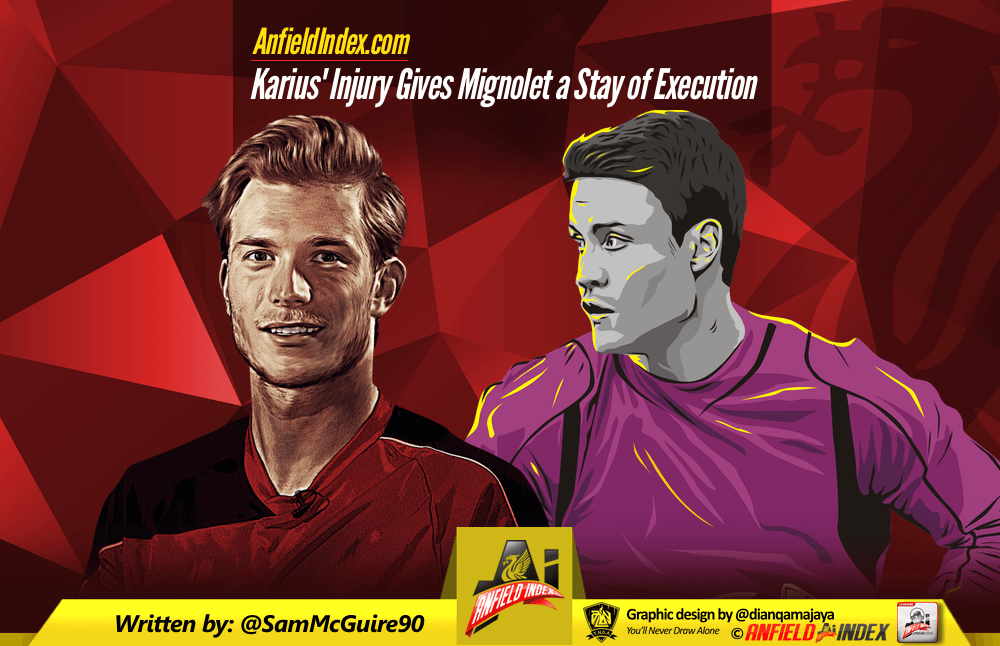 Karius' Injury Gives Mignolet a Stay of Execution

Since Jurgen Klopp was appointed as Liverpool manager he's been up against it. Before he even got chance to take charge of his first match he lost both Joe Gomez and Danny Ings to ACL injuries, he then had to navigate his way through the remainder of the season without Mamadou Sakho, Dejan Lovren, Jordan Henderson, Divock Origi, Philippe Coutinho, Roberto Firmino, Emre Can and Daniel Sturridge for large chunks of the season.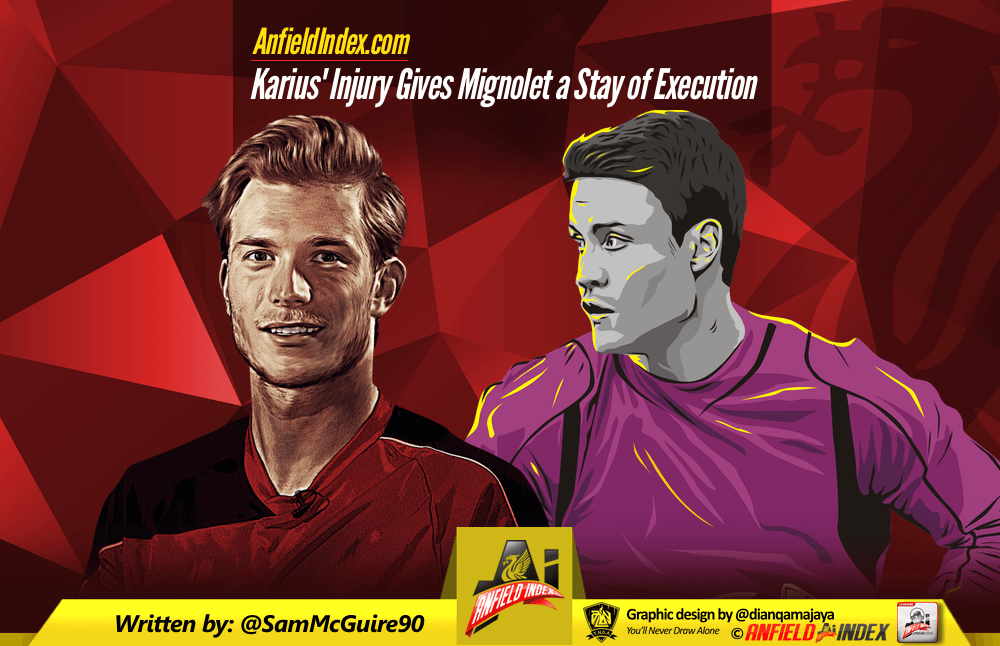 The bad luck didn't end there. The transfer window opened and although the Reds have brought in seven new faces they have missed out media dubbed top targets. The likes of Ousmane Dembele, Mario Gotze, Piotr Zielinski, Ben Chilwell and Mahmoud Dahoud were all heavily linked with a move to Anfield, but for various reasons the moves never materialised.
Pre-season wasn't any kinder to Klopp. Both Mamadou Sakho and Joe Gomez picked up achilles injuries, Divock Origi picked up a thigh injury, Marko Grujic picked up a concussion and new 'keeper Loris Karius broke his hand in the defeat to Chelsea. A mix-up with Dejan Lovren led to Karius being ruled out for 10 weeks and missing the first few months of the season. It's hardly ideal for preparations.
It's the latter injury which has the potential to really derail Liverpool's start to the season. But it also opens the door for Simon Mignolet to potentially save his Liverpool career if he took the chance that has been presented to him.
Many may feel that I am overstating Karius' importance given how he's had next to nothing to do in pre-season but the Liverpool defence as a whole had looked far more composed with him in-between the sticks. His ability with the ball at his feet can't be understated and his position when Liverpool are dominant allows the defence to push even higher in the knowledge Karius will be sweeping behind. Even though he made a mistake against Huddersfield he made up for it. Mistakes are fine as long as it doesn't result in a goal and you learn from it.
The fact Karius wasn't heading to the Olympics implies Klopp intended to start the season with his new German 'keeper. He's not the sort of manager to prevent a player from representing his country if he was only going to be sitting on the bench with the club.
If Mignolet is to have any chance of continuing as Liverpool's first choice 'keeper then the next 10 weeks are possibly the most important of his career. His performance against Roma isn't one he'd like to replicate again.
Partially at fault for the Roma winner. The Belgian was left exposed by his defence, Trent Alexander Arnold seemed to switch off instead of following Mohammed Salah and Andre Wisdom could should have possibly done better in that scenario. A lot has been made about Mignolet's initial save to thwart Edin Dezko but if you're being critical the header was straight at him, he parries the ball away but doesn't react, he stays on his line and Salah has a tap-in. Ideally you want your 'keeper to be clearing everyone out there as he punches the second ball away. In that scenario he's the experienced one and he should certainly be commanding his six yard box a lot better than that.
Meek and mild Mignolet just won't cut it. He needs to stop doing his best cowardly lion impression.
How Mignolet responds from this set back will tell you all you need to know about the player. If we see the all too familiar confidence-deprived Mignolet then Liverpool could be playing catch-up from the off. Some are already overreacting and saying they'd prefer Alex Manninger starting against Arsenal, as ridiculous as it sounds if Mignolet goes into safe mode then it may be Klopp's only option until Karius returns. However, If we see the 2015/16 post-Christmas Mignolet then he's fighting for his place and that can only be a positive for Liverpool.
That Mignolet does a job. He comes for crosses, he's commanding and he just comes across as a lot more confident. It rubs off on the defence who look a lot more solid (not hard given for the most part they look like a Jenga tower and Mignolet is a toddler learning to walk nearby).
Liverpool fans are cynical by nature but you can't help but feel Klopp is due to some good luck sooner rather than later. Perhaps Mignolet finding his courage could be the good luck we're long overdue as a club.