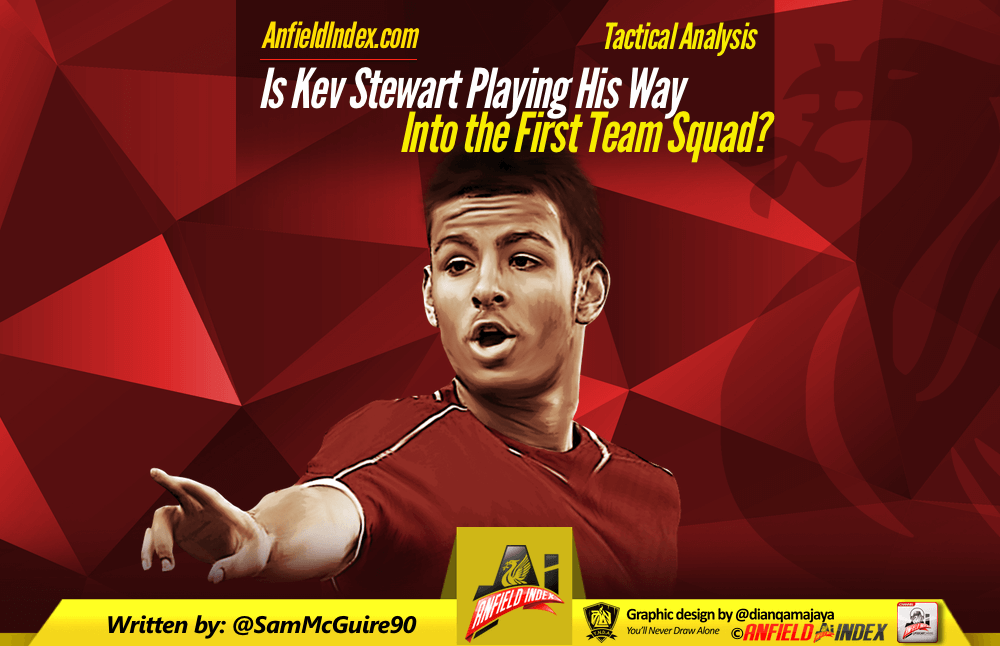 Tactical Analysis - Is Kev Stewart Playing His Way Into the First Team Squad?
It was a Jekyll and Hyde weekend for Liverpool fans as the Reds rounded off their pre-season in bizarre fashion. An emphatic 4-0 victory at Wembley against Barcelona was followed up with a 4-0 loss against Mainz in Germany. Defeat against Klopp's old club pissed on our bonfire. Yes it's only pre-season and results aren't the be all but it's difficult to rave about the performance against Barcelona without at least acknowledging the 4-0 humbling.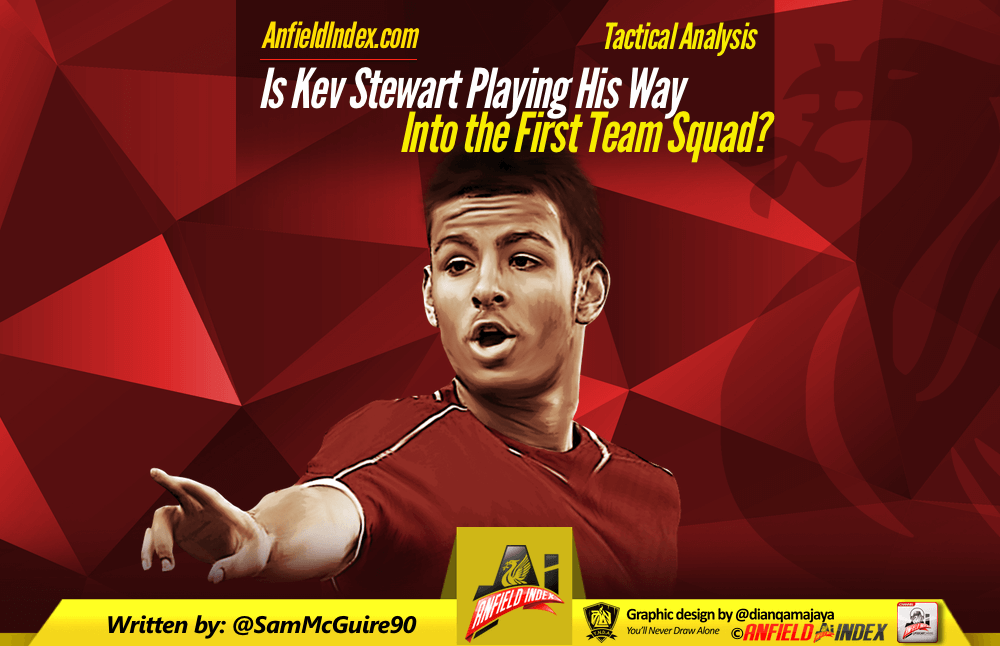 There has been a lot of talk about the positives taken from the Barcelona victory and rightly so. However, some impressive performances went under the radar. One such performance was the one that Kevin Stewart put in after coming on at half-time. A lot has been made of his Xabi Alonso-esque pass to put Roberto Firmino through just after Divock Origi had put Liverpool 3-0 up but aside from that his stellar performance was seemingly lost among the many other impressive efforts from players.

Since appearing in the first team Stewart has built up quite the cult hero following. 'Big Kev Stew' has grasped the opportunity with both hands and he's reluctant to give it up without a fight. While Jurgen Klopp has to be credited with developing Stewart's game it's the player himself who has really took it upon himself to become the player that Liverpool lacked in the squad; an all action defensive midfielder. He's capable of winning the ball back and covering for the full-backs as and when they attack. He keeps his passes simple and if there was one criticism of him it would've been he's limited on the ball. It's clear he's been working on that aspect in pre-season and the results are impressive.
Kevin Stewart vs Barcelona
In the series of screenshots above we see Liverpool start off with a 4141 sort of shape as Barcelona look to build from the back. As the ball is played into Sergio Busquets' feet Stewart advances from his position as the 1 shielding the defence to press the Barcelona metronome. It's not often you see a defensive midfielder ahead of the other midfielders as he hunts the ball down but it was a clear tactic. He wasn't there to just shield the defence and win the ball back in his own half, he was there to prevent Busquets from knitting play together. Something else to note from this is just how quickly Stewart releases the ball after winning it. He's looking to get Divock Origi away as soon as possible.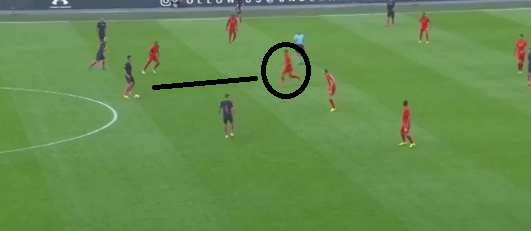 In the above screenshot you'll see Stewart again breaking from deep to press Sergio Busquets. It was clear from the off that Klopp had told him to almost act as the spare man and instead of having Origi press Busqeuets (similarly to how he pressed Julian Weigl against Dortmund) he was tasking Stewart with doing so and keeping Origi in an advanced position.
In the two snapshots above you see Kevin Stewart's proactive positioning. In the first screenshot he's positioned himself so he's able to cut out the pass to Messi between the lines, intercept the pass to Suarez to his left if Wijnaldum doesn't get over quick enough and also press the man ahead of him if the ball is played there.
He takes a step forward and almost teases the man on the ball into trying to play the pass to Messi, Stewart readjusts and intercepts before playing a first time pass through to Origi who would've been up against the last man had the pass been a little better. This snippet of play shows not only is he clever he's also aggressive in his play, and Klopp will love him for it.
Two stills from two separate instances. The black line shows the easy pass and the red line shows the pass Stewart made. Fans criticise just how safe and crab like our midfield is at times. Their reluctance to play risky passes really hinders just how quickly Liverpool can break when in possession.
In the first picture Stewart could play a five yard pass to his captain. Instead he plays a clever ball into Sadio Mane whose movement had dragged the Barcelona defence out of position. It looks like a simple pass but it was incisive and it was positive. The second picture shows the Xabi Alonso-like pass he made. He could've played it between the two Barcelona players and into Origi's feet, instead he executes a pass which puts Firmino in on goal and it's by no means an easy pass to make. He showed his ability in the Barcelona match.
He isn't a guaranteed starter by any stretch of the imagination but could his development save Liverpool £15/20 Million in an inflated transfer market? He has the discipline, he has the tactical brain to carry out specific instructions, he plays as part of a press and he's positive on the ball. As a player to come in and see out games the club could do a lot worse right now.