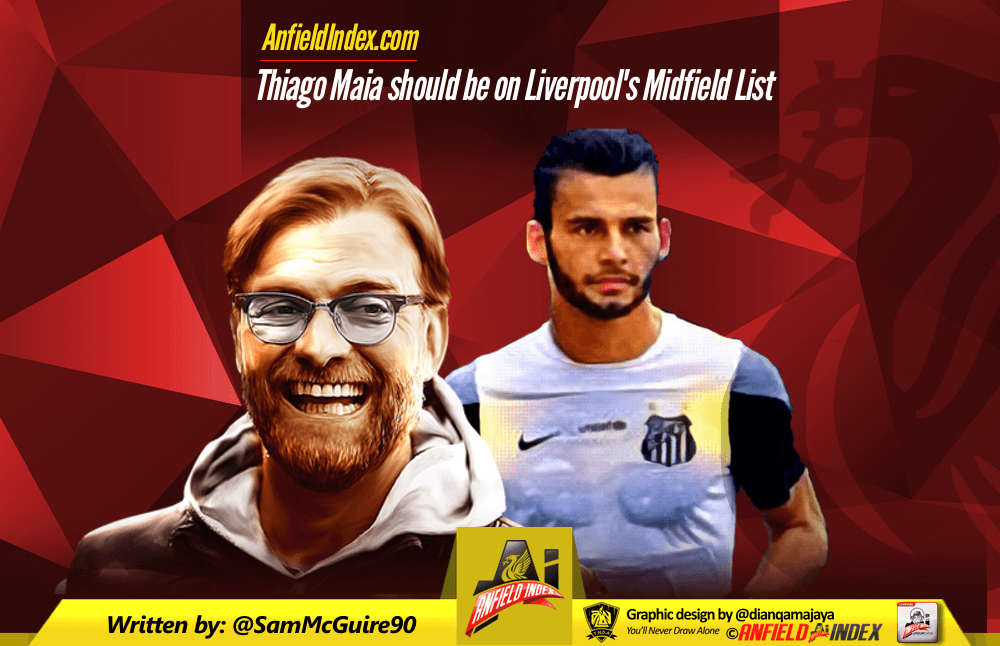 Thiago Maia should be on Liverpool's Midfield List
When Brazilian media linked Liverpool with a £31 Million move Gremio attacker Luan just a mere three days before the transfer window shut it was a bit of a head scratcher. Luan had impressed at the Olympics as the host nation won the Gold medal and his performances caught the attention of  the Premier League Champions Leicester City who were then linked with a £20 Million move.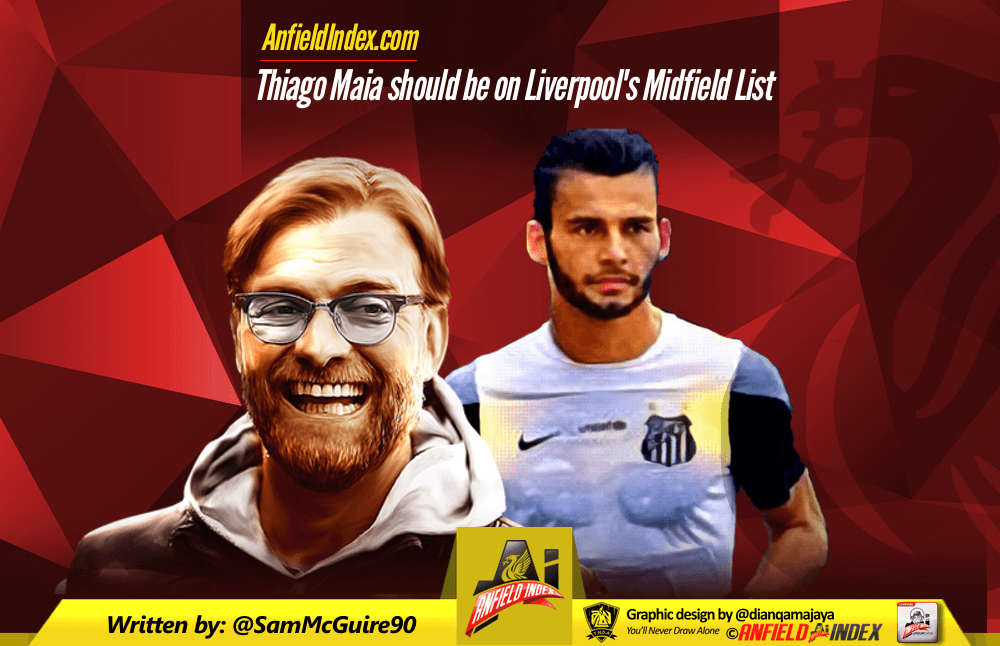 But why would the Reds spend £30 Million on yet another attacker when Daniel Sturridge and Divock Origi can't currently make the starting XI? It's arguably the only area of the team which doesn't need addressing. If Liverpool wanted to bring one of Brazil's Olympics stars to Anfield then Thiago Maia should be at the top of that list.

The 19 year-old midfielder's stock has slowly been on the rise since more clubs have started to cast an eye on Santos teammates Gabriel Barbosa (Gabigol) and Lucas Lima and he was caught in the crosshairs. The energetic midfielder has already been linked with £15 Million moves to the likes of Manchester United, Chelsea and Paris Saint Germain but as things stand the links are nothing more than rumours.
https://www.youtube.com/watch?v=V-DA9I9soco
What does Thiago Maia offer?
He's a central midfielder but the exact/most effective role is still to be decided. Both Santos and the Brazilian national team have used him in the defensive midfield role as well as a box-to-box role and it's understandable why his club are seemingly reluctant to commit to turning him into one or the other.
Maia's defensive qualities shine through. He's proactive in his play and is constantly looking to make interceptions before the opposition are able to get into dangerous areas. He covers for his teammates which may be of use to a certain left-back Liverpool currently have on their books.
He's not just a headless chicken though, a lot of his success is down to intelligent positioning. His reading of the game, despite his young age, is encouraging and there's a lot to work with there as could fit into a pressing system. He prefers not to go to ground when tackling but if it's a necessity he's not afraid to do so. When he does go to ground the tackles aren't rash or reckless and he more than often comes away with the ball.
His work-rate and energy is something else that could appeal to Klopp. He's played the box-to-box role which means he has experience supporting the attack one second and having to track back to help the defence a minute later. He's not got electric pace but he's by no means slow and he's able to get around the pitch. It's easy to envisage him in a counter pressing system.
Maia really excels with the ball at his feet. Like your stereotypical Brazilian midfielder he's got a lot of ability on the ball and his vision and execution of passes means he could almost be a deep lying playmaker at times. Furthermore, he can also dribble his way through a press and between the defensive lines to get his team further up field. He's confident enough to play passes between the lines and what really adds to his game is positive he is on the ball. He's always looking to get the ball forward quickly, he doesn't dawdle on the ball or take too many touches which could stop some attacks dead, and it's important for a team that wants to quickly transition.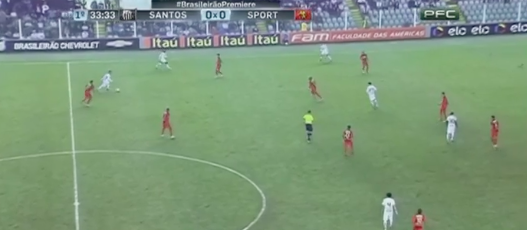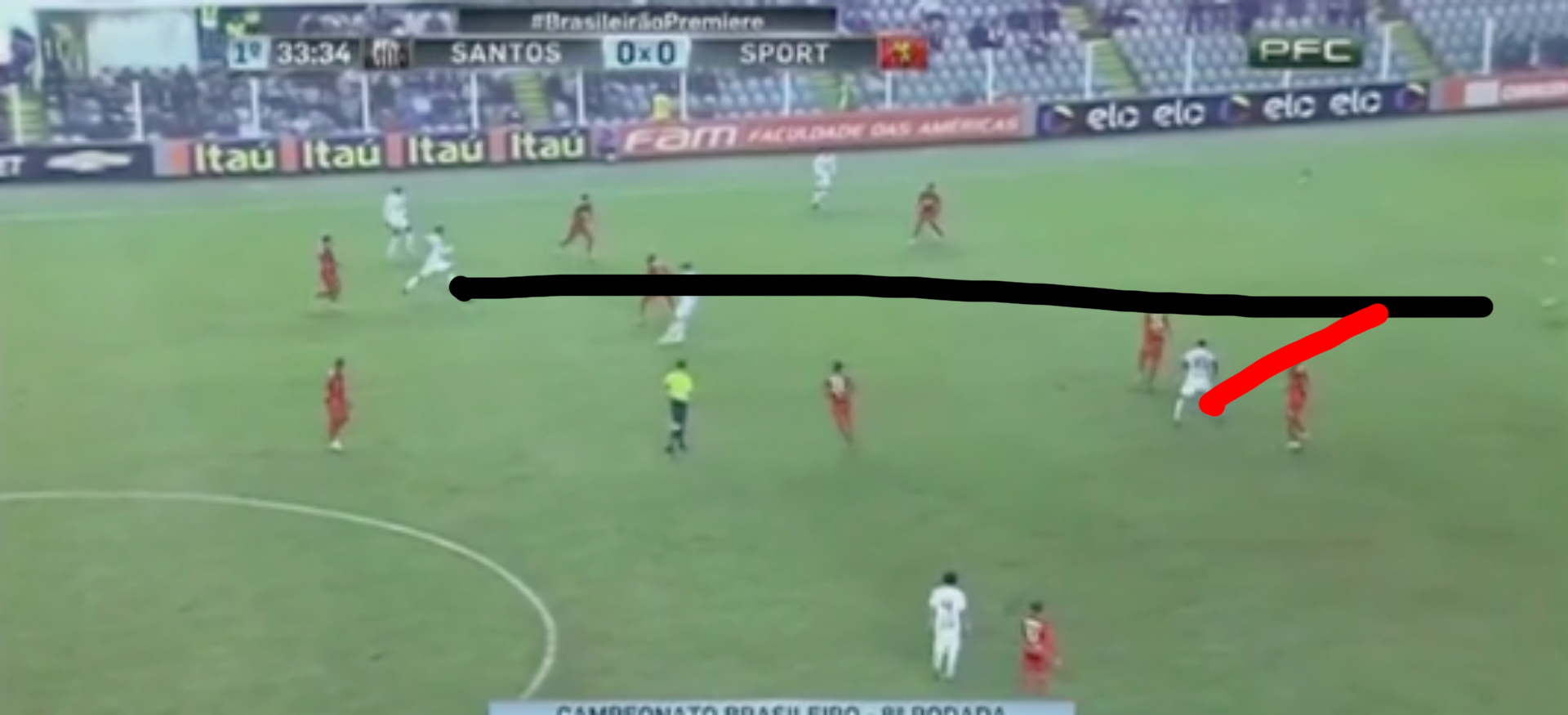 The two screenshots above show Maia pick the ball up in a deep position, drive forward into space before playing a pass to the Santos striker which takes out two lines of the oppositions defence. This may not seem that impressive but it's encouraging to see such positivity from a deep midfielder. He's taking a risky driving forward like that but Santos benefit from it.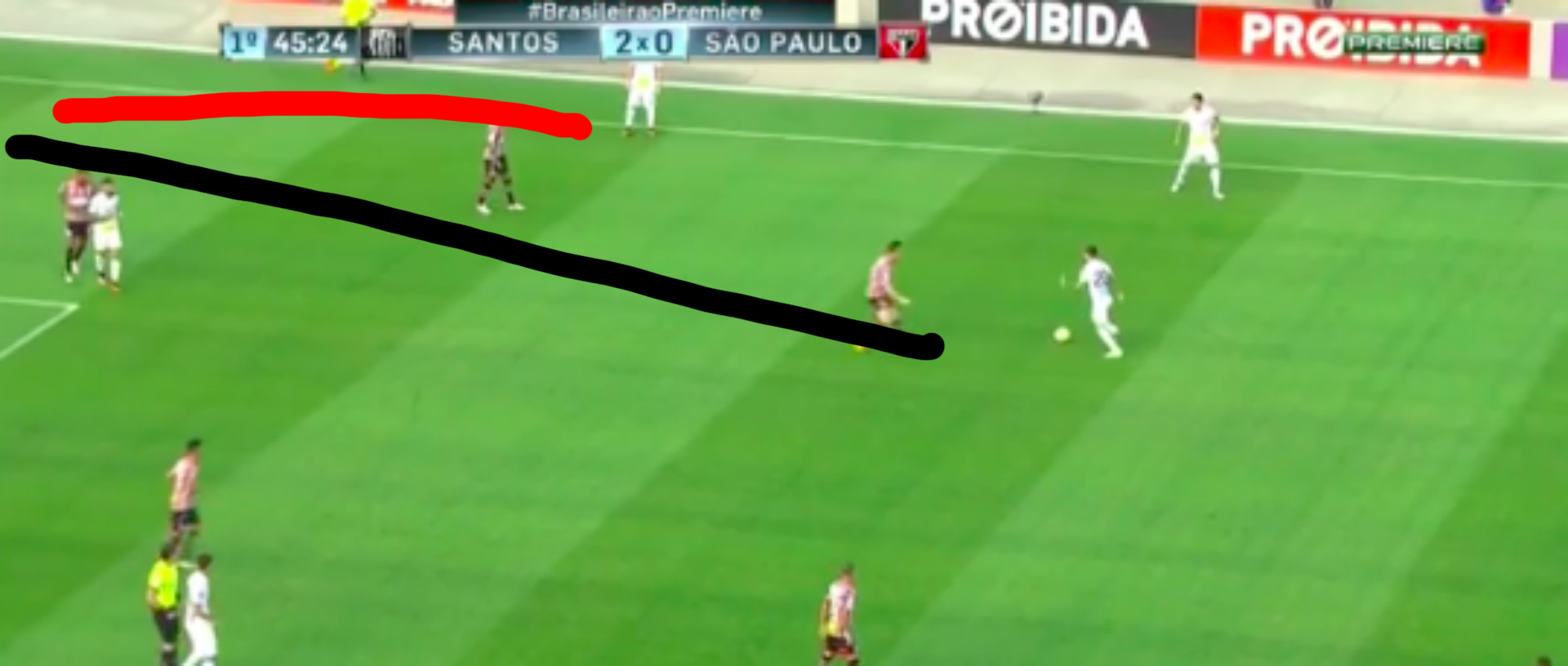 In the picture above you once again see just how positive Maia is. He's in possession of the ball and the easy pass there would be to the player to his right. Santos would retain possession and look to progress another way but Maia takes responsibility and plays the pass represented by the black line straight into the path of the player who made the red line run and Santos win a corner. He had the vision and the skill to execute such a pass.
There are of course weaknesses to his game. He has the vision but he doesn't always have the quality to complete the passes. So there is a chance the opposition could turn possession over and counter but it's worth persisting with because for Maia to perfect his craft he needs to practice such risky passes. Another concern would be the fact he's currently plying his trade in Brazil. The pace of the league is slower than in England so it may take some time for him to adapt. His 5ft 10 frame means he may be bullied in the physical Premier League but he looks like the type who could be a bit of a unit if he filled out.
He could well turn into a Fernandinho type. The left-footed midfielder may add some balance to the Liverpool midfield alongside Emre Can that's currently desperately lacking.
FSG and Klopp have a profile when identifying potential signings. The player has to have untapped quality and potential to progress but at the same time there has to be something already there that the manager can work with. The players have to be for now and for the future. Maia fits the profile and at £15 Million in the modern market he could be a shrewd signing for the club.