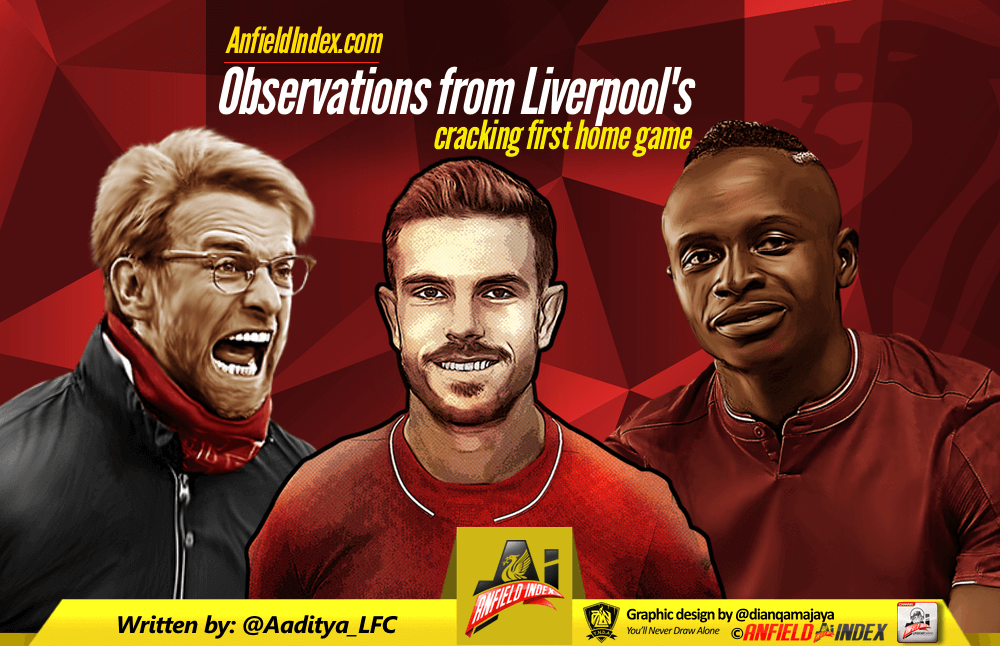 Observations from Liverpool's cracking first home game

It was a bigger, mightier Anfield. The Reds lived up to the occasion as 8,000 more people inside Anfield got the opportunity to watch their favourite team in action. The champions were put to the sword with a display of delightful attacking football, which gave Liverpool four goals on the night.
Here are a few things I thought stood out from the game.
Daniel Sturridge – On another day, Sturridge might well have had a hat-trick of goals to his name, but it wasn't to be for him. But everything else about his display screamed out the class the man has got. His movement created the space for Firmino to go into for our first goal, and he played a superb back-heel to set up Mane's goal. It's been inexplicable to see the amount of stick and even hatred that some people give Sturridge on social media, but this performance was a nice gentle reminder to everyone of the obvious quality he possesses. He is without a trace of doubt our best striker, and all he needs is a consistent run of games under his belt. With the likes of Sadio Mane and Roberto Firmino for company, that will guarantee goals.
The resurgence of Adam Lallana – Last season, Lallana was among the most frustrating Liverpool players to watch. He pressed like a maniac, worked his socks off, but the end product somehow deserted him. This season, so far so good for Lallana. He got a goal and an assist against Arsenal in the first game, opened his international goal-scoring account for England, and got a fabulous goal here as well. This is exactly what has been missing from Lallana and the biggest reason for people slating him ever since his 25 million pound move from Southampton.
The centre-back partnership gone wrong? – This is nothing to do with how they actually performed on the day. Joel Matip was a commanding presence at the back and Lucas Leiva, apart from one moment of madness, was steady and did his job. But, it was perplexing to see Lucas on the left side of central defense. It isn't like Matip isn't used to playing there. He filled in on the left side for Schalke whenever Benedikt Howedes didn't play for them. Given that Lucas isn't a natural centre-back, it might have made sense for him to at least play on his natural side. For instance, when he received the pass from Simon Mignolet in the build up to Leicester's goal, a natural left-sided player would have let the ball roll on to his left foot and taken it on comfortably. But when he received the ball, Lucas was still facing Mignolet and had players bearing down on him before he knew it.
Much-improved Henderson – The captain is among the much-maligned players in the Liverpool squad. But he has had a more than decent start to the season. He seems much more aware of his surroundings and his tactical sharpness is much improved. He played two really good passes to set up the opening for our second and fourth goals on the day. But it wasn't all rosy for the skipper as he missed an absolute sitter at 3-1, having been presented a glorious opportunity by Roberto Firmino.
Our attacking threat – This season in many ways, is reminiscent of 2013-14. We do not have anywhere near the best defence in the league, but our attack will win us games more often than not. The chief contributors to that are Roberto Firmino and Sadio Mane. Today as well, Mane's pace and trickery were a constant menace to Leicester but Firmino was the standout player. It seemed like most things were going right for Firmino on the pitch (but for his hair), as he drifted into pockets of space, making him a nightmare for defenders to mark. Apart from his two goals, he set up some wonderful opportunities for other players, which might have been put in on another day.