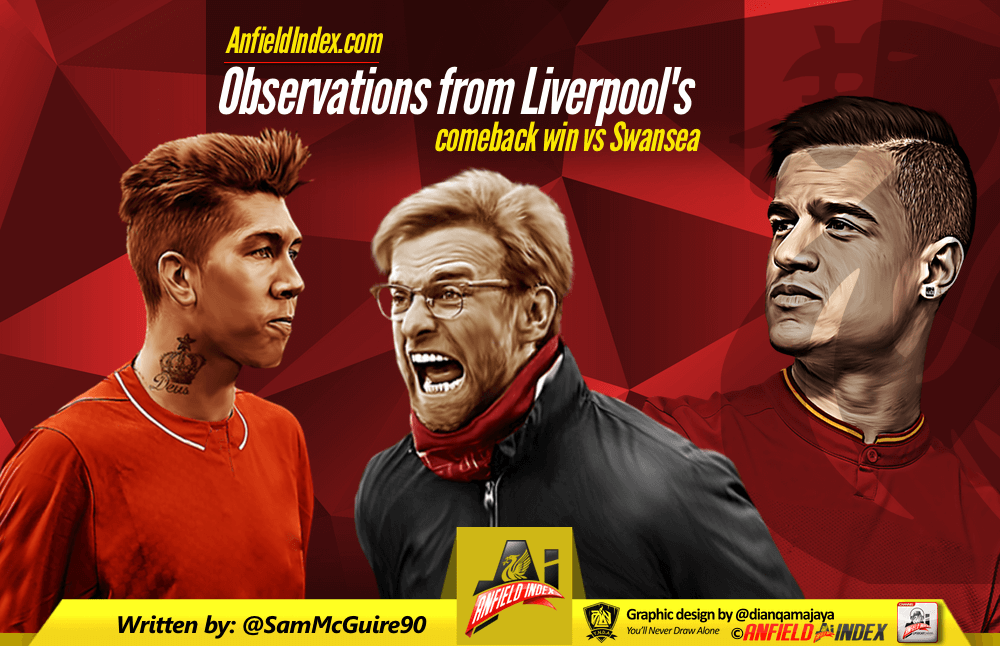 Observations from Liverpool's comeback win against Swansea
Four consecutive weekends now. That's how long Liverpool have resisted the urge to ruin my weekend. Life is good. I could get used to being able to watch Match of the Day safely in the knowledge we've taken 3 points away from our match. Not since 2013/14 have fans been afforded such a luxury and even then it wasn't so early on in the season. It's not like we're taking it for granted either, the win at the Liberty was only the second time we've managed it and despite their recent struggles they gave us quite the game.
We're not so press resistant after all – This season Liverpool have only really struggled against Arsenal, Burnley and now Swansea. All three teams looked to aggressively press Liverpool as the Reds looked to build out from the back. Hull had the right idea but failed to execute it effectively, they used Abel Hernandez to man-mark Henderson but the rest of their midfielders didn't press the centre-back pairing of Klavan and Matip meaning Liverpool could still play out.
Swansea pressed Liverpool into mistakes and Henderson's lack of ability in that deeper role was evident once again. He wasn't able to dribble his way out of trouble and often looked to play the ball backwards. When we're dictating play the Liverpool captain is fine in that role, it's when the going gets tough that his limitations there are on full view.

Coutinho in a deeper role – Lallana's injury could have derailed the Liverpool midfield but Klopp took the opportunity to use Coutinho in a more withdrawn role than we're used to seeing him in and he did a good job there. Until the Brazilian went into a more central role Liverpool looked disjointed but afterwards, helped by his dribbling ability, they were able to start to regain control and assert their authority on the game. He was fairly disciplined too and tracked back to cover for Milner when necessary.
It shouldn't really come as a surprise though as he excelled there in the 2013/14 season. Perhaps Klopp will be tempted to use him there on a more frequent basis.
Coming back from a losing position – Liverpool did this a lot last season and started off by coming from behind to blow Arsenal away. However, the Burnley defeat – which saw the home side take an early lead and sit back to frustrate us – evoked some buried memories from Brendan Rodgers' reign as Liverpool manager. Was this going to be a familiar theme this season?
It's one thing winning a game when you're able to dominate from the off but it's completely different coming back into a game which historically is your kryptonite. Yet we did it. We didn't resort to 30-yard shots, we worked the ball well and kept at it and deservedly got the win.
Seven game undefeated streak – They say momentum in football is a myth but it's not, is it? It's a psychological advantage over your opponents. Recall the 2013/14 run when no matter who we came up against we knew we'd blow them away. It wasn't just the fans feeling that way. The Reds go into the International break on the back of a seven game undefeated streak having scored a flurry of goals. The next game back – a rocking Anfield under lights host United. We all remember the last time that happened.