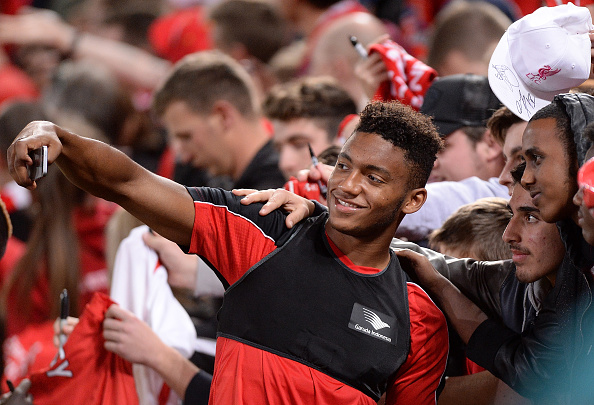 Gomez Back On Klopp's Radar
October 2015. That's when Joe Gomez last featured for Liverpool's senior side. October 2015, when, on England U23 duty, the promising then 19 year old suffered serious injury and began a very long journey back to recovery. The last few appearances he had made before getting crocked had perhaps removed a little of the lustre that accompanied his initial impression on Reds' fans, but it is testament to the enduring nature of those earlier showings that so many fans are very eager to see him return to the fold.
In his press conference ahead of the clash with Plymouth in the FA Cup, Jürgen Klopp was encouraging about the big defender's chances of participating. With six U23 appearances for the young Redmen under his belt, Gomez is knocking on the manager's door and Klopp, it seems, is very happy to have him back in contention
"He's in good shape," averred the boss. "First game at Anfield for a long time – maybe it would not be the biggest surprise if he would be in the line-up, if nothing happens. [It's the] next step on a long way to go, he already had a long way and will still be but everything is good. That's what we said when we spoke about it was not the idea to give him on loan to some other club. It would be the next step and nice for all of us because he's a wonderful boy and we are really happy for him that he's fit now. He had a few games with the second team, he's very self-critical because it was not always his absolute best, but that's normal after a long period of injury and not playing football, so that's all normal. But he's on a good way, in training he looks really good, so it's the logical next step."

Am I the only one who would get a life-affirming jolt of validation from Big Jürgen saying that I'm "a wonderful boy" who's "on a good way?" There is something reassuringly avuncular about the charismatic German, unless you're pushing him on the accuracy of penalty decisions, of course. With Klopp guiding him, one suspects that Gomez will have every chance to develop into the best version of his footballing self. Many suspect that will be enough to see him secure a permanent starting berth in the future. Many are probably right.
Thanks for reading this new section all week. See you again on Monday.