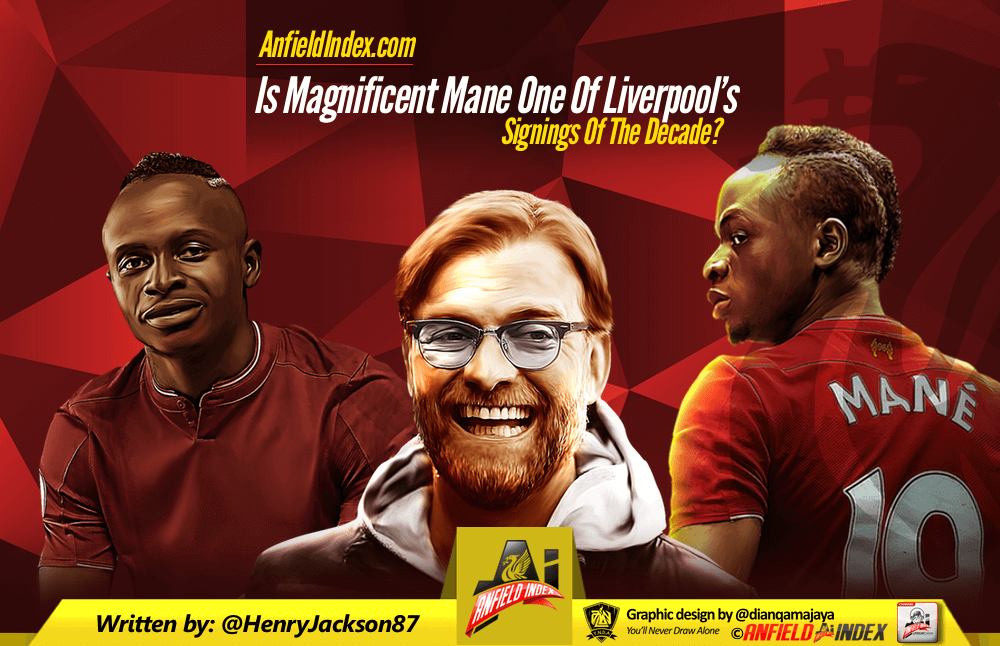 Is Magnificent Mane One Of Liverpool's Signings Of The Decade?

With many great Liverpool players, there are often moments that come along that make you realise how special they are.
With Steven Gerrard, it was his thunderbolt against Man United at Anfield. For Luis Suarez, it was his incredible assist for Dirk Kurt against the same team. Fernando Torres' ruthless finish against Chelsea on his home debut made us realise the Reds had a world-class striker in their ranks.
You no doubt have other examples that instantly pop into your head.
It was just 63 minutes into his Liverpool debut, away to Arsenal, that Mane produced a similarly joyous piece of footballing brilliance, rendering us speechless and causing riotous celebrations in equal measure.
Skipping past tackles down the right, at what looked like Olympian speed, the 24-year-old then cut inside and drilled a stunning left-footed shot into the top corner of Petr Cech's goal. It put the Reds 4-1 up at the Emirates, but it also announced Mane as Liverpool's new big-money signing in emphatic style. Whereas former pricy purchases have taken a long time to get going, he ensured he was an instant favourite.
We had seen glimpses of what the former Southampton man would offer during pre-season, as well as when he scored a double against Liverpool last season, but this was the real deal. It was all done with such effortlessness, too, despite it being a once-in-a-career goal for a lot of players.
From that memorable debut onwards, Mane has not looked back, and with two months of the season remaining, he is leading the race to be the Reds' Player of the Year.
Philippe Coutinho, Adam Lallana, Roberto Firmino and Jordan Henderson have all made decent fists of it at different stages of the season, but Mane has consistently shown that he is now Liverpool's most important player.
Twelves goals and five assists is an excellent return for a wide player, especially when you consider his January was disrupted by the Africa Cup of Nations. His absence at that time perfectly illustrated how blunt Liverpool can look when they are Mane-less.
Against Arsenal last weekend – the Gunners must hate the sight of him already – Mane's importance to this team, and his general brilliance, was highlighted more than at any point during his Anfield career so far.
He was majestic against a beleaguered Arsenal outfit, tearing Nacho Monreal to shreds and registering a goal and an assist. One piece of skill in the second-half needed rewatching to see what had actually happened, and his balance and strength on show were a joy to watch.
Unlike so many players of his ilk, the Senegalese has devastating end product. So often, a speedy wide man will flatter to deceive in that area of his game, but you back Mane to finish every chance that comes his way, as well as create for teammates.
It has been such a fantastic first season at Liverpool for Mane, and it leaves you wondering if the club have made many better signings this decade. Jurgen Klopp was desperate to acquire his signature for a reason, and we are seeing exactly why the German has always been such a huge admirer.
The obvious first-choice when discussing the best buys since 2010 is Luis Suarez, with the Uruguayan arguably reaching a level no player in the club's history has. He is a stunning, genuinely world-class player, and it would be incorrect to say Mane has been, or will be, a more successful signing.
Who else is there, though?
Coutinho is certainly near the top of the list, having enjoyed a superb four years on Merseyside, but it would still be nice to see a little more consistency from the dazzling Brazilian.
This may be ultra-harsh, a little like an overly-critical dad at an Under-11s game, but Coutinho is so talented that you know he can be even better. That being said, he has been wonderful to watch in a Reds shirt.
Firmino is also proving to be a very good purchase, and should keep improving under Klopp, while Daniel Sturridge's fabulous first couple of years at Anfield should never be forgotten. He may have lost a yard, and be on his way out of the exit door in the summer, but 59 goals in 113 appearances is some record.
Henderson had made giants strides after a disastrous start, but he is now an undoubted success story, along with Lallana. Both were ridiculed, but have come good. Raheem Sterling arrived for £500,000 and was sold for £50million, going to show that he matured greatly as well, and was an excellent purchase by Rafa Benitez.
There are many other signings who have done a decent enough job, as well as a number of woeful buys, but those mentioned above are the ones that stand out the most.
Admittedly, we are still in first-season territory with Mane, but on the evidence provided so far, he is looking as good as almost any incoming this decade, barring Suarez. Nobody has made a more instant impact, El Pistolero included, and with every game that passes, the more his stock rises.
If many of us have the honesty to admit it, not a huge amount were enamoured with the arrival of Mane last summer, especially with the more fashionable Mario Gotze also rumoured to be a genuine target.
He has proven the doubters wrong, however, and it is hard to pick many players from other clubs who have been better signings in the last 12 months.
Coutinho is still very much the golden boy for many, but Mane is Liverpool's best and most important player. Nobody else's unavailability affects the Reds so much, and opponents appear to be more terrified of him than anyone.
We love to be knee-jerk about players, and risk looking foolish when they eventually flop, but the signing of Mane looks like a wonderful piece of business.
At 24 years of age, he has many years ahead of him, and his reputation should only continue to soar in the coming years.
It would be heartbreaking if those years were spent elsewhere.