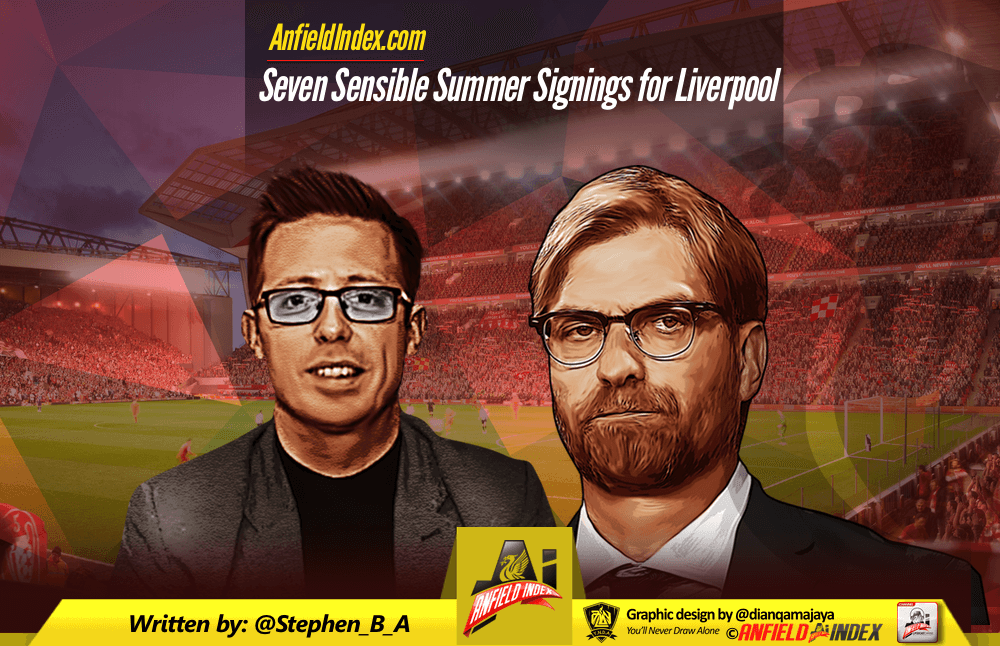 Seven Sensible Summer Signings for Liverpool
The season isn't quite over, but following another roller coaster year of highs and lows — from competing for the title and chasing another cup final, to a loss of form and a dreadful run of results, back to chasing the top four — the club needs to press on with their summer transfer business.
As the rumours gather pace, the Echo runs stories of missed targets and underwhelming interest and the season continues to flabbergast, let's take a look at where the club can develop the squad this summer. It's time for the "it's not his squad" excuses to stop, Klopp to clear out the last of those players who don't fit his style and finish building his team for a challenge.
It's sorry to say, but this summer we'll likely be waving good by to Daniel Sturridge and his insane scoring stats in a red shirt, along with a long farewell to long term (and much maligned) servant Lucas Leiva. Sakho could be sold, and the like of Lovren, Mignolet and Danny Ings could be shown the door for the right offers.

So, here are seven signing to help shake up the squad and push for trophies in 2017/18.
1- Jack Butland
I've long been a fan of Butland. He might not be the next Manuel Neuer but the youngster was among the best 'keepers in the Premier League in 2015/16. He commands his box, his shot stopping is superb and even behind a hit and miss Stoke defence he often came up trumps.
Butland v Karius, and their contrasting styles, would offer a fascinating situation with hopefully one coming out on top as a class 'keeper and the other either a sold second choice or a profit turning sale. For me Butland would be perfect for the Premier League with Karius having the potential to excel in Europe.
Surely available for a sensible sum and with the potential to be an England number 1 Liverpool would be mad to not pursue him this summer.
2 – Alessio Romagnoli
The young Italian centre half has been one of the few positives as a Milan team lost in transition. The club's sale has fallen through and the books needs balancing. Romagnoli would likely command a fee over £30 million, but would also nail down the left-sided centre-back shirt for the next decade.
He's calm, collected and offers a decent pass out of defensive. Alongside the physical Matip or the up-and-coming Gomez we would have a mobile pairing that could finally keep LFC's goals conceded will under the 50 mark!
Time to take advantage of another club in turmoil for a change?
3 – Andrew Robertson
The Scottish full-back is a bit of a curve ball. Depending on which rumours you read he's either out of contract this summer or next, but either way being under 24 a fee would be needed, and a sensible compromise would be likely.
Robertson has enough pace to be a solid left attacking full-back. Seemingly comfortable in a back four or as a wing back he offers a decent cross, good positioning and has been fairly consistent for a poor team. Some top class coaching and a decent defence around him could see LFC signing another player with nearly a decade of service left in his boots.
Not a superstar, but Liverpool don't need one at left back, they need a consistently good defender happy to attack — which Robertson appears to be.
4 – Ryan Sessegnon
Fulham's youngster is a superstar in the making. The question is whether at left back or left wing. At 17 years old and full of potential, joining a club where he's given time to grow yet offering enough quality to play in cup games. He is both one for a future and a sensible back-up option for now.
Playing a handful of games as the back-up right-back for Trent Alexander-Arnold has done him the world of good and Sessegnon could benefit from that sort of experience following a year of first team football for Fulham. We just hope LFC sign a better left back than Moreno (sorry) and Milner for him to learn from (such as Robertson above).
5 – Leon Goretzka
Liverpool's centre midfield is starting to regain form after a torrid run of results, but after the Captain, Can, Wijnaldum and Lallana options are thin at best.
Goretzka is an intriguing young centre midfielder who seems to have the skill set to either develop as the regista we've missed since Xabi Alonso parted ways or an attacking number 8 in Klopp's currently preferred midfield three.
The question here is how much would the German cost, surely somewhere north of £30 million, but it's time to step up and sign players who are close to becoming world class and not just projects in waiting.
6 – Federico Bernardeschi
The Italian playmaker is having a decent season for Fiorentina with 10 goals in 23 games so far. Fiorentina know how to get their money's worth from a transfer, but again Liverpool could take advantage of a club with less financial power and pull in the youngster for a sensible fee.
Bernadeschi offers a really interesting option for Liverpool. Mostly playing off the right and cutting in onto his left foot he's the inverse of Phil Coutinho and the opposite of Sadio Mane. He's hard working, creative and can play as a 10. Giving Liverpool some real depth of either side of the front three in a season where you'd hope to see us competing in 50+ games.
7 – Domenico Berardi
Another Italian forward I admire, and one often linked for former club Juventus, Berardi is one of the most exciting forwards not playing for one of Europe's top clubs. Following a serious injury and half a season of first team football this summer could be the time to pounce should he prove his fitness in the following weeks.
Liverpool need a centre forward. I love what Firmino does off the ball and his early goal scoring form excited most Liverpool fans, but Liverpool need some to complement and compete with the Brazilian. Berardi could be just that man.
Mostly playing off the right wing cutting inside looking for goal scoring opportunities he offers something similar to the directness of Mane. But with his pace, tenacity and hard working play coupled with his goal scoring ability he could be a long term replacement in the number 9 shirt for LFC competing with or playing alongside Bobby.
Liverpool need to crack on this summer and continue to build a squad to finally complete for titles and trophies. Klopp has shown he brings in numbers in his early years and a club and seven players would be a sensible number as he refines the squad.
Hopefully Liverpool can bring in a similar crop of young, hungry players who are ready to step up and compete yet have their best years ahead of them.
Liverpool FC and Jurgen Klopp it's time to #MakeUsDream and #BeatTheDrossWinTheLeague!