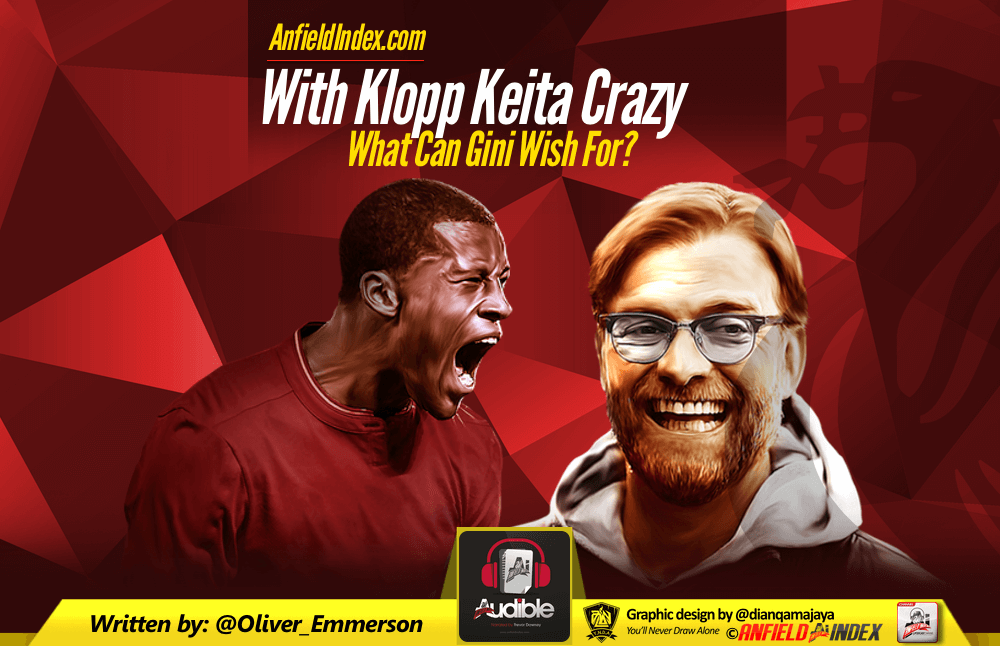 With Klopp Keita Crazy, What Can Gini Wish For?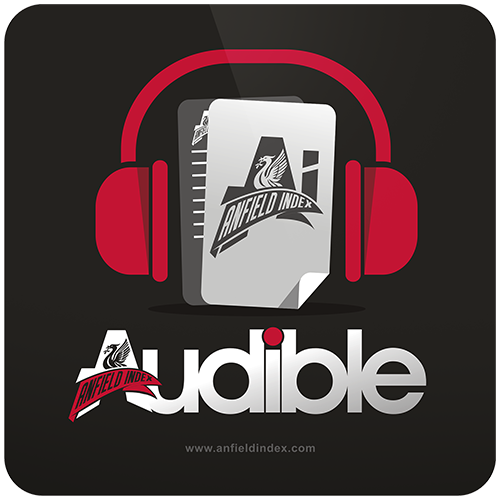 Listen to this article via @AIAudible !
With the Liverpool fan base going crazy over Paul Joyce's 00:08 truth bombs and continued links to the marvellous Naby Keita, one must feel for Georginio Wijnaldum.
Although he's currently enjoying a well earned break from football and seemingly posing for a series of well crafted Grand Theft Auto covers, the Dutchman would be forgiven for considering his place in the Liverpool squad amid all the Keita links.
Why Gini?
If Liverpool are, as many believe, going to prize Leipzig's finest asset away from them for a club record breaking sum this summer, then he's going to start. Make no mistake there.

Sorry to the Lallana fans, sorry to the Wijnaldum fans, sorry to the Henderson fans and sorry to the Can fans. Naby Keita would come in and demand a place, blowing each of them out of the water.
The only player in the Liverpool squad who seemingly has a midfield place nailed down for next season is Philippe Coutinho, who ironically spent the majority of last season in the front three.
The logic seems to be that Coutinho will drop back and leave Adam Lallana competing with him for the most advanced spot in a midfield three.
Emre Can and Jordan Henderson would fight it out for the deepest role, with Wijnaldum seemingly claiming the midfield spot, a role he shone in last season.
That remaining midfield role would likely be Keita's, with few questions asked.
It seems unfair on Wijnaldum, who had a fantastic 2016-17 season. The 'Dirk Kuyt' of big games, goals against Chelsea, Manchester City and Arsenal were complimented by combative and measured performances against those further down in the league.
He had the world at his feet as he plucked a Xabi Alonso-esque pass out of the air to assist Roberto Firmino's winner against Stoke City, a goal that helped Liverpool clinch a top four spot by a point.
Therefore, replacing him would seem harsh. However, when a world class player of Keita's quality wants to join you, a club can't decline.
What for Wijnaldum?
However, there is light at the end of a Naby Keita shaped tunnel for Wijnaldum.
Despite being forced out by the Guinean, theoretically of course, he'd still remain a prominent part of Jürgen Klopp's squad for a huge season where Liverpool can expect to play upwards of 60 games if they wish to be successful.
All the senior players will get game time, something that Wijnaldum's versatility compliments.
Having shone in centre-midfield last season, he'd certainly be the logical replacement for if Keita ever needed resting or was injured.
The Dutchman could even partner Keita, with Can or Henderson behind them, in games where Klopp potentially wanted some extra defensive nous or wanted to push Coutinho into the front three.
Wijnaldum could play ahead of Keita in the role taken up by Lallana this season, having played most of his football for Newcastle and in Holland as part of the 'front four'.
His talents extend to the front three, with most Liverpool fans able to remember how he lashed four past Norwich in a single game when played there for Newcastle – Luis Suarez style!
Wijnaldum's abilities are certainly alternate to those of Mo Salah and Sadio Mane but could help Liverpool in certain games, or even Champions League ties.
Imagine defending a tight lead in a second leg with a midfield and attack compromising of Emre Can, Naby Keita, Philippe Coutinho, Georginio Wijnaldum and Roberto Firmino, countering to a rapid Mane or Salah on the break.
Given his pivotal role in Liverpool's campaign last season, it's easy to forget that many expected Wijnaldum to be a rotation option when he came in from Newcastle around this time last year.
It's possible that he may have been if the campaigns of Jordan Henderson and Emre Can hadn't been so severely disrupted by injury, therefore it's fairly plausible to envisage that Klopp views Wijnaldum as a rotation option once he's assembled his squad.
It's also easy to forget that centre-midfield isn't his natural position, in the slightest. It is in fact quite a revelation that Wijnaldum excelled so well there, especially in a Liverpool team that focuses on scoring goals rather than preventing them.
All those skills open up doors for Wijnaldum this season, even if it is Naby Keita who is brought to unpick lock's against the worst teams in the league.