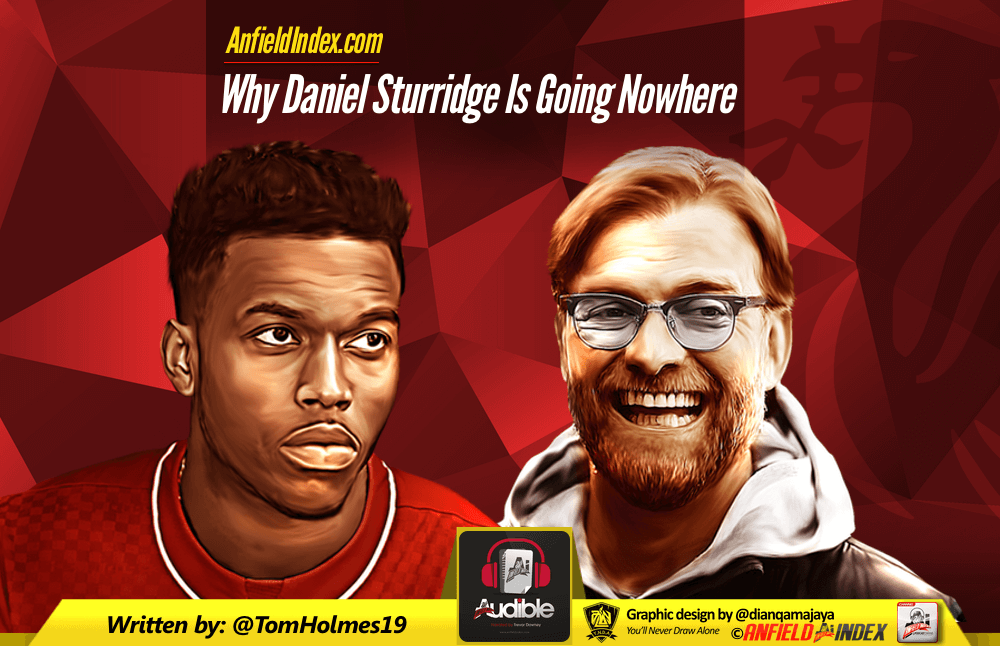 Why Daniel Sturridge Is Going Nowhere This Summer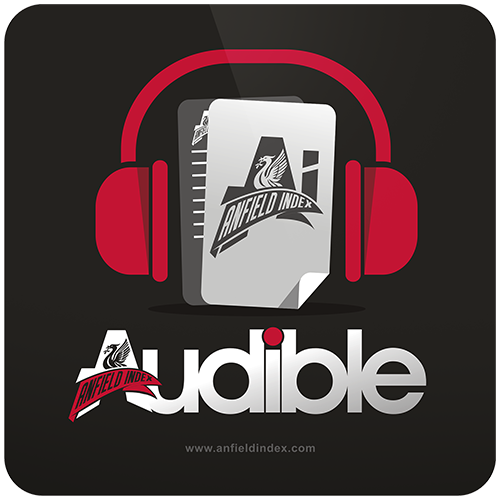 Listen to this article via @AIAudible !
There has been a lot written about Liverpool's transfer window up until this point, but what is interesting is the fact that almost all of Liverpool's major outgoings are reasonably predictable. Mamadou Sakho, Lazar Markovic, Alberto Moreno and possibly Lucas. One name that has almost fallen away from discussion in terms of departure is arguably the biggest name on the list: Daniel Sturridge.
Sturridge is one of Liverpool's most talented players: he is their strongest finisher, their best goalscorer and his movement and pace remain if not the best then very much amongst the best in the Liverpool squad. If Sturridge's squad position was based on quality alone then he would be a dead cert to be a member of Liverpool's team next season.
However, his injury worries and the rise of Roberto Firmino in the false nine role, plus a tactical shift from Klopp in the 4-3-3 means Liverpool often play without a striker at all, and that Sturridge is not first choice; moreover his status in the squad has been under threat.

It has though become increasingly clear over the last couple of months that Sturridge is going nowhere. The signs that Liverpool were not planning to offload the England forward have been there since before the season finished, but it's interesting that the perception amongst fans (alongside journalist speculation) was that Sturridge would be shipped out in the summer.
The first thing to note about Sturridge is that it never looked likely that he would be forced out of the club by Klopp. Klopp has been frustrated at times by Sturridge's injuries, as have we all, but when Daniel has been fit, the boss has spoken highly of him. Moreover, the majority of the speculation has been based around the fact that with potentially Firmino and Origi ahead of him, and maybe even another forward, Sturridge would not be happy staying at Liverpool.
It does seem that this perception was baseless however. Jamie Carragher pointed out that Sturridge cornered him to ask why the ex-LFC legend thought that Studge would leave this summer, and Sturridge himself has reiterated his desire to stay at Liverpool repeatedly on his Instagram. Certainly from Sturridge's perception, there's no reason why he would leave if Liverpool don't plan to force him out by buying another striker, since he has the talent to if not be our first choice striker, although that will be his aim, certainly our second.
It has also become increasingly clear that Jürgen Klopp is not interested in replacing Sturridge either. With pre-season beginning this week, Klopp will be keen to get any elements in the squad that he wants gone, gone, and have their replacements in as quickly as possible. With Alberto Moreno seemingly the only first team player that is likely to be carted out and directly replaced, and Liverpool looking like replacing him hopefully soon, the fact that there are no concrete rumours surrounding Sturridge's departure, along with the lack of rumours or any tangible evidence that Klopp is after a striker, indicates that Sturridge is staying put.
Indeed, the fact that Alexandre Lacazette sealed his move to Arsenal this week, with Roberto Firmino holding the number 9 shirt for Liverpool seems to be the final nail in the coffin for any ideas that Liverpool would be looking for a big name striker. Lacazette was arguably the perfect target in that area, so for the Reds to be nonplussed by his move to the Gunners merely underlines Klopp's desire to keep Firmino as his first choice. Of course, there were signs long before Lacazette signed for Arsenal that the Reds weren't interested in signing a striker, and the fact that Lacazette didn't sign for us isn't itself definitive proof that we aren't looking for one, but ultimately for one of the best young strikers in Europe to move to a club not in the Champions League indicates that no Champions League club made a serious attempt to move for him.
Which in turn just means that Sturridge is going nowhere. Klopp would not allow a player of Sturridge's calibre to leave, especially in an area where Liverpool are short of genuine world class options, unless he was planning on replacing him. And so, as pre-season rolls around again and Daniel Sturridge returns to Melwood to once again fight for his spot in Liverpool's team, we find ourselves wondering: will this year be the year that he can recapture his form from the 13/14 season over the course of an entire campaign and stay largely injury free?
One thing that is looking more and more certain however, is that we will see Daniel Sturridge in a Liverpool shirt competitively again, and the club is all the better off for it.