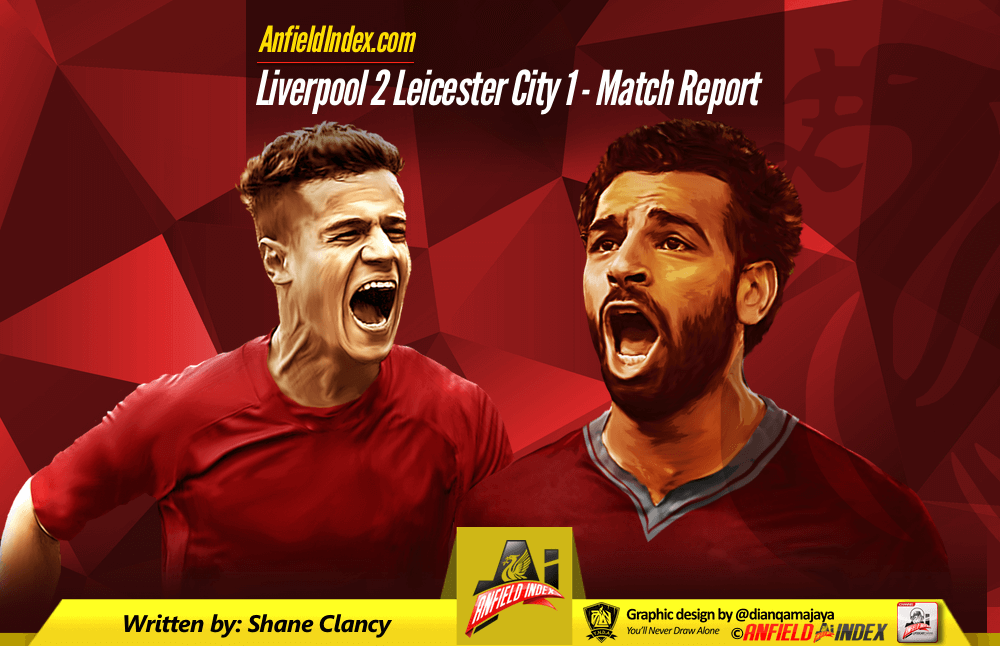 Liverpool 2 Leicester City 1 - Match Report

Liverpool v Leicester City
July 22nd, 2017
Hong Kong Stadium
Premier League Asia Trophy Final
Liverpool lineup – Karius, Alexander-Arnold, Matip, Lovren, Milner, Wijnaldum, Lallana, Coutinho, Salah, Firmino, Origi
Subs: Mignolet, Gomez, Henderson, Sturridge, Grujic, Klavan, Moreno, Solanke, Flanagan, Kent, Woodburn
Hong Kong Stadium was the venue for today's pre-season 'tournament' decider. Klopp started with a very attacking side – from the lineup, it looked like Wijnaldum would be the designated holding midfielder, with Lallana and Coutinho just ahead of him. Salah would occupy the wide-right position up top, with Origi and Bobby interchanging between the left and central roles.
Karius was handed a start ahead of Mignolet, and the back four looked like what could possibly be our starting defensive quartet when we travel to Vicarage Road on August 12th. Sure, Clyne should be injury-free by then but the way Alexander-Arnold has impressed during the summer it wouldn't be the biggest surprise in the world if he was handed the right-back role to start the season.
Apart from the defence it really struck me today how much of a selection headache the Klopp-Meister has to look forward to in the coming season. After all, on the bench was Mignolet, Henderson, Sturridge, and Solanke. Back on Merseyside, we've also got a certain Sadio Mané as well as Emre Can.
Anyway, onto the game.
---
The less-than-perfect surface played its part in a mostly scrappy start to the game. Both teams struggled to take control of the ball and string a few passes together.
Gradually, the teams began to spread and use the full width of the pitch. Trent Alexander-Arnold (TAA) was the most impressive early on as he tormented Fuchs and co. down Leicester's left.
The first semblance of a chance came when Salah set up Coutinho so he could try his luck from 30 yards out. His shot, however, was saved easily by a relieved Schmeichel.
Firmino was notably playing with a higher intensity now than in previous games. The Reds were trying plenty of neat, intricate interplay between Lallana, Salah, Coutinho, and Firmino but at times in the first half, it felt as though they were trying too much, too soon. They were still just knocking the rust off in time for the Premier League season.
TAA seemed to link well with Salah early on and played some delightful over the top balls down the right for our new signing to run onto.
Salah began to roam more across the final third while Firmino and Origi regularly swapped roles. The creative trio of Bobby, Phil and Mo (sounds like a comedy trio) certainly looked to be in the mood, giving the fans what they want.
Around the 10th minute, it seemed like Mahrez and Leicester decided to wake up. Fuchs and Albrighton combined down the left, outnumbering TAA. Fuchs hung up a great cross that Slimani attacked at the far post, beating Milner to the header. 1-0 to Leicester.
A few minutes later and it was panic-stations for the Reds. Matip took too long on the ball. In the end, he made a poor backpass to Karius, putting the 'keeper in trouble at his own byline. Karius' sliding attempt of a clearance just about made it past Slimani. If the Leicester forward had controlled it he would have had an empty net to aim at, albeit from a slightly difficult angle. Relief for Matip.
In the 20th minute, Salah picked the ball up wide on the right. Salah to TAA, TAA back to Salah, Salah to Coutinho, Coutinho with a dink over the top for Salah to run onto – GOAL!!
Salah guided his deft header past the outstretched Schmeichel to make it 1-1.
By this stage, Liverpool's passing had improved and they were developing a bit of a swagger. Salah, in particular, appeared to be enjoying himself, linking well with TAA, Coutinho and Bobby. Unfortunately, Origi was failing to make an impact, however, never quite appearing to be on the same wavelength as Bobby, Phil and Mo.
Firmino had a shot saved easily by Schmeichel in the 26th minute. Four minutes later and Albrighton took Lallana out of the equation with a clever dummy. The former Villa man then hit a low, hard effort just wide of Karius' near post. The German seemed to have it covered.
There was a quiet period then until Lovren was called into action. The big defender showed good recovery skills to get anything on the ball, denying Jamie Vardy a clear cut chance at the edge of the box.
A minute later and Milner was going off. Moreno replaced him at left-back in a straight swap. Milner could be seen rubbing his left thigh shortly after leaving the pitch. Hopefully, that's nothing too serious.
Then Coutinho faced Mahrez in his own half. The little magician left him for dead and all Mahrez could do was try to remove Coutinho's jersey.
A minute later and it was 2-1 to Liverpool. Coutinho picked it up at the edge of the Leicester box. A great overlapping run from Moreno wide on the left took a couple of Blues defenders with him, opening up a little space for Coutinho. That's all he needed, that's all he ever needs. Coutinho left Schmeichel grasping at thin air with an absolute rocket of a shot into the far corner. What. A. Goal.
Half-time: Liverpool 2 – 1 Leicester
Liverpool made four changes at the break. Henderson, Sturridge, Klavan, and Grujic replaced Lallana, Origi, Matip and Firmino.
In the 48th minute, TAA played a very poor back-pass, putting Vardy clean through. Karius, not for the first time, displayed some great sweeper-keeper awareness and met Vardy at the edge of the box, saving Vardy's effort with his chest.
Grujic appeared to be playing in a very advanced role since coming on. Henderson found Grujic at the edge of the box with a great pass and his scissors-kick attempt wasn't far over the bar.
Coutinho and TAA left the action in the 55th minute, replaced by Woodburn and Gomez. Not much else of note was happening in the second half. Sturridge was trying to have an impact and had a shot from on the right but it just went straight into Schmeichel's hands.
Henderson and Grujic then almost successfully combined to put Sturridge through in the box but Grujic's pass had just too much meat on it.
In the 65th minut, Solanke and Ryan Kent entered the fray, in place of Wijnaldum and Salah.
Again, there wasn't much action to report in the following minutes. Kent did skin Fuchs (a very tired Fuchs) down the right and swung in a cross but it was put behind for a corner by Danny Simpson.
Flanagan was the final substitution, replacing Lovren in the  84th minute.
Solanke and Sturridge had looked lively and mobile up top, but the lack of real match fitness was showing in their touch.
Henderson sent Moreno down the left in the dying minutes Moreno pulled it back for Sturridge but his effort lacked conviction and was blocked easily by the Leicester defence.
That was how it ended. Klopp and his Red men picked up the Asia Trophy and now can turn their attention to the training camp in Germany next week.
Final Score: Liverpool 2 – 1 Leicester City