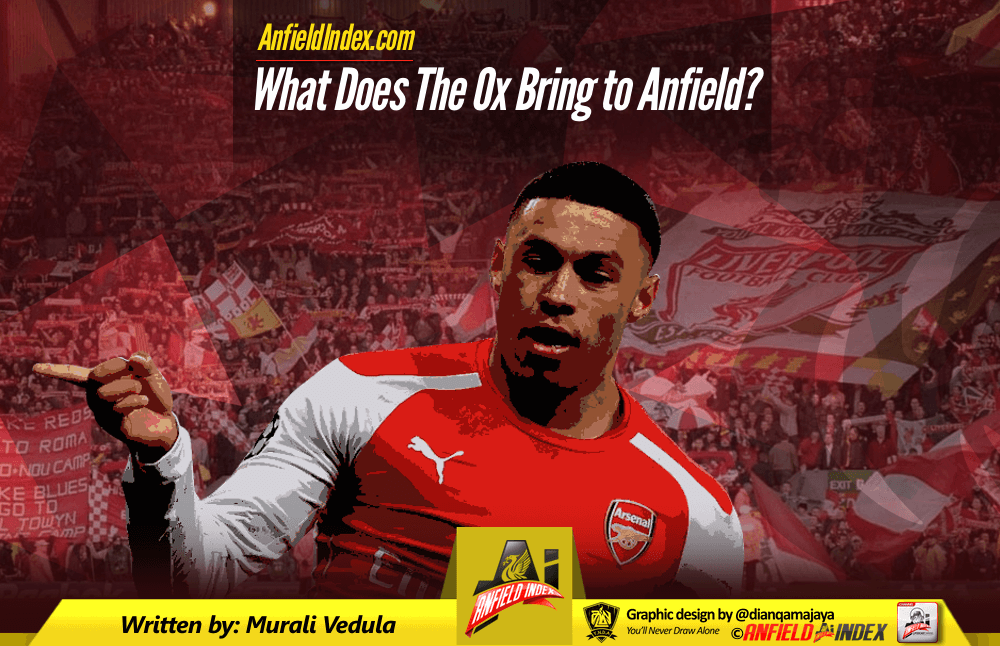 What Does The Ox Bring to Anfield?
Well, it is official! Liverpool have confirmed the signing of Alex Oxlade-Chamberlain from Arsenal on a 5 year contract for a reported fee of 35 million pounds paid upfront with a further 5 million in add ons. However, this transfer is pretty strange. Both Arsenal and Liverpool fans seem to be happy about this one which is usually not the case for most transfers. While Gunners fans believe they have recouped 35 million for a player who scored 2 goals last season and who may not even walk straight into Liverpool's starting XI, the truth is, they are wrong.
Statistics never really put the whole picture on the table. Arsenal have lost one of their most talented and one of the most important players without adequate cover. If Wenger does continue with the current formation, Hector Bellerin seems to be the man to replace Chamberlain at right-wing back and that very thought is enough for Gunners fans to have butterflies in their stomachs. The feeling is similar to what we Scousers feel when Alberto Moreno or Dejan Lovren are defending. Bellerin is in the worst form of his life right now and the goal Salah scored in the recent 4-0 victory is just testimony to the fact.
However, there is more to why this transfer means a gain for Liverpool and a loss for Arsenal, not the other way round. While Chamberlain excelled in an unfamiliar wing back position in the second half of last season, that is not his best position. I will tell you how he would fit into the current squad and revitalise Liverpool's attack and midfield.

From the go, it seems pretty obvious as to where he would be playing at Liverpool. He would be used either as the attack minded midfielder in the 3 man midfield, a position that Adam Lallana was used to devastating effect last season or as a winger who can play on either side in the forward 3.
What this means is he is a versatile player who would be competing with the likes of Wijnaldum and Lallana in midfield and also Salah and Mane in attack. Liverpool severely lack depth in the wide areas. While Mane and Salah are very good in those positions, you cant expect them to start all matches especially with Liverpool competing on 4 fronts this season. Last season, Roberto Firmino or Adam Lallana were used as makeshift wingers when Mane and Coutinho were unavailable and this clearly robbed the team of pace in the wide areas, which is fundamental to Klopp's system of play. Further, Firmino's workrate and ability to win the ball high up the pitch was sorely missed when he operated on the flanks. The arrival of Oxlade-Chamberlain will definitely solve this issue as Liverpool can opt to rest one of Mane or Salah without Firmino having to move out of his false 9 centre forward position.
Ox has the pace and skills to make a good fit in the front three and what's more he is strong on the ball unlike Salah and to an extent Mane. It's not an exaggeration to say that full backs will have a nightmare stopping him when he starts running and taking on players. This is a valuable asset pacey wingers usually don't tend to have. Yaya Toure showed in his peak years at City that good strength, dribbling and finishing are enough to score 20 goals a season from midfield. Add in some pace to that and defenders will lose all hope of even standing a chance. Oxlade-Chamberlain is a step in this direction. While he ain't as strong as Yaya Toure, he does have much better acceleration.
Ox's strengths are his acceleration, pace, dribbling and shot power. While his finishing and end product in the final third isn't always the best, this is something Liverpool need in their engine room right now. He can also feature as an attacking midfielder in  the 3 man midfield ahead of Henderson and Can. Without Coutinho, Liverpool lack someone who can just take on players, beat them and make something out of nothing. Without Lallana, they lack the intelligence in midfield to finish quick one two's or link up attack and defence. With Lallana injured, uncertainties surrounding Coutinho and Wijnaldum's inability to show up away from home, Oxlade-Chamberlain would provide the Liverpool midfield with some much-needed directness. At his best, I can foresee him completing take ons from his midfield position using his skills and pace to quickly drag 2-3 players out of their positions, creating space for Liverpool's forwards to exploit at. Now, this can be proved by statistics.
Last season, Ox had 2.14 successful take ons per game . No Liverpool midfielder even came close in this regard. Among the forwards, Philipppe Coutinho had a successful take ons per game of 2.29, while Firmino and Mane had 2 and 2.48 respectively. However, one must not forget that Ox achieved this by playing as a right-wing back. Oxlade Chamberlain also had 7 assists from wing back last season. Coutinho, Firmino and Lallana secured 7 each as well having played more number of games than Ox. Another aspect that slips under the radar is his excellent disciplinary record having been booked only once in 29 appearances for the Gunners last season.
To conclude, Jurgen Klopp could field a side with Henderson, Lallana, Wijnaldum, Coutinho, Firmino and Mane only 13 times last season. Liverpool won 11 of those matches scoring 35 goals in the process. Liverpool played their best football during these matches humbling direct rivals like Arsenal, Spurs and Chelsea during the process. However, what is important to note that Liverpool struggled in many of the remaining 25 matches dropping vital points. So, will Oxlade-Chamberlain walk in directly into the first XI currently(assuming Coutinho stays)? No. Will he walk into the XI if Coutinho leaves? Probably yes. But will he help score goals and win matches where Klopp cant field his best XI? Sure as hell.