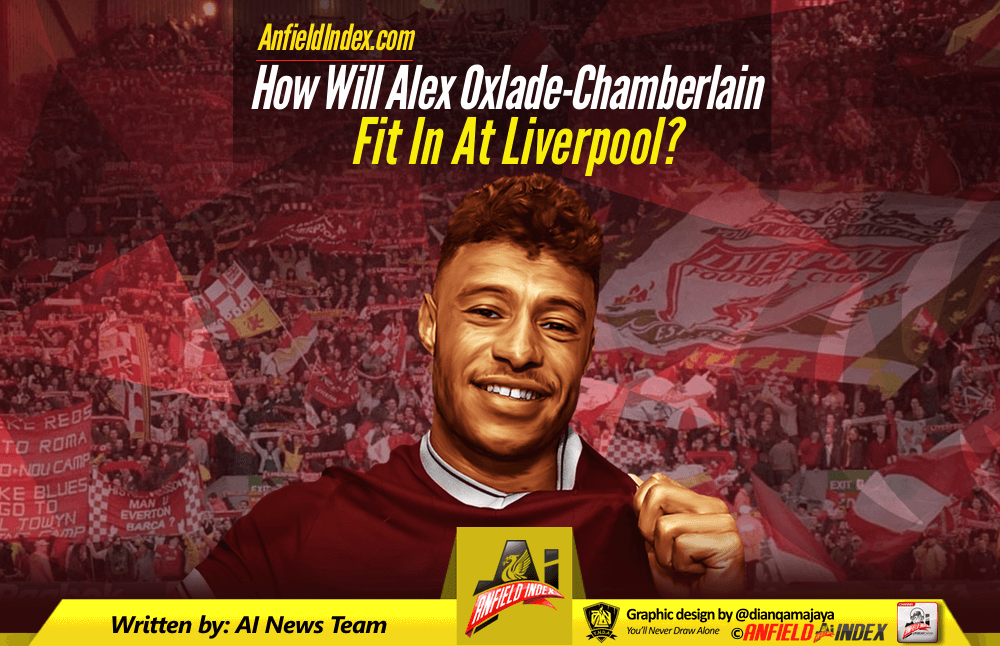 How Will Alex Oxlade-Chamberlain Fit In At Liverpool?

Alex Oxlade-Chamberlain is a Liverpool player. The Reds moved quickly and effectively to acquire the England international just days before the transfer window closed and Jurgen Klopp will expect big things from the former Arsenal star.
Liverpool had to pay around £40 million to pry the 24-year-old away from the Emirates Stadium but it was a lucrative offer that Arsene Wenger simply couldn't refuse. But how will Oxlade-Chamberlain fit in at Anfield in the long term? Well, The Daily Express published an article with quotes from Sky Sports pundit Tony Gale that claim The Ox is a better fit for Liverpool than he was for Arsenal. Whether that turns out to be accurate or not, only time will tell.
Klopp's Midfield Dilemma
At Arsenal, he made it crystal clear that his preferred position was in central midfield. With the likes of Emre Can, Georginio Wijnaldum and club captain Jordan Henderson fighting for a spot in the starting line-up, Klopp has a real selection headache on his hands. You could even argue that The Ox isn't quite good enough to force his way into the XI on a weekly basis – although writing him off just yet would be foolish, to say the least. At times, we've seen just how good he can be, mainly for England or in a slightly more advanced position at Arsenal.
According to the official Premier League website, Oxlade-Chamberlain has scored just nine goals in 133 top flight appearances, a poor return for an attacking midfielder. Those figures would support his own personal belief that central midfield is his best position but his lack of assists will be of some concern for Klopp. The England man has recorded 14 assists in his Premier League career – not exactly a mind-blowing figure. To put that statistic into some perspective, Philippe Coutinho has more than double (29) the number of assists having played just five more games.
The Ox Will Have To Be Patient
If nothing else, Oxlade-Chamberlain can be a decent squad player for Liverpool this season – he may eventually develop into one of Klopp's most dangerous weapons. At 24 years old, he still has time to mature into an elite talent; he certainly has the potential and the skillset to go further.
With the Reds looking to compete on multiple fronts in 2017/18, Klopp will be looking to make full use of his entire squad. Ultimately, the primary objective must be to challenge for the Premier League title and reach the next round of the Champions League and The Ox can certainly help the Reds do just that.
Forget Liverpool's embarrassing 2014 Champions League campaign, this time they can compete, by @_ChrisBascombe https://t.co/KRs8uaCGel #LFC

— Telegraph Football (@TeleFootball) September 13, 2017
A top four finish is the absolute minimum that will suffice this season. After spending well over £100 million this summer and acquiring central midfielder Naby Keita from RB Leipzig in advance of the 2018/19 campaign, the likes of Oxlade-Chamberlain must impress Klopp this term. As of September 13th, Betway are offering 5/6 on Liverpool to finish in the top four and it would take a brave man to back against the Reds after their impressive start to the campaign. Blowing the likes of Hoffenheim and Arsenal away isn't easy but Klopp's men looked supreme in both triumphs; defensive stability should guarantee a top four berth.
Advanced Role Not Out Of The Question
Should Coutinho, linked with a move to Barcelona for the most part of this summer, depart at the end of the current campaign, Oxlade-Chamberlain may be expected to take on a more creative role, especially with Keita joining – for a record fee according to The Daily Telegraph – as of next summer. Playing behind the likes of Sadio Mane, Roberto Firmino and fellow new signing Mohamed Salah, The Ox could shine – we might actually see him relish the chance to create opportunities for one of the best attacking units in the Premier League. The statistics may actually do Oxlade-Chamberlain a disservice; he has never been blessed with an attack quite as lethal as Liverpool's current crop of stars.
Liverpool are building something special at Anfield and Oxlade-Chamberlain can play a key role at some stage in the near future. For now, the former Arsenal man may have to be content with a reduced run of starts in the first team. Breaking into the starting line-up on a regular basis may be a stretch too far right now and he may have to bide his time. Klopp can take Liverpool to the next level – the dominant era is about to begin. The Ox will have his time to shine under the Anfield lights and when that time comes, he will be ready.