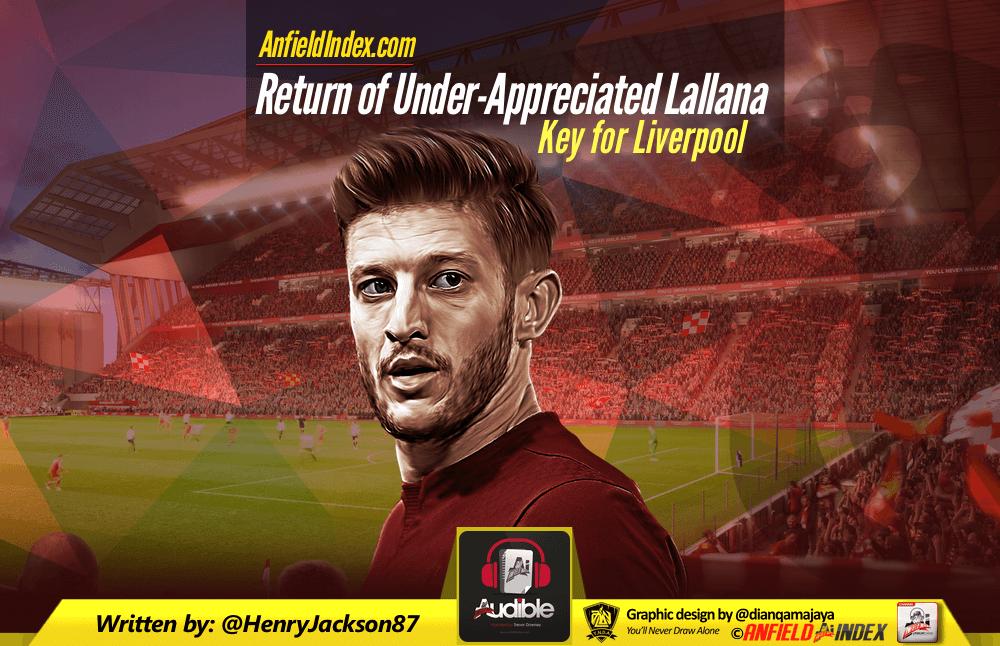 Return Of Under-Appreciated Lallana Key For Liverpool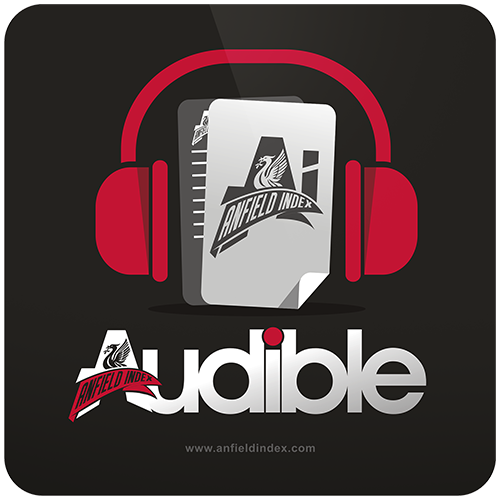 Listen to this article via @AIAudible !
The brilliance of this Liverpool team is its attack, with Jurgen Klopp a naturally positive manager who thrives off his players performing with fluency and freedom.
The Reds' defending may have left plenty to be desired under the charismatic German, but his side have produced some truly great attacking performances in the two years since he took charge.
One man who has often been a catalyst in these displays, and everything good about Liverpool's relentless style, is Adam Lallana.

The 29-year-old is a wonderfully gifted footballer with intelligence coming out of his eyeballs, but there is a feeling that he still isn't fully appreciated.
Some of Liverpool's other attacking individuals are clearly part of the reason behind this.
Philippe Coutinho is a special player now known the world over for his flamboyance and preference for the spectacular, and he is the most high-profile individual in the current squad.
Sadio Mane is someone who is only improving, and if his current rise remains as meteoric, world-class status will be bestowed upon him very soon.
Mo Salah is at the forefront of many supporters' minds because he is a brand-new signing, and an extremely good one at that. He has already made such an impression.
Then there's Roberto Firmino, who remains shockingly underrated in some quarters, but whose subtle, influential style makes him arguably Klopp's most important player.
Coutinho, Mane, Salah and Firmino are a quartet blessed with wonderful ability, but there have been times when Lallana has been as important as any of them.
The former Southampton captain has not featured at all yet in 2017/18, after suffering a thigh injury in the Audi Cup in pre-season, and it is easy to forget how good he was before being struck down.
He is now nearing a return, however, having been pictured running outside at Melwood last Thursday, and it is a huge boost for anyone of a Reds persuasion.
More often than not, Liverpool are not the same side when Lallana isn't playing – something that many seem to have missed.
Of course, there have already been times this season when a Lallana-less Reds have purred, most notably against Hoffenheim and Arsenal, but he brings so many qualities to the team.
For starters, his invention in a newly-found attacking midfield role give Liverpool a much-needed extra dimension in the middle of the park – something Jurgen Klopp has helped eradicate slightly by changing Coutinho's role.
Jordan Henderson, Emre Can and Gini Wijnaldum are all good footballers in their own right, but none possess Lallana's speed of thought, ability to interchange with others and also chip in with regular goals and assists.
The England international is also arguably the Reds' most effective off-the-ball defender, along with Firmino, with his energy and pressing a huge reason why they are such a horrible team to face when they want to be.
It is no surprise that Liverpool don't quite have the same energy and menace in their work-rate without Lallana around.
The most underrated aspect of Lallana's game is his leadership and fight, both of which have been worryingly lacking at times this season.
There is a reason why he was named Saints skipper at the age of just 24, and he is one of the few Reds players who will be vocal on the pitch, square up to opposition players and berate referees.
These snide attributes are things that winning teams have in abundance, and Lallana's recent absence has highlighted that he is one of the few who can be a bit nasty.
Let's not forget that he is also quite possibly England's best player now, along with Tottenham duo Harry Kane and Dele Alli. He is one of the few who seems to be able to take club form to the international stage, and the Three Lions look horribly one-paced when he is absent.
Lallana has actually been written off by some, as he was before the start of last season, with the addition of Salah and change of role for Coutinho potentially seeing his regular starting berth taken from him.
Klopp is a huge admirer of his former next-door neighbour, though, and he will see his return to the fold as an enormous plus point.
It sounds a very "Little Englander" thing to say, but you do have to wonder if Lallana would be rated higher if he was Spanish, French or Italian, for example.
A certain snobbery often works against English footballers because they are not famed for being technical players – on the flip side, the English media also vastly overrate many of their own – but Lallana is a genuine talent.
He has reached a completely new level under Klopp, having flattered to deceive greatly under Brendan Rodgers, and having him back will make such a difference.
He won't always be first-choice, given the options Klopp now has, but the manager will still want one of his favourite players heavily involved.
Injuries to players can sometimes work in their favour, in terms of fully appreciating their quality, and it feels as though that is the case with Lallana.
He hasn't been mentioned much since his injury, due to some illustrious teammates making the headlines themselves, but Liverpool's current patchy form is highlighting the need for him to return as soon as possible.